I remember it was May of 2013, and I was sitting in the playground area of a Carl's Jr., in Provo, Utah, not really watching my kids because I was too spellbound by what I was reading. Earlier that morning, I realized that Michael Shannon's new film, "The Iceman," was adapted from a book titled The Iceman: The True Story of a Cold-Blooded Killer, by crime writer Anthony Bruno.
Luckily, the book was available nearby at the Utah Valley University library. When I pulled it off the shelf, the book was covered in a thin layer of dust. It was initially published in 1993. But now that this book was the source material for a motion picture that I was anxious to review, I decided to read it.
Now, I'm not usually a big reader, I hate to admit, but I had seen disturbing documentaries about The Iceman Richard Kuklinski before. Kuklinski was a monster disguised as a man. So, I knew that reading this book would be worth my time, and I was right! I devoured the first few chapters right there in Carl's Jr., and I finished the entire book soon thereafter.
On this same day, I e-mailed author Anthony Bruno and invited him to be a guest on Movie Podcast Weekly to discuss the film, "The Iceman." His swift reply was surprisingly warm and friendly. Right away, through reading about him, I learned that he was a 5th degree black belt in Aikido, and he kindly answered a question I had about enrolling my young son in such a class.
Karl and I had the pleasure of conducting a fascinating, 80-minute interview with "Bruno" (as he liked to be called) in Episode 035 of Movie Podcast Weekly. That episode is a must-listen, thanks to him.
Bruno served as an executive producer on the film. Karl liked it better than I did, but we both called it a "Theater / Rental." We told Bruno exactly what we thought, and he humbly listened.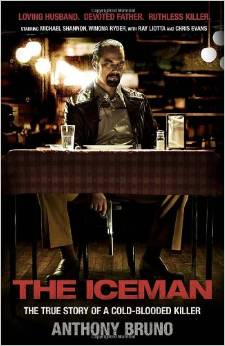 Indeed, my biggest gripe with "The Iceman" movie was — and always will be — how little of Bruno's source material was used for the filmic adaptation. To be clear, if Bruno's book had been faithfully adapted, "The Iceman" would have been a 10 out of 10! But for whatever reason, screenwriter Morgan Land and writer-director Ariel Vromen opted not to use the primary arc of Dominick Polifrone's undercover sting operation. Instead, the resolution magically appears out of nowhere later in the film.
Nor did the screenwriters use the most horrifying story from Bruno's book, which to me is the cyanide poisoning of Gary Smith's hamburger. Absolutely chilling story — the stuff nightmares are made of. Even so, you can hear in Episode 035 that Bruno was charitable and gracious about the adaption of his book. "It was a choice," he said modestly. His loyalty to the project impressed me.
To be perfectly honest, I didn't know Anthony Bruno very well. But I would consider him a friend. If I had ever visited Philadelphia, I would have definitely gone to two places: to meet fellow podcasting co-host Dave "Dr. Shock" Becker in person and Anthony Bruno. I would have taken an Aikido lesson from Bruno at his school.
Bruno loved crime and mob movies the way I do. I remember asking him his preference one time, "The Godfather" or "Goodfellas"? He answered without hesitation: "Goodfellas." We had the pleasure of enjoying four great podcast episodes with him. In addition to Episode 035, I'd also recommend listening to Episode 043, where Bruno helped us review "Red 2." And check out Episode 045, where he reviewed "2 Guns" and discussed "The Hunt" and "Orange Is the New Black." You can also listen to Bruno in Episode 051, where he did a great job reviewing "The Family," "Young Adult" and "In a World…"
On August 4, 2014, Bruno and I had agreed to have him back for a fifth appearance on MPW, where he planned to help us review Ben Affleck's "Gone Girl" in Episode 106. Sadly, he died on August 28. He and I were both really looking forward to that movie. But I'm grateful for those four podcast episodes we had with him.
Let me tell you one last story about my friend, Anthony Bruno…
Unbeknownst to the listeners of MPW, at one point I was contacted (behind the scenes) by a podcast listener who seemed to have very powerful connections — the kind of connections you have from either being obscenely wealthy or having scary friends. I was worried that this guy was the latter — you know, "connected." (Yes, I watch too many movies…) But the more background research that was done, the more this listener and his "offers I couldn't refuse" made me uneasy.
So, of course, I contacted the most knowledgeable person that I knew concerning scary and dangerous people: Anthony Bruno. And as you might have guessed, Bruno "knew a guy" that he put me in touch with. Well, I could tell Bruno's contact was the real deal and he made me nervous, too, quite frankly. Bruno's acquaintance was helpful to me (obviously as a favor to Anthony); however, the counsel this contact gave me made me realize that wise-guy associations can be even more perilous and sticky than the movies depict. All of this over a free podcast about movies!
We made it through (thus far). I don't think that listener was a made man after all. But who knows? For all I know, perhaps if it weren't for my friend, Anthony Bruno, I wouldn't be here anymore. I sure wish he still was. I'm going to miss that guy. He was a good fella.