Podcast: Play in new window | Download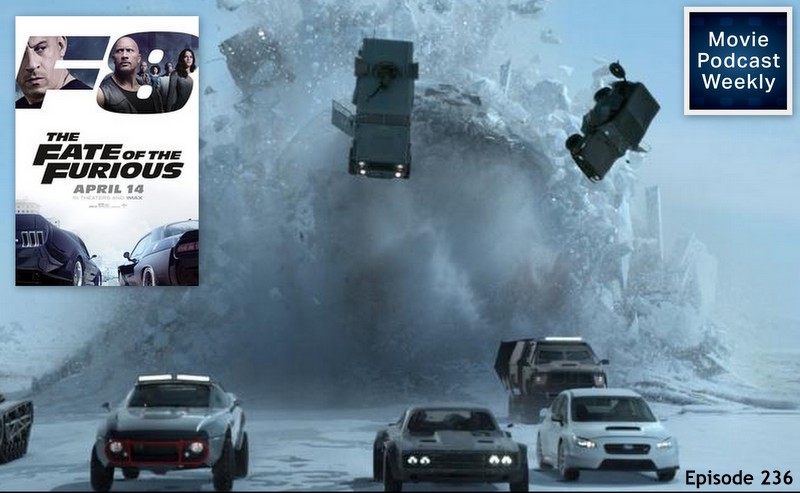 This divisive episode will separate those who love and appreciate the "Fast and the Furious" franchise from those who don't. Welcome to Movie Podcast Weekly,
Episode 236, where we bring you a lengthy and unusual Feature Reviews of The Fate of the Furious (2017) with special guest Brian "The Brain" Patchett (of The Sci-Fi Podcast). Brian joins us to talk about some of the "science" found in "The F8 of the Furious." You'll also hear us talk about "The Last Jedi" teaser trailer, a couple of interesting documentaries streaming on Netflix, and the trajectory of Kevin Hart's career. Join us!
If you're new to our show… Movie Podcast Weekly typically features four hosts — Jason, Andy, Karl and Geek Cast Ry — along with frequent guests. We give you our verdicts on at least one new movie release from the current year that's currently playing in theaters, as well as several mini reviews of whatever we've been watching lately. New episodes release every single week!
---
SHOW NOTES:
I. Introduction
— Welcome special guest The Brain, physicist extraordinaire
— Listener complaints of too much ambient noise on MPW
— The Last Jedi teaser trailer
---
[ 0:19:15 ] II. Mini Reviews
Jason: Tower, The Birds, Oliver's Stone's The Untold History of the United States Ep. 001 (on Netflix), Weird Wonders of the World (on Netflix), Nature's Weirdest Events (on Netflix)
The Brain: Ghost in the Shell, Logan, Life
Ryan: Indiana Comic-Con
Karl: Hello Kitty Flanagan, USS Indianapolis: Men of Courage, The Twilight Zone: "The Last Flight"
Andy: Louis C.K. 2017, Kevin Hart: What Now?
---
III. New in Theaters This Past Weekend [ Friday, April 14, 2017 ]:
The F8 of the Furious
The Lost City of Z
Colossal
Spark: A Space Tail
Mission Control: The Unsung Heroes of Apollo
Sandy Wexler
Torment Inc.
My Entire High School Sinking Into the Sea
Altitude
Too Much Too Soon
Finding Oscar
A Quiet Passion
Royals
Norman: The Moderate Rise and Tragic Fall of a New York Fixer
Bloodshot
Jeremiah Tower
---
FEATURE REVIEWS HAVE TIME STAMPS:
[ 1:12:21 ] IV. Feature Review: THE FATE OF THE FURIOUS (2017)
Jason = 8 ( Theater / Buy it! )
Andy = 2 ( Avoid )
The Brain = For fans: 9 ( Theater / Buy it! ) ; For normal people: 4 ( Low-priority Rental )
---
V. Wrap-Up / Plugs / Ending
---
COMING UP ON MPW NEXT WEEK:
Episode 237 where we'll be reviewing "Free Fire." Join us!
---
LINKS FOR THIS EPISODE:
Be sure to hear more from The Brain on The Sci-Fi Podcast.
Contact MPW:
E-mail us: MoviePodcastWeekly@gmail.com.
Leave us a voicemail: (801) 382-8789.
Follow MPW on Twitter: @MovieCastWeekly
Leave a comment in the show notes for this episode.
Ryan's new Facebook page
Ry's BIO
Ryan's New Facebook Page
Ry's flagship show: Geek Cast Live Podcast
DONATE here to facilitate the creation of more Geek content!
Blog: Geek Cast Live
Web site: Geek Harder.com
Facebook
Twitter: @GeekCastRy
Jason recommends supporting: Operation Underground Railroad
Listen to MPW:
Add MPW to your Stitcher playlist: Stitcher.com
MPW on iTunes
MPW's RSS feed
Right-click to download the MPW 100 Rap
Josh's links:
Hear Josh named as one of the Top 5 Up-and-Coming Directors on The Film Vault Podcast!
Twitter: @IcarusArts
Josh covers streaming movies on: Movie Stream Cast
Hear Josh on The SciFi Podcast
Hear Josh on Horror Movie Podcast
If you're a Horror fan, listen to Jason and Josh on HORROR MOVIE PODCAST
We'd like to thank The Dave Eaton Element and Dave himself for the use of his music for our theme song. Buy Dave's Eaton's music: BandCamp.com
Ryan's Fake Movie Titles:
Torment Inc.
Too Much Too Soon
Royals
Bloodshot
---
If you like Movie Podcast Weekly, please subscribe and leave us a review in iTunes. If you want to support the show, we have PayPal buttons in our right-hand sidebar where you can make a one-time donation or you can become a recurring donor for just $2 per month. (Every little bit helps!)
Thanks for listening, and join us again next week for Movie Podcast Weekly.
---