Podcast: Play in new window | Download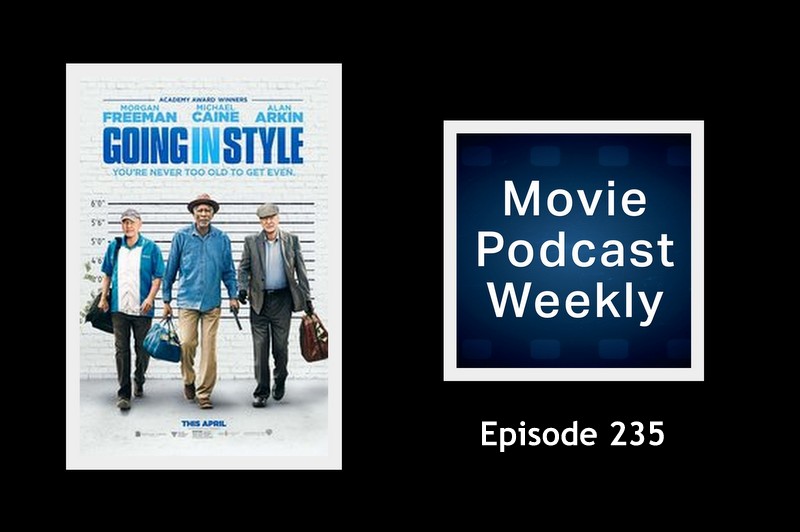 Jason made it home to Utah (barely), so Movie Podcast Weekly, Episode 235 finds our show mostly back to normal again… There's no guy named Andy this week, but we bring you an earnest Feature Review of Going in Style (2017). And perhaps you'll be entertained while listening to us discuss the new Thor: Ragnarok trailer, a Bollywood flick that Ryan watched with no subtitles, and even a little debate about the morality of films that are designed to make us root for immoral characters… Not our best show ever, but then again, not our worst, either. Join us!
If you're new to our show… Movie Podcast Weekly typically features four hosts — Jason, Andy, Karl and Geek Cast Ry — along with frequent guests. We give you our verdicts on at least one new movie release from the current year that's currently playing in theaters, as well as several mini reviews of whatever we've been watching lately. New episodes release every single week!
---
SHOW NOTES:
I. Introduction
— Listener asks about one of Andy's fake jobs
— Jason almost dies in a plane crash
— Jason pays up and sends Ryan a "Sorcerer" (1977) Blu-ray for winning the Oscar picks contest
---
[ 0:06:52 ] II. Mini Reviews
Ryan: New Thor: Ragnarok trailer, Rogue One: A Star Wars Story, War Dogs, Baahubali: The Beginning (2015)
Karl: The Man in the High Castle Season 2, Big Little Lies (2017) mini series
Jason: Troy; Girl, Interrupted; Before We Go; Meet the Fockers
---
III. New in Theaters This Past Weekend [Friday, April 7, 2017]:
Going in Style
The Case for Christ
Smurfs: The Lost Village
Aftermath
The Void
Queen of the Desert
The Assignment
Colossal
Rose Red
Salt and Fire
Mine
Their Finest
The Nature Problem
The Transfiguration
The Eyes
God Knows Where I Am
Speech & Debate
Your Name
On Foreign Soil
Graduation
Win It All
Mr. Every Time
Shot! The Psycho-Spiritual Mantra of Rock
---
FEATURE REVIEWS HAVE TIME STAMPS:
[ 0:56:12 ] IV. Feature Review: GOING IN STYLE (2017)
Jason = 7 ( Redbox Rental )
Karl = 7.5 ( Theater / Rental )
---
V. Wrap-Up / Plugs / Ending
---
COMING UP ON MPW NEXT WEEK:
Episode 236 where we'll be reviewing "The Fate of the Furious." Join us!
---
LINKS FOR THIS EPISODE:
Contact MPW:
E-mail us: MoviePodcastWeekly@gmail.com.
Leave us a voicemail: (801) 382-8789.
Follow MPW on Twitter: @MovieCastWeekly
Leave a comment in the show notes for this episode.
Ryan's new Facebook page
Ry's BIO
Ryan's New Facebook Page
Ry's flagship show: Geek Cast Live Podcast
DONATE here to facilitate the creation of more Geek content!
Blog: Geek Cast Live
Web site: Geek Harder.com
Facebook
Twitter: @GeekCastRy
Jason recommends supporting: Operation Underground Railroad
Listen to MPW:
Add MPW to your Stitcher playlist: Stitcher.com
MPW on iTunes
MPW's RSS feed
Right-click to download the MPW 100 Rap
Josh's links:
Hear Josh named as one of the Top 5 Up-and-Coming Directors on The Film Vault Podcast!
Twitter: @IcarusArts
Josh covers streaming movies on: Movie Stream Cast
Hear Josh on The SciFi Podcast
Hear Josh on Horror Movie Podcast
If you're a Horror fan, listen to Jason and Josh on HORROR MOVIE PODCAST
We'd like to thank The Dave Eaton Element and Dave himself for the use of his music for our theme song. Buy Dave's Eaton's music: BandCamp.com
Ryan's Fake movie titles:
Rose Red
The Nature Problem
On Foreign Soil
Mr. Every Time
---
If you like Movie Podcast Weekly, please subscribe and leave us a review in iTunes. If you want to support the show, we have PayPal buttons in our right-hand sidebar where you can make a one-time donation or you can become a recurring donor for just $2 per month. (Every little bit helps!)
Thanks for listening, and join us again next week for Movie Podcast Weekly.
---