Podcast: Play in new window | Download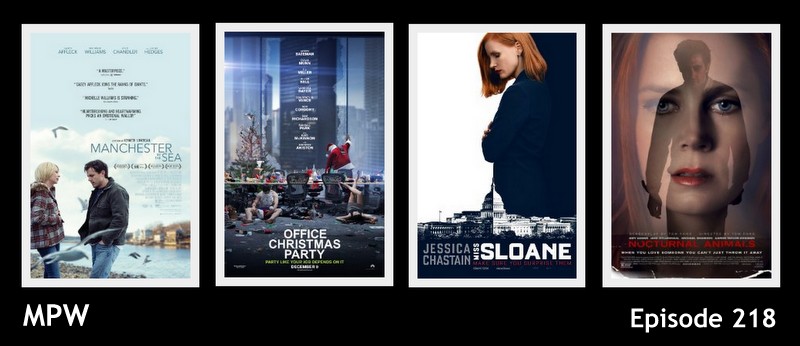 Skills of Haitians helped us to bring you Movie Podcast Weekly, Episode 218. Yep, skills of Haitians… In this dumb show, we bring you four Feature Reviews of Manchester by the Sea and Office Christmas Party and Miss Sloane and Nocturnal Animals. And here is the best quote of this episode: "Discussions held respectfully shouldn't offend anybody." -Ryan We know. It's weird. But join us!
If you're new to our show… Movie Podcast Weekly typically features four hosts — Jason, Andy, Karl and Geek Cast Ry — along with frequent guests. We give you our verdicts on at least one new movie release from the current year that's currently playing in theaters, as well as several mini reviews of whatever we've been watching lately. New episodes release every single week!
---
SHOW NOTES:
I. Introduction
— Official declaration: You can't include TV series submissions in Top 10 Best of the Year lists
— The Crisis of Second-Viewing Second-Guessing
— Should we bring you CTS-style coverage of the Harry Potter series in 2017?
---
[ 0:14:08 ] II. Movie News
— Almost real-life Jurassic Park scenario (so close, yet so far)
— Spider-Man: Homecoming trailer
— Planning future sequels far in advance: Spider-Man, Bad Boys, Avatar
— The Fate of the Furious trailer
— Designated Survivor contrivance
— xXx: Return of Xander Cage trailer review (live)
— War for the Planet of the Apes trailer
— The Mummy (2017) trailer
— The Academy's new position on gender fluidity and admitting nominees
— Margot Robbie's casting as Tonya Harding
---
[ 0:51:34 ] III. Mini Reviews
Karl: Miracle on 34th Street (1947), Love Actually, Audio-video: Oppo's 4k Ultra HD Blu-ray player
Jason: Miracle on 34th Street (1994), Re-Animator, Dead Alive (aka Braindead), Enchanted
Ryan: Freaks of Nature, Cubs World Series Blu-ray collection, You're the Worst, Mid-season The Walking Dead finale
---
Movie Podcast Network holiday greeting from: The Sci-Fi Podcast
---
IV. New in Theaters This Past Weekend:
Miss Sloane
Office Christmas Party
Nocturnal Animals
La La Land
The Salesman
Oil and Milk
Jackie
Land of Mine
Kill Ratio
Spectral
Gum
The Bounce Back
Eye of the Beholder
Contract to Kill
Burn Country
The Wait
All We Had
Frank & Lola
Harry Benson: Shoot First
The Founder
Nerdland
---
FEATURE REVIEWS HAVE TIME STAMPS:
[ 1:15:53 ] V. Feature Review: OFFICE CHRISTMAS PARTY (2016)
Karl = 7.5 ( Rental )
---
[ 1:25:09 ] VI. Feature Review: NOCTURNAL ANIMALS (2016)
Ryan = 9 ( Buy it! )
---
[ 1:33:34 ] VII. Feature Review: MISS SLOANE (2016)
Karl = 8 ( Strong Rental )
---
[ 1:42:03 ] VIII. Feature Review: MANCHESTER BY THE SEA (2016)
Jason = 7.5 ( Rental )
---
IX. Wrap-Up / Plugs / Ending
— Golden Globes on Jan. 8 will be hosted by Jimmy Fallon
---
COMING UP ON MPW NEXT WEEK:
Episode 219 where we'll be reviewing "Rogue One: A Star Wars Story." Join us!
---
LINKS FOR THIS EPISODE:
Check out Ryan's Geek Cast Live Podcast Revamped Patreon Page
Also, check out these two fantastic Horror Movie Podcast episodes: Twenty 2016 Horror Movie Reviews and the Essential Universal Monster Movies
Contact MPW:
E-mail us: MoviePodcastWeekly@gmail.com.
Leave us a voicemail: (801) 382-8789.
Follow MPW on Twitter: @MovieCastWeekly
Leave a comment in the show notes for this episode.
Ryan's new Facebook page
Ry's BIO
Ryan's New Facebook Page
Ry's flagship show: Geek Cast Live Podcast
DONATE here to facilitate the creation of more Geek content!
Blog: Geek Cast Live
Web site: Geek Harder.com
Facebook
Twitter: @GeekCastRy
Jason recommends supporting: Operation Underground Railroad
Listen to MPW:
Add MPW to your Stitcher playlist: Stitcher.com
MPW on iTunes
MPW's RSS feed
Right-click to download the MPW 100 Rap
Josh's links:
Hear Josh named as one of the Top 5 Up-and-Coming Directors on The Film Vault Podcast!
Twitter: @IcarusArts
Josh covers streaming movies on: Movie Stream Cast
Hear Josh on The Sci-Fi Podcast
Hear Josh on Horror Movie Podcast
If you're a Horror fan, listen to Jason and Josh on HORROR MOVIE PODCAST
We'd like to thank The Dave Eaton Element and Dave himself for the use of his music for our theme song. Buy Dave's Eaton's music: BandCamp.com
---
Here are Ryan's fake movie titles for this week:
Oil and Milk
Eye of the Beholder
Gum
The Wait
If you like Movie Podcast Weekly, please subscribe and leave us a review in iTunes. If you want to support the show, we have PayPal buttons in our right-hand sidebar where you can make a one-time donation or you can become a recurring donor for just $2 per month. (Every little bit helps!)
Thanks for listening, and join us again next week for Movie Podcast Weekly.
---