Podcast: Play in new window | Download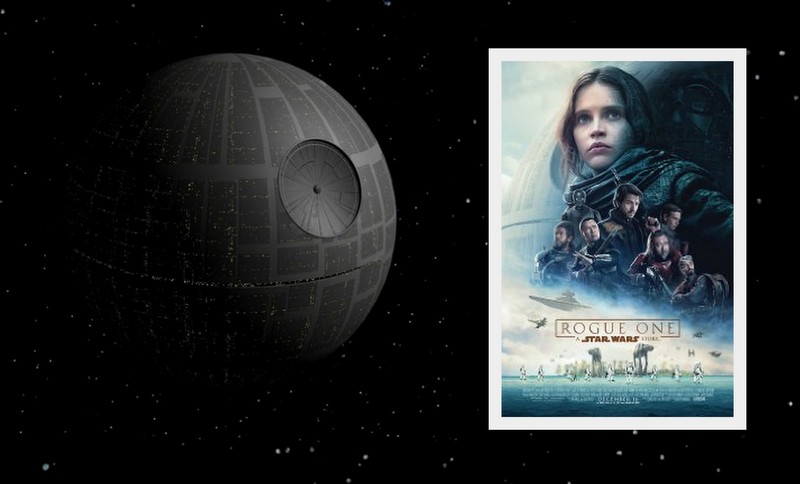 Merry Christmas from Movie Podcast Weekly! A long time ago in a galaxy far, far away…. three hosts brought you Episode 219, where we Feature Review Rogue One: A Star Wars Story while also discussing solutions for loud, scrunchy popcorn bags inside the theater. We also fight more about the ending of Bridget Jones's Baby (includes spoilers), as well as a pretty epic battle over the cinematic merits of "Gods of Egypt." Join us by voting on our poll question below!
If you're new to our show… Movie Podcast Weekly typically features four hosts — Jason, Andy, Karl and Geek Cast Ry — along with frequent guests. We give you our verdicts on at least one new movie release from the current year that's currently playing in theaters, as well as several mini reviews of whatever we've been watching lately. New episodes release every single week!
Please vote on this poll question!


image polls
---
SHOW NOTES:
I. Introduction
— Merry Christmas from Movie Podcast Weekly!
— Christmas movie-watching annual traditions
— Coming up next week: MPW's Top 10 Best Movies of 2016!
— Jason sings "A Long December" for karaoke.
— Check out HMP Ep. 106: Reviewing 20 Horror Movies of 2016
---
[ 0:12:04 ] II. Mini Reviews
Karl: "Ask Dr. Karl" segment: TV shopping advice for Ryan; Die Hard Christmas ornament; Blade Runner 2049 teaser trailer
Jason: Jason's boy watches Stranger Things, Boyhood, Downfall, Natalie Pyles on the ending of Bridget Jones's Baby (Spoilers)
Ryan: Gods of Egypt, The Man From U.N.C.L.E.
Andy: k
---
Movie Podcast Network Holiday Greeting From: Movie Stream Cast
---
III. New in Theaters This Past Weekend [Friday, Dec. 16, 2016]:
Rogue One: A Star Wars Story
Collateral Beauty
Solace
The Bad Kids
Wiggle Room
Portside
Rack
A Kind of Murder
Neruda
The Demon Within
---
FEATURE REVIEWS HAVE TIME STAMPS:
[ 1:08:01 ] IV. Feature Review: ROGUE ONE: A STAR WARS STORY (2016)
Jason = 6 ( Theater / Rental )
Karl = 8.5 ( Theater / Buy it! )
Ryan = 9 ( Theater / Buy it! )
[ 1:47:40 ] V. SPOILERS: Rogue One: A Star Wars Story (2016) [SPOILER DISCUSSION]
---
VI. Wrap-Up / Plugs / Ending
— Question from Eric Herman: What would you ask Viggo Mortensen? (Please leave your suggestions in the comments below for this episode.)
— Thank you to our donors! You keep us afloat!
— Shout-out to Joel and Heather Robertson. Check out Heather Robertson's Half Size Me.com
---
COMING UP ON MPW NEXT WEEK:
Episode 220 where we'll bring you our end-of-the-year episode when we'll count down our Top 10 Best Movies of 2016 (as well as the MPW listenership's Top 10 and a few other notable lists). We'll also be Feature Reviewing "La La Land," "Passengers" and "Collateral Beauty." Join us!
---
LINKS FOR THIS EPISODE:
Contact MPW:
E-mail us: MoviePodcastWeekly@gmail.com.
Leave us a voicemail: (801) 382-8789.
Follow MPW on Twitter: @MovieCastWeekly
Leave a comment in the show notes for this episode.
Ryan's new Facebook page
Ry's BIO
Ryan's New Facebook Page
Ry's flagship show: Geek Cast Live Podcast
DONATE here to facilitate the creation of more Geek content!
Blog: Geek Cast Live
Web site: Geek Harder.com
Facebook
Twitter: @GeekCastRy
Jason recommends supporting: Operation Underground Railroad
Listen to MPW:
Add MPW to your Stitcher playlist: Stitcher.com
MPW on iTunes
MPW's RSS feed
Right-click to download the MPW 100 Rap
Josh's links:
Hear Josh named as one of the Top 5 Up-and-Coming Directors on The Film Vault Podcast!
Twitter: @IcarusArts
Josh covers streaming movies on: Movie Stream Cast
Hear Josh on The SciFi Podcast
Hear Josh on Horror Movie Podcast
If you're a Horror fan, listen to Jason and Josh on HORROR MOVIE PODCAST
We'd like to thank The Dave Eaton Element and Dave himself for the use of his music for our theme song. Buy Dave's Eaton's music: BandCamp.com
Ryan's Fake Titles for this episode:
The Demon Within
Rack
Portside
Wiggle Room
---
If you like Movie Podcast Weekly, please subscribe and leave us a review in iTunes. If you want to support the show, we have PayPal buttons in our right-hand sidebar where you can make a one-time donation or you can become a recurring donor for just $2 per month. (Every little bit helps!)
Thanks for listening, and join us again next week for Movie Podcast Weekly.
---