Podcast: Play in new window | Download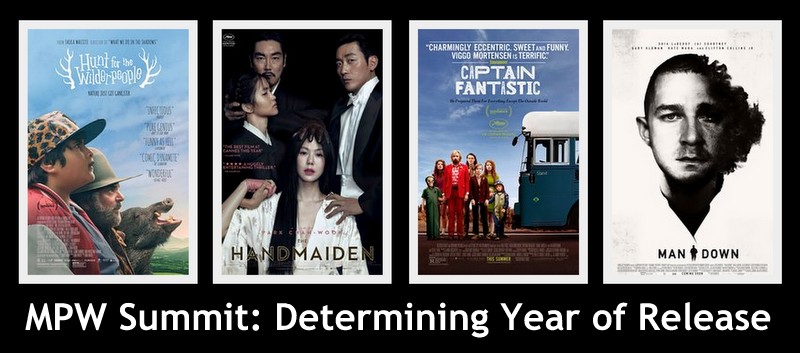 You've heard about it. Here it is. The first MPW Summit. At the end of this show, Movie Podcast Weekly, Episode 217, Jason and special guest MPW listener, Dino Ticinelli, have a sit-down to figure out how to determine a film's year of release, particularly when trying to compile one's Top 10 Best Movies of the Year list! (Note: This discussion, which occurs near the end of this episode, is only for those who are truly interested in that debate.) Also in this show, we bring you Feature Reviews of The Handmaiden and Man Down and Captain Fantastic and Hunt for the Wilderpeople. This episode also features a very brief visit from a guy named "Kandi." So, we bring you a typical, two-hour episode with lots of reviews, and then we bring you 75 more minutes of additional movie discussion! Join us!
And don't forget to e-mail your picks for The Top 10 Best Movies of 2016 to MoviePodcastWeekly@gmail.com, and you could possibly win a $50 Amazon gift card or a $25 Amazon gift card or Ryan's BMOTY (Best Movie of the Year)!
If you're new to our show… Movie Podcast Weekly typically features four hosts — Jason, Andy, Karl and Geek Cast Ry — along with frequent guests. We give you our verdicts on at least one new movie release from the current year that's currently playing in theaters, as well as several mini reviews of whatever we've been watching lately. New episodes release every single week!
---
SHOW NOTES:
I. Introduction
— A brief appearance by a guy named "Kandi"
— Welcome special guest, MPW listener Dino Ticinelli!
— Read this over-long blog and participate in MPW's Top 10 Best Movies of 2016 episode!
---
[ 0:08:18 ] II. Mini Reviews
Ryan: Westworld Season 1 finale and the release of Season 2 in 2018, Westworld (1973), Teen Mom, Intervention, Black Mirror: Season 2, Ep. 4 – White Christmas, Game of Thrones Season 1
Jason: The Last Descent (revisited)
DINO: Hell or High Water, Arrival, The Monster, Spectre, The Walking Dead, This Is Us, Survivor, Invasion of the Body Snatchers (1956)
Karl: For the Love of Spock
---
MPN Holiday greeting: Retro Movie Geek Podcast
---
III. New in Theaters This Past Weekend [Friday, Dec. 2, 2016]:
Man Down
Incarnate
La La Land
Holiday Lies
Siren
Bodyguards: Secret Lives From the Watchtower
Pet
The Touch
Anonymous
The Eyes of My Mother
Tyler Perry's Miracle on J-Street
A Girl Like Grace
Run the Tide
Pocket Listing
One for the Money
Things to Come
---
FEATURE REVIEWS HAVE TIME STAMPS:
[ 1:12:55 ] IV. Feature Review: CAPTAIN FANTASTIC (2016)
Jason = 9 ( Buy it! )
DINO = 9 ( Buy it! )
---
[ 1:28:26 ] V. Feature Review: THE HANDMAIDEN (2017)
DINO = 10 ( Masterpiece / Theater / Buy it! )
---
[ 1:40:01 ] VI. Feature Review: MAN DOWN (2016)
Jason = 8.5 ( Theater / Buy it! )
---
[ 1:53:18 ] VII. Feature Review: HUNT FOR THE WILDERPEOPLE (2016)
Jason = 7 ( Strong Rental )
DINO = 8 ( Rental )
---
[ 2:08:59 ] VIII. Concept Discussion: MPW SUMMIT: Determining a Film's Year of Release for Year-End, Top 10-List Consideration by Dino and Jason
— Example of IMDb's release info page: http://www.imdb.com/title/tt3460252/releaseinfo
---
[ 3:19:57 ] IX. MPW Summit: ADDENDUM: Jason's Conclusion / Personal Solution (This portion is not necessarily sanctioned by Dino or anyone else.)
Send us your Top 10 lists! – MoviePodcastWeekly@gmail.com
---
X. Wrap-Up / Plugs / Ending
---
COMING UP ON MPW NEXT WEEK:
Episode 218 where we'll be reviewing "Manchester by the Sea" and "Office Christmas Party" and "Miss Sloane" and "Nocturnal Animals." Join us!
---
LINKS FOR THIS EPISODE:
Be sure to follow DINO:
On Twitter: @DinoTicinelli
On Letterboxd: @CineDino
Ryan recommends The Hardcore Game of Thrones Podcast
Contact MPW:
E-mail us: MoviePodcastWeekly@gmail.com.
Leave us a voicemail: (801) 382-8789.
Follow MPW on Twitter: @MovieCastWeekly
Leave a comment in the show notes for this episode.
Ryan's new Facebook page
Ry's BIO
Ryan's New Facebook Page
Ry's flagship show: Geek Cast Live Podcast
DONATE here to facilitate the creation of more Geek content!
Blog: Geek Cast Live
Web site: Geek Harder.com
Facebook
Twitter: @GeekCastRy
Jason recommends supporting: Operation Underground Railroad
Listen to MPW:
Add MPW to your Stitcher playlist: Stitcher.com
MPW on iTunes
MPW's RSS feed
Right-click to download the MPW 100 Rap
Josh's links:
Hear Josh named as one of the Top 5 Up-and-Coming Directors on The Film Vault Podcast!
Twitter: @IcarusArts
Josh covers streaming movies on: Movie Stream Cast
Hear Josh on The SciFi Podcast
Hear Josh on Horror Movie Podcast
If you're a Horror fan, listen to Jason and Josh on HORROR MOVIE PODCAST
We'd like to thank The Dave Eaton Element and Dave himself for the use of his music for our theme song. Buy Dave's Eaton's music: BandCamp.com
---
These were Ryan's fake movie titles this week:
The Touch
Holiday Lies
Tyler Perry's Miracle on J-Street
One for the Money
If you like Movie Podcast Weekly, please subscribe and leave us a review in iTunes. If you want to support the show, we have PayPal buttons in our right-hand sidebar where you can make a one-time donation or you can become a recurring donor for just $2 per month. (Every little bit helps!)
Thanks for listening, and join us again next week for Movie Podcast Weekly.
---