Podcast: Play in new window | Download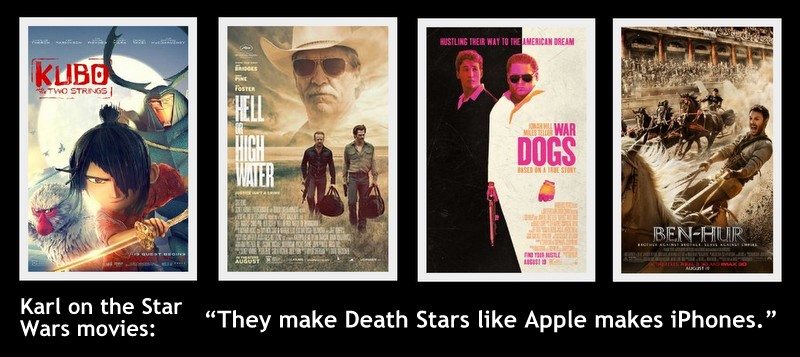 Welcome to the 403rd best movie podcast show on the Internet: Movie Podcast Weekly. This is Episode 203, where we bring you four Feature Reviews of Hell or High Water and Kubo and the Two Strings and Ben-Hur and War Dogs. In this show we also welcome back MPW listener and special guest Eric Herman (with a brief appearance by his daughters). We have a good time. Join us!
If you're new to our show… Movie Podcast Weekly typically features four hosts — Jason, Andy, Karl and Geek Cast Ry — along with frequent guests. We give you our verdicts on at least one new movie release from the current year that's currently playing in theaters, as well as several mini reviews of whatever we've been watching lately. New episodes release every single week!
---
SHOW NOTES:
I. Introduction
— E-mail from Leigh: Considering the Sequels Podcast
— E-mail from Noel
YouTube: The Frank & Walters – Stages
/Film article: Ferris Bueller Soundtrack
— Gandalf is not for sale
— No 2016 Ghostbusters sequel
— Kong: Skull Island trailer
— The Great Wall trailer
— The Last Descent trailer
— No Cinesift interviews at this time
— A Hologram for the King
— Awesome 8-year-old's quote about Netflix: Sad but true
— The NEW Rogue One trailer (Yep. Still another Death Star plot.)
---
[ 0:23:11 ] II. Mini Reviews
Karl: Dazed and Confused
Jason: About Time, Courageous (2011)
Ryan: Scent of a Woman, Independence Day, Jurassic World, Tremors
Andy: Spotlight, Daddy's Home, The Walk
---
III. New in Theaters This Past Weekend (Aug. 19, 2016):
Ben-Hur
War Dogs
Kubo and the Two Strings
Hell or High Water
Kingsglaive: Final Fantasy XV
Imperium
The Devil's Dolls
The People vs. Fritz Bauer
Mia Madre
Morris From America
Lo and Behold, Reveries of the Connected World
---
FEATURE REVIEWS HAVE TIME STAMPS:
Welcome special guest Eric Herman:
— Andyman
— Big Beard Geek Cast Ry
— Huddleston
[ 0:50:18 ] IV. Feature Review: HELL OR HIGH WATER (2016) with guest Eric Herman
Jason = 9.5 ( Theater / Buy it! / Must-See / Among Top 10 Best of 2016 )
Karl = 10 ( Theater / Buy it! )
Eric Herman = 9 ( Theater / Strong Rental )
---
[ 1:12:10 ] V. Feature Review: KUBO AND THE TWO STRINGS (2016) with guest Eric Herman
Ryan = 10 ( Theater / Buy it! )
Eric Herman = 9 ( Theater / Buy it! )
Becca = 8.5 ( Theater / Buy it! )
Evee-2 = 8.5 ( Theater / Buy it! )
Plugs for Eric and Becca:
Check out Eric Herman's website
And on YouTube
Becca on YouTube
---
[ 1:32:19 ] VI. Feature Review: BEN-HUR (2016)
Karl = 7.5 ( Theater / Buy it! )
---
[ 1:42:05 ] VII. Feature Review: WAR DOGS (2016)
Andy = 7.5 ( Theater / Rental )
---
VIII. Wrap-Up / Plugs / Ending
Thanks again to all of our listeners who support us on MPW and HMP. We truly appreciate you!
Jonathan W.
James W.
Joshua G.
Tony L.
Christian B.
Shane W.
Michal
Bonnie B.
Randy G.
Mario L.
His Dinner's In the Oven!
---
COMING UP ON MPW NEXT WEEK:
Episode 204 where we'll be reviewing "Don't Breathe" and "Mechanic: Resurrection." Join us!
---
LINKS FOR THIS EPISODE:
— MPN Meetup (THIS IS HAPPENING!) — Saturday, Sept. 17, 2016 in Indiana. See the comments below for details!
We'll be seeing "Blair Witch" together in the afternoon. Then we'll continue our festivities here below:
O'Bryan's Nine Irish Brothers Pub in West Lafayette, Indiana
On Facebook
Quoted from its website:
"Nine Irish Brothers in West Lafayette is a short walk from Wabash Landing, Purdue University, and downtown Lafayette, Ind. Parking is available in our parking lot and in the parking lot directly across Howard Avenue, via valet service (Thursday – Saturday evenings only), or at Wabash Landing. Nine Irish Brothers validates parking passes from Wabash Landing."
119 Howard Avenue
West Lafayette, IN 47906
Contact MPW:
E-mail us: MoviePodcastWeekly@gmail.com.
Leave us a voicemail: (801) 382-8789.
Follow MPW on Twitter: @MovieCastWeekly
Leave a comment in the show notes for this episode.
Ryan's new Facebook page
Ry's BIO
Ryan's New Facebook Page
Ry's flagship show: Geek Cast Live Podcast
DONATE here to facilitate the creation of more Geek content!
Blog: Geek Cast Live
Web site: Geek Harder.com
Facebook
Twitter: @GeekCastRy
Jason recommends supporting: Operation Underground Railroad
Listen to MPW:
Add MPW to your Stitcher playlist: Stitcher.com
MPW on iTunes
MPW's RSS feed
Right-click to download the MPW 100 Rap
Josh's links:
Hear Josh named as one of the Top 5 Up-and-Coming Directors on The Film Vault Podcast!
Twitter: @IcarusArts
Josh covers streaming movies on: Movie Stream Cast
Hear Josh on The SciFi Podcast
Hear Josh on Horror Movie Podcast
If you're a Horror fan, listen to Jason and Josh on HORROR MOVIE PODCAST
We'd like to thank The Dave Eaton Element and Dave himself for the use of his music for our theme song. Buy Dave's Eaton's music: BandCamp.com
---
If you like Movie Podcast Weekly, please subscribe and leave us a review in iTunes. If you want to support the show, we have PayPal buttons in our right-hand sidebar where you can make a one-time donation or you can become a recurring donor for just $2 per month. (Every little bit helps!)
Thanks for listening, and join us again next week for Movie Podcast Weekly.
---