Podcast: Play in new window | Download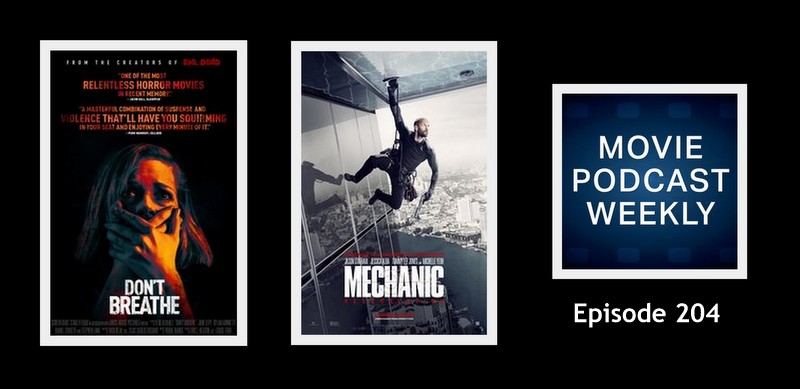 Please join us for Episode 204 of Movie Podcast Weekly. In this episode, we bring you two Feature Reviews of Don't Breathe and Mechanic: Resurrection. In this show, we also talk about the films we're looking forward to during the remainder of 2016, and Ryan discusses a predicted collapse of the "blockbuster bubble" in 2018. Join us!
If you're new to our show… Movie Podcast Weekly typically features four hosts — Jason, Andy, Karl and Geek Cast Ry — along with frequent guests. We give you our verdicts on at least one new movie release from the current year that's currently playing in theaters, as well as several mini reviews of whatever we've been watching lately. New episodes release every single week!
---
SHOW NOTES:
I. Introduction
— The loss of Gene Wilder
— Jason's notoriety on The /Filmcast
— Cody "Moe Green" Clark's newspaper bought out by Jason's newspaper
— "Blood Father" and "The Sea of Trees" streaming on Amazon already!
— Ryan discusses Cracked.com's Why the Blockbuster Movie Bubble Will Burst in 2018
— The Playlist's 50 Most Anticipated Films of the Fall Season
---
[ 0:49:03 ] II. Mini Reviews
Karl: Vizio 70-inch 4K TV, The Nice Guys
Ryan: The Green Inferno, In the Heart of the Sea, Harry Potter and the Sacred Texts podcast
Jason: Breaking Bad Season 1: Episode 1 – Pilot, Dark Haul
Andy: The Final Girls, The Wire Seasons 1-2
Bet Predictions for Andy's Rating of "The Nice Guys"
– Jason says Andy will rate it a 5.5 or a 6 and say Rental.
– Karl says Andy will rate it a 7.5 and say Buy it!
Stakes:
– Jason's prize: Coca-Cola at theater
– Karl's prize: Diet Pepsi at theater
---
III. New in Theaters This Past Weekend (August 26, 2016):
Don't Breathe
Mechanic: Resurrection
The Hollars
I Am Not a Serial Killer
Space Dogs: Adventure to the Moon
Blood in the Water
Southside With You
The Intervention
The Sea of Trees
Hands of Stone
Remember the Goal
Complete Unknown
Black Songbird
---
FEATURE REVIEWS HAVE TIME STAMPS:
[ 1:13:57 ] IV. Feature Review: MECHANIC: RESURRECTION (2016)
Karl = 4 ( Avoid )
---
[ 1:19:45 ] V. Feature Review: DON'T BREATHE (2016)
Jason = 9 ( Theater / Buy it! / Must-See )
Andy = 9 ( Theater / Buy it! )
---
VI. Wrap-Up / Plugs / Ending
---
COMING UP ON MPW NEXT WEEK:
Episode 205 where we'll be reviewing the following films:
Morgan
In Order of Disappearance
A Monster With a Thousand Heads
Krisha
Skiptrace
Join us!
---
LINKS FOR THIS EPISODE:
Contact MPW:
E-mail us: MoviePodcastWeekly@gmail.com.
Leave us a voicemail: (801) 382-8789.
Follow MPW on Twitter: @MovieCastWeekly
Leave a comment in the show notes for this episode.
Ryan's new Facebook page
Geek Cast Live Patreon page
Ry's BIO
Ryan's New Facebook Page
Ry's flagship show: Geek Cast Live Podcast
DONATE here to facilitate the creation of more Geek content!
Blog: Geek Cast Live
Web site: Geek Harder.com
Facebook
Twitter: @GeekCastRy
Jason recommends supporting: Operation Underground Railroad
Listen to MPW:
Add MPW to your Stitcher playlist: Stitcher.com
MPW on iTunes
MPW's RSS feed
Right-click to download the MPW 100 Rap
Josh's links:
Hear Josh named as one of the Top 5 Up-and-Coming Directors on The Film Vault Podcast!
Twitter: @IcarusArts
Josh covers streaming movies on: Movie Stream Cast
Hear Josh on The SciFi Podcast
Hear Josh on Horror Movie Podcast
If you're a Horror fan, listen to Jason and Josh on HORROR MOVIE PODCAST
We'd like to thank The Dave Eaton Element and Dave himself for the use of his music for our theme song. Buy Dave's Eaton's music: BandCamp.com
---
If you like Movie Podcast Weekly, please subscribe and leave us a review in iTunes. If you want to support the show, we have PayPal buttons in our right-hand sidebar where you can make a one-time donation or you can become a recurring donor for just $2 per month. (Every little bit helps!)
Thanks for listening, and join us again next week for Movie Podcast Weekly.
---