Podcast: Play in new window | Download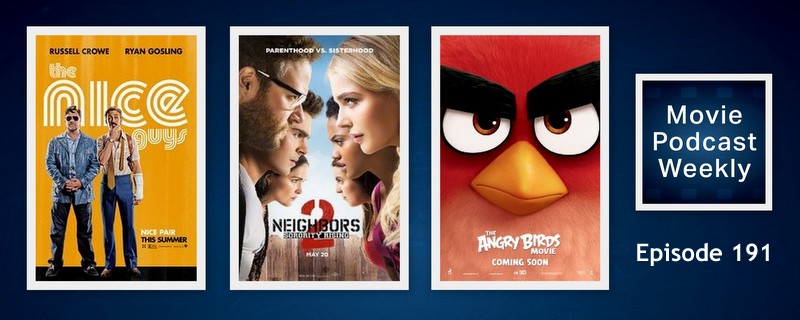 Don't be fooled… Episode 191 of Movie Podcast Weekly is actually better than it seems. At first blush, when you glance over our Feature Reviews in the title, this episode seems like it will suck a la MPW Ep. 176, when we really covered nothing of interest… In this show, even though we bring you Feature Reviews of The Nice Guys and Neighbors 2: Sorority Rising and The Angry Birds Movie, we also talk about:
— our feelings regarding the opening credits in movies
— our definitive declaration of the hottest Disney princess
— Interactive Cinema: Choose Your Own Adventure Movies and Other Gimmicks
— off-handed mentions (but no further description) of potentially interesting films, such as "Silver Streak" and "The Sailor Who Fell From Grace With the Sea"
If you're new to our show… Movie Podcast Weekly typically features four hosts — Jason, Andy, Karl and Geek Cast Ry — along with frequent guests. We give you our verdicts on at least one new movie release from the current year that's currently playing in theaters, as well as several mini reviews of whatever we've been watching lately. New episodes release every single week!
---
SHOW NOTES:
I. Introduction
— The 36th Anniversary of Stanley Kubrick's "The Shining"
— Thanks for the comments of MPW Ep. 189
— A must-listen: Geek Cast Live Movie Episode
— Andy's sour grapes over Karl's high rating of "Green Room" (and Jason winning the bet)
— Andy's legitimately egregious Netflix complaint
— Ryan's perpetual epic failure to experience "Blade Runner"
— Comments from Mario
— Solidifying the Sept. 9, 2016 MPW / GCL meet-up
— Eric's SLC meet-up invitation! Check out: Eric Herman Music.com (Guaranteed to make you smile warmly and knowingly)
---
[ 0:22:54 ] II. Mini Reviews
Karl: Schitt's Creek, Opening Credits in Movies
Ryan: Game of Thrones Season 6, Ep. 4; Teen Mom
Andy: Gary Gulman: It's About Time, Special Correspondents, Sisters, Scouts Guide to the Zombie Apocalypse
Jason: Sherlock, trailer for Swiss Army Man, Emma Watson's casting as Belle in the live-action Beauty and the Beast, Concept Discussion: Interactive Cinema: Choose Your Own Ending Movies and Other Gimmicks
***Excellent Roger Ebert article: Screen Gimmicks Nothing New
Also: Ebert's Review of Mr. Payback (1995)
---
III. New in Theaters This Past Weekend (May 20, 2016):
The Nice Guys
Neighbors 2: Sorority Rising
The Angry Birds Movie
Maggie's Plan
Weiner
Ma ma
Welcome to Happiness
---
FEATURE REVIEWS HAVE TIME STAMPS:
[ 1:07:48 ] IV. Feature Review: THE ANGRY BIRDS MOVIE (2016)
Ryan = 5 ( Rent only for younger kids and hard-core Angry Birds fans )
---
[ 1:16:43 ] V. Feature Review: THE NICE GUYS (2016)
Jason = 4 ( Avoid )
Karl = 8 ( Rental )
---
[ 1:33:46 ] VI. Feature Review: NEIGHBORS 2: SORORITY RISING (2016)
Karl = 7 ( Rental )
---
VII. Wrap-Up / Plugs / Ending
Thank you to our generous supporters:
Lance from Provo
Christian
Vance
Eric E.
Joshua G.
Patrick H.
Mario L.
Shannon N.
Amos P.
Hans S. from Sweden!
Scott C. who donated specifically to Horror Movie Podcast
Adam M.
Also: Karl recommends the Manhunter (1986) Blu-ray, as well as Risen (2016)
— Post-credits invitation for the listeners
---
COMING UP ON MPW NEXT WEEK:
Episode 192 where we'll be reviewing "X-Men: Apocalypse." Join us!
Based on the awfulness of its trailer, here are our ratings predictions for X-Men: Apocalypse next week:
Jay = 4.5 out of 10
Karl = 6 out of 10
Ryan = 5 out of 10
Andy = Doesn't care.
---
LINKS FOR THIS EPISODE:
Jay recommends: Horror Movie Podcast Ep. 089: Horror Short Films
Contact MPW:
E-mail us: MoviePodcastWeekly@gmail.com.
Leave us a voicemail: (801) 382-8789.
Follow MPW on Twitter: @MovieCastWeekly
Leave a comment in the show notes for this episode.
Ry's BIO
Ry's flagship show: Geek Cast Live Podcast
DONATE here to facilitate the creation of more Geek content!
Blog: Geek Cast Live
Web site: Geek Harder.com
Facebook
Twitter: @GeekCastRy
Jason recommends supporting: Operation Underground Railroad
Listen to MPW:
Add MPW to your Stitcher playlist: Stitcher.com
MPW on iTunes
MPW's RSS feed
Right-click to download the MPW 100 Rap
Josh's links:
Hear Josh named as one of the Top 5 Up-and-Coming Directors on The Film Vault Podcast!
Twitter: @IcarusArts
Josh covers streaming movies on: Movie Stream Cast
Hear Josh on The SciFi Podcast
Hear Josh on Horror Movie Podcast
If you're a Horror fan, listen to Jason and Josh on HORROR MOVIE PODCAST
We'd like to thank The Dave Eaton Element and Dave himself for the use of his music for our theme song. Buy Dave's Eaton's music: BandCamp.com
---
If you like Movie Podcast Weekly, please subscribe and leave us a review in iTunes. If you want to support the show, we have PayPal buttons in our right-hand sidebar where you can make a one-time donation or you can become a recurring donor for just $2 per month. (Every little bit helps!)
Thanks for listening, and join us again next week for Movie Podcast Weekly.
---