Podcast: Play in new window | Download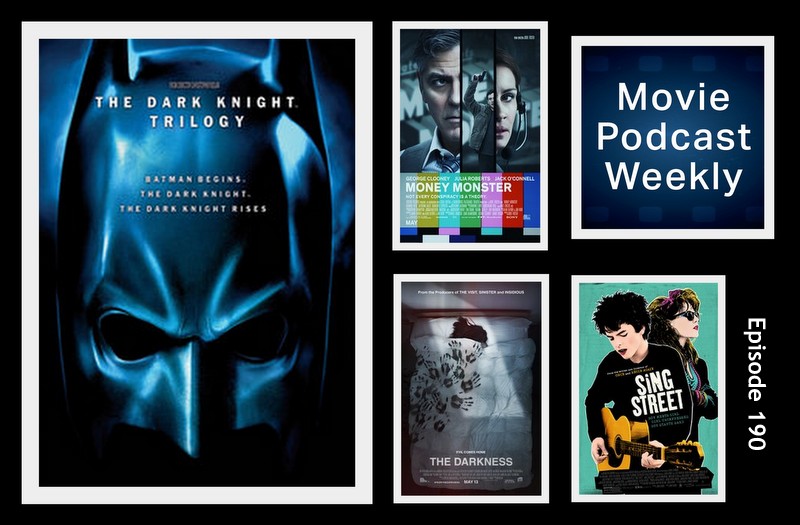 It is a good week to be a fan of Movie Podcast Weekly … sorry we can't say that every week. But here in Episode 190, your hosts bring you a Considering the Sequels-style review of the entire Christopher Nolan Dark Knight trilogy, namely, Batman Begins (2005) and The Dark Knight (2008) and The Dark Knight Rises (2012). We also bring you new 2016 Feature Reviews of Money Monster and The Darkness and Sing Street. And we're excited to introduce special guest Scott "The Coach" Welsh, whom you can follow on Twitter @SWelsh66. Andy was planning to join us on this episode but was called away.
And if you haven't gotten enough movie talk after this episode, be sure to enjoy this must-listen Geek Cast Live Podcast: Top 5 Movies Lists with Jason Pyles as their guest!
If you're new to our show… Movie Podcast Weekly typically features four hosts — Jason, Andy, Karl and Geek Cast Ry — along with frequent guests. We give you our verdicts on at least one new movie release from the current year that's currently playing in theaters, as well as several mini reviews of whatever we've been watching lately. New episodes release every single week!
---
SHOW NOTES:
I. Introduction
— Welcome special guest Scott Welsh (aka The Coach)
— Karl's mini review of "Green Room"
8.5 out of 10 ( Rental ) – Jason wins the bet.
---
II. New in Theaters This Past Weekend:
Money Monster
The Darkness
Love and Friendship
The Lobster
High-Rise
Last Days in the Desert
Search Party
Dheepan
Kill Zone 2
Sunset Song
What We Become
---
FEATURE REVIEWS HAVE TIME STAMPS:
— Voicemail from Mario from California!
[ 0:16:28 ] III. Feature Review: MONEY MONSTER (2016)
Jason = 7.5 ( Theater / Strong Rental )
Karl = 7.5 ( Theater / Rental )
Scott Welsh = 7 ( Theater / Rental )
---
[ 0:55:18 ] [ SPOILERS FOR THE ENTIRE DARK KNIGHT TRILOGY ]
---
[ 0:55:18 ] IV. Feature Review: BATMAN BEGINS (2005)
Jason = 10 ( Must-See / Must-Own )
Karl = 9.5 ( Buy it! )
Ryan = 8 ( Buy it! )
Scott Welsh = 9.5 ( Buy it! )
---
[ 1:29:09 ] V. Feature Review: THE DARK KNIGHT (2008)
Jason = 10 ( Buy it! / Top 5 of All Time )
Karl = 8.5 ( Buy it! )
Ryan = 10 ( Buy it! )
Scott Welsh = 10 ( Buy it! )
Inspiration for Heath Ledger's Joker performance: Tom Waits interview (a must-watch for all Heath Ledger Joker fans)
Jason and Jon recommend Jim Emerson Dark Knight Chase Sequence Breakdown
---
[ 1:50:52 ] VI. Feature Review: THE DARK KNIGHT RISES (2012)
Jason = 9 ( Buy it! )
Karl = 9 ( Buy it! )
Ryan = 8.5 ( Buy it! )
Scott Welsh = 8.5 ( Rental )
---
[ 2:11:18 ] VII. Feature Review: SING STREET (2016)
Karl = 10 ( Theater / Buy it! / Buy Soundtrack! )
---
[ 2:16:25 ] VIII. Feature Review: THE DARKNESS (2016)
Jason = 4 ( Avoid )
Dave Eaton's All About Autism Podcast
---
IX. Wrap-Up / Plugs / Ending
---
COMING UP ON MPW NEXT WEEK:
Episode 191 where we'll be reviewing "The Nice Guys," "Neighbors 2: Sorority Rising" and probably "The Angry Birds Movie": Join us, despite all that!
---
LINKS FOR THIS EPISODE:
Catch up with The Coach Scott Welsh:
Follow Scott on Twitter: @SWelsh66
Scott's retirement advice: The Retirement Lie – Part 1 of 4
E-mail Scott here: ScotWelsh ( AT ) gmail ( DOT ) com
Contact MPW:
E-mail us: MoviePodcastWeekly@gmail.com.
Leave us a voicemail: (801) 382-8789.
Follow MPW on Twitter: @MovieCastWeekly
Leave a comment in the show notes for this episode.
Ry's BIO
Ry's flagship show: Geek Cast Live Podcast
DONATE here to facilitate the creation of more Geek content!
Blog: Geek Cast Live
Web site: Geek Harder.com
Facebook
Twitter: @GeekCastRy
Jason recommends supporting: Operation Underground Railroad
Listen to MPW:
Add MPW to your Stitcher playlist: Stitcher.com
MPW on iTunes
MPW's RSS feed
Right-click to download the MPW 100 Rap
Josh's links:
Hear Josh named as one of the Top 5 Up-and-Coming Directors on The Film Vault Podcast!
Twitter: @IcarusArts
Josh covers streaming movies on: Movie Stream Cast
Hear Josh on The SciFi Podcast
Hear Josh on Horror Movie Podcast
If you're a Horror fan, listen to Jason and Josh on HORROR MOVIE PODCAST
We'd like to thank The Dave Eaton Element and Dave himself for the use of his music for our theme song. Buy Dave's Eaton's music: BandCamp.com
---
If you like Movie Podcast Weekly, please subscribe and leave us a review in iTunes. If you want to support the show, we have PayPal buttons in our right-hand sidebar where you can make a one-time donation or you can become a recurring donor for just $2 per month. (Every little bit helps!)
Thanks for listening, and join us again next week for Movie Podcast Weekly.
---