Podcast: Play in new window | Download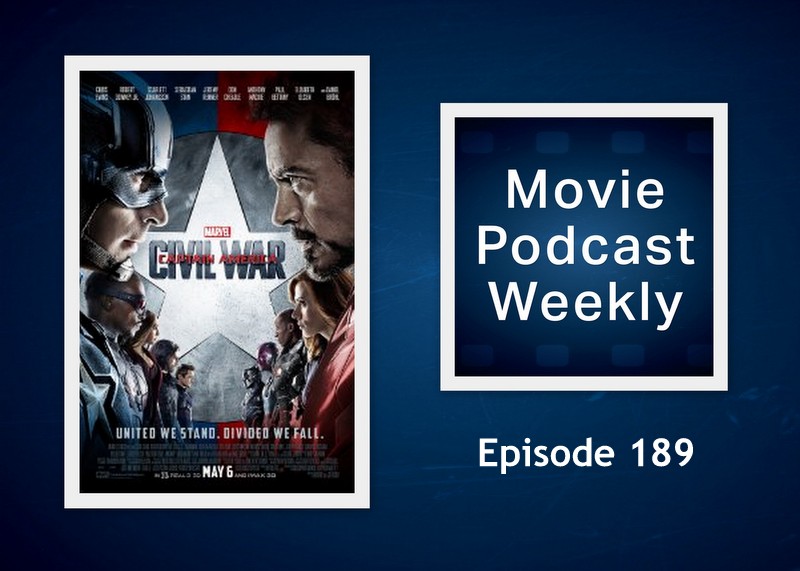 Choose your side, because this week we engage in a Movie Podcast Weekly Civil War during Episode 189. Team Ryan says Captain America: Civil War is "flawless," and Team Jason says it's good but not flawless. Which side will you choose?
If you're new to our show… Movie Podcast Weekly typically features four hosts — Jason, Andy, Karl and Geek Cast Ry — along with frequent guests. We give you our verdicts on at least one new movie release from the current year that's currently playing in theaters, as well as several mini reviews of whatever we've been watching lately. New episodes release every single week!
---
SHOW NOTES:
I. Introduction
— No Dark Knight trilogy coverage this week (because we want more listener questions)
— A must-listen: Geek Cast Live Podcast's forthcoming release on May 21, 2016. E-mail your picks to Geek Cast Ry!
---
[ 0:11:06 ] II. Listener Feedback and MPW Meet-Up Planning
— Listener Feedback highlights: Sal Roma, Jenifer, Mario, Juan
— Planning the MPW Meet-Up 2016: How does the weekend of September 9, 2016 work for everyone?
---
[ 0:28:08 ] III. Mini Reviews
Karl: Geek Cast Live Podcast, Gary Gulman: It's About Time – and – In This Economy (streaming on Netflix), The Rock, May 9, 2016 Mercury Transit of the Sun
Jason: Clash of the Titans (1981)
Ryan: Chicago Cubs baseball, Teen Mom
Andy: Sisters, Seinfeld Seasons 1-4, Hotel Transylvania 2
---
IV. New in Theaters This Past Weekend:
Captain America: Civil War
A Bigger Splash
Elstree 1976
Pele: Birth of a Legend
Dark Horse
Being Charlie
---
FEATURE REVIEWS HAVE TIME STAMPS:
[ 0:58:08 ] V. Feature Review: CAPTAIN AMERICA: CIVIL WAR (2016) [ Non-Spoiler Section ]
Jason = 8.5 ( Theater / Buy it! )
Karl = 9 ( Theater / Buy it! )
Ryan = 10 ( Theater / Buy it! / "Flawless" )
[ 1:22:00 ] FULL SPOILERS: CAPTAIN AMERICA: CIVIL WAR (2016) [ FULL SPOILERS ]
---
VI. Wrap-Up / Plugs / Ending
— Outtake
---
COMING UP ON MPW NEXT WEEK:
Episode 190 where we'll be reviewing "Money Monster," "The Darkness," "Sing Street" and "The Dark Knight" trilogy. Join us!
---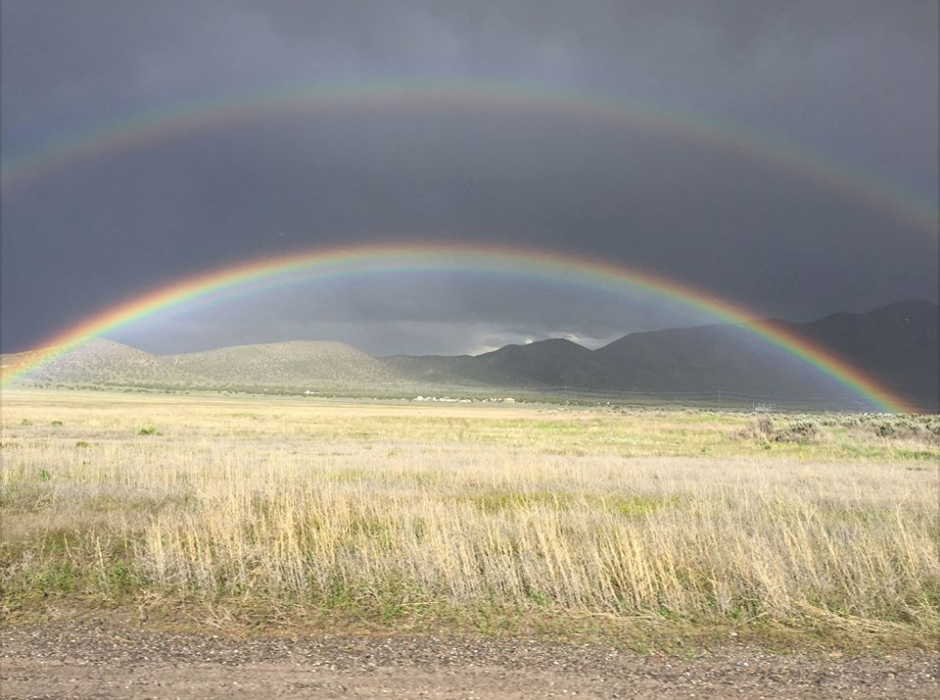 Jay's Rainbow on Monday, May 9, 2016
And this cell phone photo doesn't do it justice. It was much more vivid in person.
LINKS FOR THIS EPISODE:
Ryan recommends: Comics Explained: Civil War (Part 1 of, like, 20)
Be sure to listen to HMP Ep. 088: Bottom of the Bargain Bin Blind-Buy Horror Flicks
Recommended Music Video: Tommy Tutone and, if you're ever bored, read this.
Contact MPW:
E-mail us: MoviePodcastWeekly@gmail.com.
Leave us a voicemail: (801) 382-8789.
Follow MPW on Twitter: @MovieCastWeekly
Leave a comment in the show notes for this episode.
Ry's BIO
Ry's flagship show: Geek Cast Live Podcast
DONATE here to facilitate the creation of more Geek content!
Blog: Geek Cast Live
Web site: Geek Harder.com
Facebook
Twitter: @GeekCastRy
Jason recommends supporting: Operation Underground Railroad
Listen to MPW:
Add MPW to your Stitcher playlist: Stitcher.com
MPW on iTunes
MPW's RSS feed
Right-click to download the MPW 100 Rap
Josh's links:
Hear Josh named as one of the Top 5 Up-and-Coming Directors on The Film Vault Podcast!
Twitter: @IcarusArts
Josh covers streaming movies on: Movie Stream Cast
Hear Josh on The SciFi Podcast
Hear Josh on Horror Movie Podcast
If you're a Horror fan, listen to Jason and Josh on HORROR MOVIE PODCAST
We'd like to thank The Dave Eaton Element and Dave himself for the use of his music for our theme song. Buy Dave's Eaton's music: BandCamp.com
---
If you like Movie Podcast Weekly, please subscribe and leave us a review in iTunes. If you want to support the show, we have PayPal buttons in our right-hand sidebar where you can make a one-time donation or you can become a recurring donor for just $2 per month. (Every little bit helps!)
Thanks for listening, and join us again next week for Movie Podcast Weekly.
---