Podcast: Play in new window | Download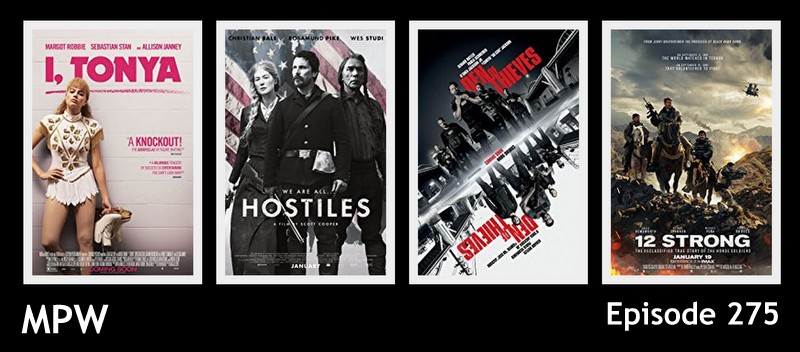 For the first time in quite a long time, your hosts of Movie Podcast Weekly actually try to bring you earnest and semi-academic film reviews. Unfortunately, since MPW is usually more of a trainwreck smashing into a clown car, by comparison, Episode 275 will probably seem a little long-winded and boring… Sorry. But Jason says he found it to be very fulfilling movie podcasting. In this show, we bring you Feature Reviews of I, Tonya (2018) and Hostiles (2018) and Den of Thieves (2018) and 12 Strong (2018). We're joined by special guest William Rowan Jr. of the brand-new Network show, Movie Moments Podcast and The Sci-Fi Podcast. We also bring you MPW's thoughts on the infamous Golden Raspberry Awards (aka "the Razzies"). Join us!
By the way, check out Jason's new short-form solocast for cinephiles called Considering the Cinema!
If you're new to our show… Movie Podcast Weekly typically features four hosts — Jason, Andy, Karl and Geek Cast Ry — along with frequent guests. We give you our verdicts on at least one new movie release from the current year that's currently playing in theaters, as well as several mini reviews of whatever we've been watching lately. New episodes release every single week!
---
SHOW NOTES:
I. Introduction
— Happy birthday to Karl (who's absent) and filmmaker Sergei Eisenstein (who's dead)
— Welcome William Rowan Jr. Check out his new podcast here:
Ep. 001: Eternal Sunshine of the Spotless Mind (2004)
Ep. 002: The Burbs (1989)
Ep. 003: Star Trek II: The Wrath of Khan (1982)
Ep. 004: 28 Days Later (2002)
Ep. 005: The Thing (1982)
---
[ 0:09:10 ] II. MPW Offers a Few Thoughts About the Razzie Awards
— The 2018 Razzie Award nominees have been named
---
[ 0:20:33 ] III. Mini Reviews
Jason: New podcast called Considering the Cinema, The Flash Season 4
William Rowan Jr: The Lost City of Z, It Comes at Night, Room, Brawl in Cell Block 99, Bright, The Toys That Made Us, Aliens: Zone of Silence
Ryan: Coming soon: Comedy Movie Podcast and Bad Movies: Revisited, The Path
Andy: * * *
---
IV. New in Theaters This Past Weekend [ Friday, January 19, 2018 ]:
Den of Thieves
12 Strong
Forever My Girl
The Midnight Man
Mary and the Witch's Flower
Call Me by Your Name
Mom and Dad
Small Town Crime
Ridge Runners
This Giant Papier-Mache Boulder Is Actually Really Heavy
The Leisure Seekers
The Road Movie
The Final Year
---
FEATURE REVIEWS HAVE TIME STAMPS:
[ 0:47:00 ] V. Feature Review: DEN OF THIEVES (2018)
Ryan = 7 ( Theater / Redbox Rental )
---
[ 0:57:35 ] VI. Feature Review: I, TONYA (2018)
Jason = 9 ( Theater / Strong Rental )
Andy = 9.5 ( Theater / Rental )
William Rowan Jr = 10 ( Theater / Buy it! )
---
[ 1:28:13 ] VII. Feature Review: HOSTILES (2018)
Jason = 4 ( Avoid )
---
[ 1:37:44 ] VIII. Feature Review: 12 STRONG (2018)
Andy = 7 ( Theater / Rental )
---
IX. Wrap-Up / Plugs / Ending
---
COMING UP ON MPW NEXT WEEK:
Episode 276 where we'll be reviewing "Phantom Thread" and "Maze Runner: The Death Cure" and "Mom and Dad" and "Wastelander" with special guest Chase Harrison (George Harrison's grandson). Join us!
---
LINKS FOR THIS EPISODE:
Remember to check out William Rowan Jr:
Movie Moments Podcast on Twitter: @MovieMomentsPod
Movie Moments Podcast
The Sci-Fi Podcast
Check out Jason's new short-form solocast for cinephiles called Considering the Cinema
And don't miss William Rowan Jr as a guest on HMP: Winter With Stephen King: The Shining and Misery
Contact MPW:
E-mail us: MoviePodcastWeekly@gmail.com.
Leave us a voicemail: (801) 382-8789.
Follow MPW on Twitter: @MovieCastWeekly
Leave a comment in the show notes for this episode.
Ryan's new Facebook page
Ry's BIO
Ryan's New Facebook Page
Ry's flagship show: Geek Cast Live Podcast
DONATE here to facilitate the creation of more Geek content!
Blog: Geek Cast Live
Web site: Geek Harder.com
Facebook
Twitter: @GeekCastRy
Jason recommends supporting: Operation Underground Railroad
Listen to MPW:
Add MPW to your Stitcher playlist: Stitcher.com
MPW on iTunes
MPW's RSS feed
Right-click to download the MPW 100 Rap
Josh's links:
Hear Josh named as one of the Top 5 Up-and-Coming Directors on The Film Vault Podcast!
Twitter: @IcarusArts
Josh covers streaming movies on: Movie Stream Cast
Hear Josh on The SciFi Podcast
Hear Josh on Horror Movie Podcast
If you're a Horror fan, listen to Jason and Josh on HORROR MOVIE PODCAST
We'd like to thank The Dave Eaton Element and Dave himself for the use of his music for our theme song. Buy Dave's Eaton's music: BandCamp.com
---
If you like Movie Podcast Weekly, please subscribe and leave us a review in iTunes. If you want to support the show, we have PayPal buttons in our right-hand sidebar where you can make a one-time donation or you can become a recurring donor for just $2 per month. (Every little bit helps!)
Thanks for listening, and join us again next week for Movie Podcast Weekly.
---