Podcast: Play in new window | Download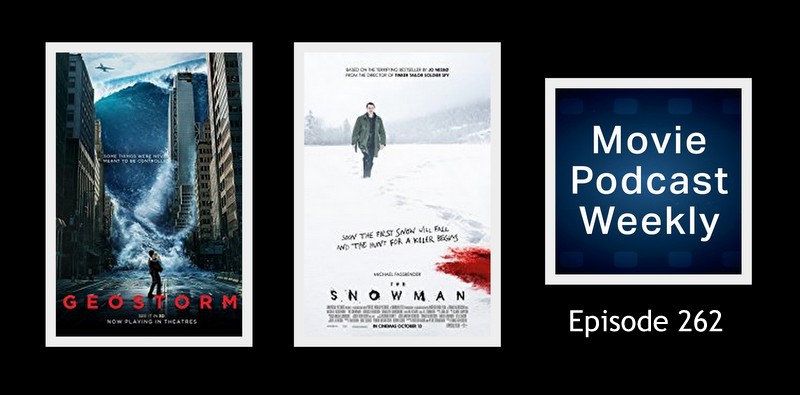 Dear listeners of MPW: We're never gonna give you up. Never gonna let you down (well, that's not quite true…). Never gonna run around and desert you. Never gonna make you cry (no guarantees here, though). Never gonna say goodbye. Never gonna tell a lie (except for Andy) and hurt you. Well, Andy reliably ruins the show again during Episode 262 of Movie Podcast Weekly, the Clown Car of Movie Podcast, and the Most Offensive Family-Friendly Podcast on the Internet! During this show we bring you two Feature Reviews (not three) of Geostorm (2017) and The Snowman (2017). And since it's Halloween time, we also bring you our 3 Movies That Taught Us Something About Real Life That Scared Us! Listen and get as irritated with Andy as we do!
If you're new to our show… Movie Podcast Weekly typically features four hosts — Jason, Andy, Karl and Geek Cast Ry — along with frequent guests. We give you our verdicts on at least one new movie release from the current year that's currently playing in theaters, as well as several mini reviews of whatever we've been watching lately. New episodes release every single week!
---
SHOW NOTES:
I. Introduction
— Welcome back, Ryan!
— 2017 World Series
— Ryan officiates at a wedding, Rick Astley-style…
— MPN MeetUp 2017 post-mortem
— Ryan's thoughts about Harvey Weinstein
---
[ 0:20:40 ] II. Mini Reviews
Karl: The Foreigner, Jack Reacher: Never Go Back, Show That Karl Has Quit: The Flash, Blackish, The Blacklist
Ryan: The Good Place
Jason: Purchasing Thor: Ragnarok and The Last Jedi tickets, The Call of the Wild (1972)
Andy: Patton Oswalt: Annihilation
---
III. New in Theaters This Past Weekend [ Friday, October 20, 2017]:
Geostorm
The Snowman
Only the Brave
Boo! 2: A Madea Halloween
Same Kind of Different as Me
Alpha Sport Draw
Wonderstruck
DMM
Jungle
1922
Wheelman
Tragedy Girls
Harness
Killing Gunther
Bad Day for the Cut
Dealt
Kask
HalloVeen Party!
---
FEATURE REVIEWS HAVE TIME STAMPS:
[ 1:14:51 ] IV. Feature Review: THE SNOWMAN (2017)
Jason = 3 ( Avoid )
---
— Spoilery (and mostly useless) discussion of "Only the Brave" (2017)
---
[ 1:40:02 ] V. Feature Review: GEOSTORM (2017)
Jason = 4 ( Avoid )
---
[ 1:54:36 ] VI. Main Event: 3 Movies That Taught Us Something About Real Life That Scared Us
---
VII. Wrap-Up / Plugs / Ending
---
COMING UP ON MPW NEXT WEEK:
Episode 263 where we'll be reviewing "Jigsaw" and "Stranger Things Season 2" and "Only the Brave" (for real this time). Join us!
---
LINKS FOR THIS EPISODE:
Contact MPW:
E-mail us: MoviePodcastWeekly@gmail.com.
Leave us a voicemail: (801) 382-8789.
Follow MPW on Twitter: @MovieCastWeekly
Leave a comment in the show notes for this episode.
Ryan's new Facebook page
Ry's BIO
Ryan's New Facebook Page
Ry's flagship show: Geek Cast Live Podcast
DONATE here to facilitate the creation of more Geek content!
Blog: Geek Cast Live
Web site: Geek Harder.com
Facebook
Twitter: @GeekCastRy
Jason recommends supporting: Operation Underground Railroad
Listen to MPW:
Add MPW to your Stitcher playlist: Stitcher.com
MPW on iTunes
MPW's RSS feed
Right-click to download the MPW 100 Rap
Josh's links:
Hear Josh named as one of the Top 5 Up-and-Coming Directors on The Film Vault Podcast!
Twitter: @IcarusArts
Josh covers streaming movies on: Movie Stream Cast
Hear Josh on The SciFi Podcast
Hear Josh on Horror Movie Podcast
If you're a Horror fan, listen to Jason and Josh on HORROR MOVIE PODCAST
We'd like to thank The Dave Eaton Element and Dave himself for the use of his music for our theme song. Buy Dave's Eaton's music: BandCamp.com
Andy's Fake Movie Titles:
Alpha Sport Draw
DMM
Harness
Kask
---
If you like Movie Podcast Weekly, please subscribe and leave us a review in iTunes. If you want to support the show, we have PayPal buttons in our right-hand sidebar where you can make a one-time donation or you can become a recurring donor for just $2 per month. (Every little bit helps!)
Thanks for listening, and join us again next week for Movie Podcast Weekly.
---