Podcast: Play in new window | Download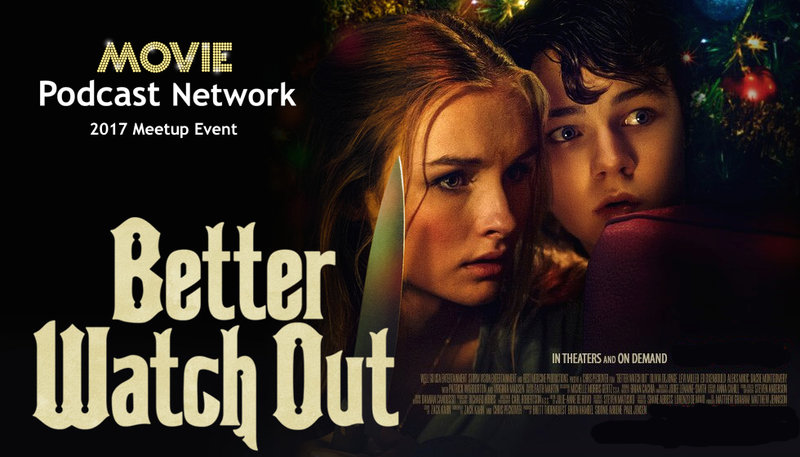 For those who did not get to attend this year's Movie Podcast Network MeetUp Event in Salt Lake City, we are producing a few episodes of our coverage from the event. In this MPN BONUS Episode 008, we bring you our Better Watch Out Panel With Director Chris Peckover. On Saturday, October 14, 2017, many of our Movie Podcast Network hosts gathered with listeners from across the country at the University of Utah's Film and Media Arts Auditorium, where we screened writer-director Chris Peckover's second feature film release, "Better Watch Out" (2017), formerly known as "Safe Neighborhood." This film is currently available to stream on Amazon.
If you're new to our show… Movie Podcast Weekly typically features four hosts — Jason, Andy, Karl and Ryan — along with frequent guests. We give you our verdicts on at least one new movie release from the current year that's currently playing in theaters, as well as several mini reviews of whatever we've been watching lately. New episodes release every single week!
---
SHOW NOTES:
I. Introduction
— Jason and Josh preface this episode with an overview of the MPN 2017 MeetUp Event
---
II. Movie Podcast Network Panel
— Jay of the Dead, Dave "Dr. Shock" Becker, The Gillman Joel Robertson, Karl Huddelston, Rach-Hell Ligairi, and Wolfman Josh discuss "Better Watch Out" (2017) before welcoming filmmaker Chris Peckover
---
III. Wrap-Up / Plugs / Ending
---
LINKS FOR OTHER 2017 MEETUP EPISODES:
Special thanks to Mattroid from The Sci-Fi Podcast for the use of his music for the Intro and Outro of this episode, performed by The Mad Man Chronicles. Thanks also to Universal Monsters Cast producer and composer Kagan Breitenbach for the use of his arrangement of composer Brian Cachia's score from Better Watch Out, from the live MPN Meetup Event, performed by Quartet Macabre.
2017 MPN MeetUp Movie Podcast Weekly episode
2017 MPN MeetUp Horror Movie Podcast episode
In addition to this podcast, our Movie Podcast Network has several other movie-related shows that are free which we think you'll enjoy:
Geek Cast Live Podcast – where they geek harder than anyone else on geek movies and all things pertaining to geekdom.
Movie Stream Cast – where they help you manage your queues by reviewing films that are streaming online.
The Sci-Fi Podcast – the ultimate movie podcast for science fiction fans.
Retro Movie Geek – where they overdose on nostalgia by reviewing movies that are 20 years old or older.
Horror Movie Podcast – where we're Dead Serious About Horror Movies.
Universal Monsters Cast – where we review Universal monsters films, classic and current.
Movie Podcast Weekly – where we review at least one new movie that's in theaters each week.
We Deal in Lead – A podcast about Westerns, and the rootin'-ist, tootin'-ist movie genre show you've ever heard!
Contact MPW:
E-mail us: MoviePodcastWeekly@gmail.com.
Leave us a voicemail: (801) 382-8789.
Follow MPW on Twitter: @MovieCastWeekly
Leave a comment in the show notes for this episode.
Listen to MPW:
Add MPW to your Stitcher playlist: Stitcher.com
MPW on iTunes
MPW's RSS feed
Right-click to download the MPW 100 Rap
---
Subscribe to Movie Podcast Weekly for free and leave us a review in iTunes. If you want to support the show, we have PayPal buttons in our right-hand sidebar where you can make a one-time donation or you can become a recurring donor for just $2 per month. (Every little bit helps!)
Thanks for listening to the Movie Podcast Network.
---