Podcast: Play in new window | Download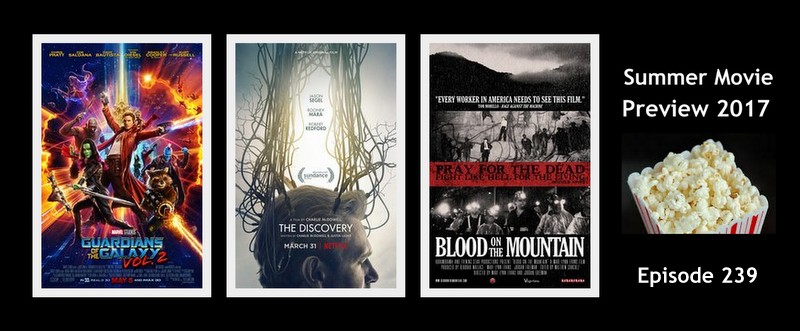 Whaddya know? It's Movie Podcast Weekly, Episode 239 (finally!), where we bring you three Feature Reviews of Guardians of the Galaxy Vol. 2 and Ryan's 2017 BMOTY contender, The Discovery (currently streaming on Netflix) and a documentary called Blood on the Mountain, as well as MPW's very informal, 5th Annual Summer Movie Preview 2017. Is all the above worth the wait? No, but we hope you'll join us, anyway, just to spite us.
If you're new to our show… Movie Podcast Weekly typically features four hosts — Jason, Andy, Karl and Geek Cast Ry — along with frequent guests. We give you our verdicts on at least one new movie release from the current year that's currently playing in theaters, as well as several mini reviews of whatever we've been watching lately. New episodes release every single week!
---
SHOW NOTES:
I. Introduction
— Update on Comedy Movie Podcast
— Things You Can't Do on Sundays in Indiana
— Listener Feedback: Voicemail from Mack
— Listener Feedback: Redcap Jack on Free Fire
— Listener Feedback: E-mail from Tom Kelly
— Listener Feedback: E-mail from Brian
---
[ 0:40:31 ] II. Mini Reviews
Karl: Elizabeth Hurley in Phoenix Wilder: And the Great Elephant Adventure, Do actors cry too much these days?
Ryan: Luke Cage, American Gods
Jason: Arsenic and Old Lace (1944), Mystery Men (1999), Get Smart (2008), Star Trek (2009), John Carter (2012), Mr. Church (2016), Jason's Movie Mission 1997-98: Metro (1997)
---
[ 1:21:44 ] III. MPW's 5th Annual SUMMER MOVIE PREVIEW 2017
---
IV. New in Theaters This Past Weekend [ Friday, May 5, 2017 ]:
Guardians of the Galaxy 2
This Is Not What I Expected
Enter the Warriors' Gate
Chuck
Fraction
Handsome: A Netflix Mystery Movie
Counterpoint
The Lovers
Lovecraft
Black Site Delta
Three Generations
Carpe Noctem
Another Evil
The Dinner
Take Me
Like Crazy
Burden
---
FEATURE REVIEWS HAVE TIME STAMPS:
[ 1:44:05 ] V. Feature Review: GUARDIANS OF THE GALAXY VOL. 2 (2017)
Jason = 7 ( Theater / Rental )
Karl = 9 ( Theater / Buy it! )
Ryan = 9 ( Theater / Buy it! )
---
[ 2:01:55 ] VI. Feature Review: THE DISCOVERY (2017)
Ryan = 10 ( Buy it! / Stream on Netflix ) – BMOTY so far!
---
[ 2:07:55 ] VII. Feature Review: BLOOD ON THE MOUNTAIN (2017)
Jason = 7 ( Rental )
---
VIII. Wrap-Up / Plugs / Ending
---
COMING UP ON MPW NEXT WEEK:
Episode 240 where we'll be reviewing "The Lost City of Z" (with special guest Natalie Pyles) and "Snatched" and "Their Finest." Join us!
---
LINKS FOR THIS EPISODE:
If you love movies, Jason highly recommends listening to this one, 30-minute podcast episode: Ep. 36: Why Movies Are Great at Guerrilla Marketing, brought to you by the Bright Planning Marketing Podcast with Catherine Campbell.
Contact MPW:
E-mail us: MoviePodcastWeekly@gmail.com.
Leave us a voicemail: (801) 382-8789.
Follow MPW on Twitter: @MovieCastWeekly
Leave a comment in the show notes for this episode.
Ryan's new Facebook page
Ry's BIO
Ryan's New Facebook Page
Ry's flagship show: Geek Cast Live Podcast
DONATE here to facilitate the creation of more Geek content!
Blog: Geek Cast Live
Web site: Geek Harder.com
Facebook
Twitter: @GeekCastRy
Jason recommends supporting: Operation Underground Railroad
Listen to MPW:
Add MPW to your Stitcher playlist: Stitcher.com
MPW on iTunes
MPW's RSS feed
Right-click to download the MPW 100 Rap
Josh's links:
Hear Josh named as one of the Top 5 Up-and-Coming Directors on The Film Vault Podcast!
Twitter: @IcarusArts
Josh covers streaming movies on: Movie Stream Cast
Hear Josh on The SciFi Podcast
Hear Josh on Horror Movie Podcast
If you're a Horror fan, listen to Jason and Josh on HORROR MOVIE PODCAST
We'd like to thank The Dave Eaton Element and Dave himself for the use of his music for our theme song. Buy Dave's Eaton's music: BandCamp.com
Ryan's Fake Movie Titles:
Fraction
Counterpoint
Lovecraft
Carpe Noctem
---
If you like Movie Podcast Weekly, please subscribe and leave us a review in iTunes. If you want to support the show, we have PayPal buttons in our right-hand sidebar where you can make a one-time donation or you can become a recurring donor for just $2 per month. (Every little bit helps!)
Thanks for listening, and join us again next week for Movie Podcast Weekly.
---