Podcast: Play in new window | Download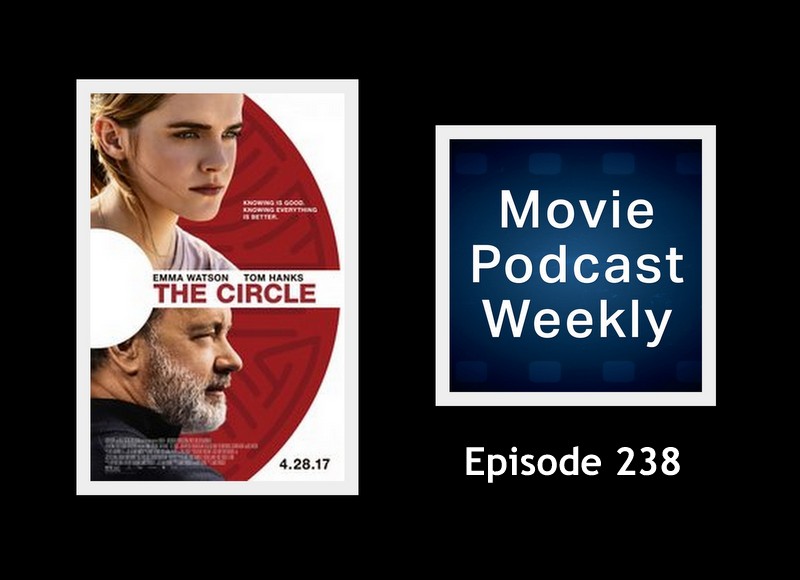 Movie Podcast Weekly is watching you… Thank you for staying "plugged in" to our little circle of jerks. tee he. This is Episode 238, the show where we bring you our Feature Review of The Circle (2017), starring Tom Hanks and Emma Watson. Also in this episode, Andy finally catches up with "Arrival," and he launches into another in-depth review of the logistics surrounding its premise. We provide a spoiler warning before moving into revealing discussion. Karl also tells us a story where he was a hero! And Ryan gives us a hilarious recounting of the Fyre Festival farce (and he provides a very interesting conspiracy theory)! You've already joined us! Keep doing it.
If you're new to our show… Movie Podcast Weekly typically features four hosts — Jason, Andy, Karl and Geek Cast Ry — along with frequent guests. We give you our verdicts on at least one new movie release from the current year that's currently playing in theaters, as well as several mini reviews of whatever we've been watching lately. New episodes release every single week!
---
SHOW NOTES:
I. Introduction
— The hosts will come and go throughout the episode
— Movie Podcast Network has launched!
— The release of Special Features Ep. 001
— Comedy Movie Podcast
---
[ 0:14:08 ] II. Movie News Items
— Jeff Goldblum joins Jurassic Park 2
— Indiana Jones 5 delayed to 2020
— Frozen 2 release in 2019
— Live action Lion King in 2019
— Young Han Solo movie in 2018
— Star Wars Ep. IX in 2019
— Is impending writers' strike pushing releases back?
— Logan B&W version in theaters in May
---
[ 0:27:38 ] III. Mini Reviews
Karl: An account of Karl's heroism
Ryan: Luke Cage, American Gods, The Fyre Fest Farce (and a conspiracy theory)
Andy: The Magnificent Seven (2016), Arrival (plus a spoiler discussion), Comedian Bridget Christie, Iliza Shlesinger: Confirmed Kills
Jason: Lion, I Am Number Four, Jay's Movie Mission 1997-98: Wag the Dog (1997), Later on… We Live in Public
---
IV. New in Theaters This Past Weekend [ Friday, April 28, 2017 ]:
The Circle
Sleight
How to Be a Latin Lover
The Black Room
Rupture
Able Bodies
Black Rose
Churchill
Trinidad
Voice From the Stone
Harold and Lillian: A Hollywood Love Story
Bit by Bit: How Bitcoin Changed the World
Danger Close
The Mayor
Buster's Mal Heart
Silk
NISE: The Heart of Madness
Baahubali 2
---
FEATURE REVIEWS HAVE TIME STAMPS:
[ 1:42:31 ] V. Feature Review: The Circle (2017)
Jason = 6.5 ( Rental / Redbox )
Karl = 6 ( Rental / Stream on Netflix )
---
VI. Wrap-Up / Plugs / Ending
---
COMING UP ON MPW NEXT WEEK:
Episode 239 where we'll be reviewing "Guardians of the Galaxy 2" and "The Discovery" (streaming on Netflix). Join us!
---
LINKS FOR THIS EPISODE:
The Traders Podcast: Learn about Bitcoin
Contact MPW:
E-mail us: MoviePodcastWeekly@gmail.com.
Leave us a voicemail: (801) 382-8789.
Follow MPW on Twitter: @MovieCastWeekly
Leave a comment in the show notes for this episode.
Ryan's new Facebook page
Ry's BIO
Ryan's New Facebook Page
Ry's flagship show: Geek Cast Live Podcast
DONATE here to facilitate the creation of more Geek content!
Blog: Geek Cast Live
Web site: Geek Harder.com
Facebook
Twitter: @GeekCastRy
Jason recommends supporting: Operation Underground Railroad
Listen to MPW:
Add MPW to your Stitcher playlist: Stitcher.com
MPW on iTunes
MPW's RSS feed
Right-click to download the MPW 100 Rap
Josh's links:
Hear Josh named as one of the Top 5 Up-and-Coming Directors on The Film Vault Podcast!
Twitter: @IcarusArts
Josh covers streaming movies on: Movie Stream Cast
Hear Josh on The SciFi Podcast
Hear Josh on Horror Movie Podcast
If you're a Horror fan, listen to Jason and Josh on HORROR MOVIE PODCAST
We'd like to thank The Dave Eaton Element and Dave himself for the use of his music for our theme song. Buy Dave's Eaton's music: BandCamp.com
Ryan's Fake Movie Titles:
Able Bodies
Trinidad
Bit by Bit: How Bitcoin Changed the World
Silk
---
If you like Movie Podcast Weekly, please subscribe and leave us a review in iTunes. If you want to support the show, we have PayPal buttons in our right-hand sidebar where you can make a one-time donation or you can become a recurring donor for just $2 per month. (Every little bit helps!)
Thanks for listening, and join us again next week for Movie Podcast Weekly.
---