Podcast: Play in new window | Download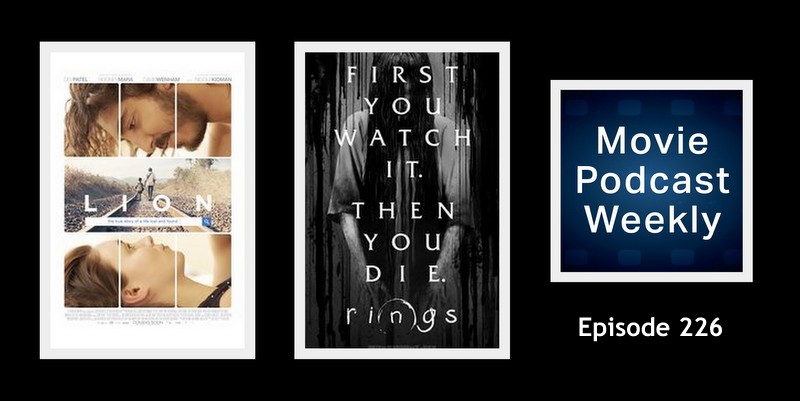 The Most Offensive Family-Friendly Podcast braves another discussion about race, immigration and other hot-button topics in Episode 226 of Movie Podcast Weekly. We know, we know… but we got word that some people found some of the remarks made during Episode 223 offensive, so we wanted to address it as our resident night manager of 7-Eleven oversaw the proceedings. We hope all will listen (especially those who found Ep. 223 offensive).
We also bring you the regular business of Feature Reviews. This week we review Lion (2017) and Rings (2017). Additionally, you'll hear our thoughts on the biggest football game of the year and we define the meaning of the phrase "Revenge Netflix." Join us, unless you're … chicken.
If you're new to our show… Movie Podcast Weekly typically features four hosts — Jason, Andy, Karl and Geek Cast Ry — along with frequent guests. We give you our verdicts on at least one new movie release from the current year that's currently playing in theaters, as well as several mini reviews of whatever we've been watching lately. New episodes release every single week!
---
SHOW NOTES:
I. Introduction
— Reflecting on the biggest football game of 2017
— Lady Gaga's performance
— High-priced movie trailers
— Melissa McCarthy on SNL
---
[ 0:10:48 ] II. Movie Podcast Weekly on Race (and other sensitive topics)
---
[ 0:51:47 ] III. Mini Reviews
Karl: Taboo, The new "24," Netflix genre add-on for Chrome browsers
Jason: Cafe Society, "Revenge Netflix," Big Fan
Ryan: The Path, Black Sails, Book: Ready Player One
Andy: Sad story about "24," Sicario, The Big Short, American Ultra, Patton Oswalt: Talking for Clapping
---
IV. New in Theaters This Past Weekend [ Friday, Feb. 3, 2017 ]:
Rings
The Space Between Us
Don't Knock Twice
The Comedian
Royal Oats
I Am Not Your Negro
White Lie
Growing Up Smith
American Violence
Cadaver
Eloise
War on Everyone
Walk With Me
Wheeler
Youth in Oregon
Oklahoma City
---
FEATURE REVIEWS HAVE TIME STAMPS:
[ 1:28:08 ] V. Feature Review: LION (2017)
Jason = 10 ( See in theaters to support great cinema, Buy it! )
---
[ 1:35:36 ] VI. Feature Review: RINGS (2017)
Jason = 4 ( Avoid )
---
VII. Wrap-Up / Plugs / Ending
— 7-Eleven $5 Movie Contests:
E-mail your answers to these two questions below to MoviePodcastWeekly@gmail.com:
1. Where is Karl originally from?
2. Where is Karl's soul from?
---
COMING UP ON MPW NEXT WEEK:
Episode 227 where we'll be reviewing "John Wick: Chapter 2" and "The LEGO Batman Movie." Join us!
---
LINKS FOR THIS EPISODE:
Contact MPW:
E-mail us: MoviePodcastWeekly@gmail.com.
Leave us a voicemail: (801) 382-8789.
Follow MPW on Twitter: @MovieCastWeekly
Leave a comment in the show notes for this episode.
Ryan's new Facebook page
Ry's BIO
Ryan's New Facebook Page
Ry's flagship show: Geek Cast Live Podcast
DONATE here to facilitate the creation of more Geek content!
Blog: Geek Cast Live
Web site: Geek Harder.com
Facebook
Twitter: @GeekCastRy
Jason recommends supporting: Operation Underground Railroad
Listen to MPW:
Add MPW to your Stitcher playlist: Stitcher.com
MPW on iTunes
MPW's RSS feed
Right-click to download the MPW 100 Rap
Josh's links:
Hear Josh named as one of the Top 5 Up-and-Coming Directors on The Film Vault Podcast!
Twitter: @IcarusArts
Josh covers streaming movies on: Movie Stream Cast
Hear Josh on The SciFi Podcast
Hear Josh on Horror Movie Podcast
If you're a Horror fan, listen to Jason and Josh on HORROR MOVIE PODCAST
We'd like to thank The Dave Eaton Element and Dave himself for the use of his music for our theme song. Buy Dave's Eaton's music: BandCamp.com
Ryan's fake movie titles:
White Lie
Walk With Me
Cadaver
Royal Oats
---
If you like Movie Podcast Weekly, please subscribe and leave us a review in iTunes. If you want to support the show, we have PayPal buttons in our right-hand sidebar where you can make a one-time donation or you can become a recurring donor for just $2 per month. (Every little bit helps!)
Thanks for listening, and join us again next week for Movie Podcast Weekly.
---