Podcast: Play in new window | Download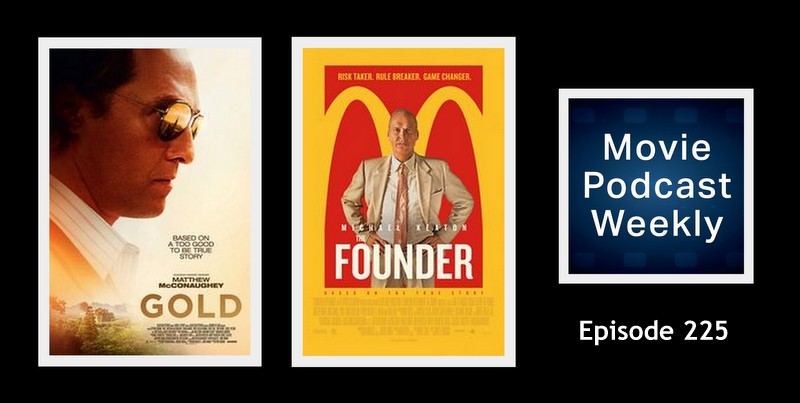 For the first time in 220 episodes, we bring you a two-hander that's just Jason and Karl … and really, judging by Karl's attentiveness, you might suspect that sometimes it's just Jason. Nevertheless, we warmly welcome you to Movie Podcast Weekly, Episode 225. In this show, you'll get two Feature Reviews of Gold and The Founder. Yeah, this episode is more laid back, but Jay reveals more info about the forthcoming Movie Podcast Network changes!
If you're new to our show… Movie Podcast Weekly typically features four hosts — Jason, Andy, Karl and Geek Cast Ry — along with frequent guests. We give you our verdicts on at least one new movie release from the current year that's currently playing in theaters, as well as several mini reviews of whatever we've been watching lately. New episodes release every single week!
---
SHOW NOTES:
I. Introduction
— It's just Jason and Karl this week…
— The death of John Hurt
— Karl recommends "From the Hip" (1987), starring John Hurt
— More Movie Podcast Network explanation and news!
— Academy Awards Best Picture nominees
— The not-quite-deserved pre-eminence of La La Land
— Coming up on MPW Ep. 228: Uncle Oscar's Tailgate Party (with Dino!)
---
[ 0:19:00 ] II. Mini Reviews
Karl: Lions for Lambs, The Young Pope Ep. 1, Taboo Eps. 1-3
Jason: This Is Us, Ep. 13: 3 sentences, Meet the Parents, The Village, Signs, The Devil and Daniel Johnston
---
— A Dog's Purpose box office results
III. New in Theaters This Past Weekend [Friday, January 27, 2017]:
Gold
A Dog's Purpose
Prospect One
Resident Evil: The Final Chapter
Kung Fu Yoga
The Salesman
Lost in Florence
Something Blue
Get the Girl
To the End of Love
Staying Vertical
The Solicitor
---
FEATURE REVIEWS HAVE TIME STAMPS:
[ 0:46:12 ] IV. Feature Review: THE FOUNDER (2017) [ Contains Potential Spoilers ]
Karl = 6.5 ( Rental )
---
[ 1:01:15 ] V. Feature Review: GOLD (2017)
Jason = 5.5 ( Low-priority Stream on Netflix )
---
VI. Wrap-Up / Plugs / Ending
---
COMING UP ON MPW NEXT WEEK:
Episode 226 where we'll be reviewing "Lion" and "Rings" and the biggest football game of the year! Join us!
---
LINKS FOR THIS EPISODE:
Contact MPW:
E-mail us: MoviePodcastWeekly@gmail.com.
Leave us a voicemail: (801) 382-8789.
Follow MPW on Twitter: @MovieCastWeekly
Leave a comment in the show notes for this episode.
Ryan's new Facebook page
Ry's BIO
Ryan's New Facebook Page
Ry's flagship show: Geek Cast Live Podcast
DONATE here to facilitate the creation of more Geek content!
Blog: Geek Cast Live
Web site: Geek Harder.com
Facebook
Twitter: @GeekCastRy
Jason recommends supporting: Operation Underground Railroad
Listen to MPW:
Add MPW to your Stitcher playlist: Stitcher.com
MPW on iTunes
MPW's RSS feed
Right-click to download the MPW 100 Rap
Josh's links:
Hear Josh named as one of the Top 5 Up-and-Coming Directors on The Film Vault Podcast!
Twitter: @IcarusArts
Josh covers streaming movies on: Movie Stream Cast
Hear Josh on The SciFi Podcast
Hear Josh on Horror Movie Podcast
If you're a Horror fan, listen to Jason and Josh on HORROR MOVIE PODCAST
We'd like to thank The Dave Eaton Element and Dave himself for the use of his music for our theme song. Buy Dave's Eaton's music: BandCamp.com
Ryan's Fake Movie Titles:
Something Blue
Prospect One
To the End of Love
The Solicitor
---
If you like Movie Podcast Weekly, please subscribe and leave us a review in iTunes. If you want to support the show, we have PayPal buttons in our right-hand sidebar where you can make a one-time donation or you can become a recurring donor for just $2 per month. (Every little bit helps!)
Thanks for listening, and join us again next week for Movie Podcast Weekly.
---