Podcast: Play in new window | Download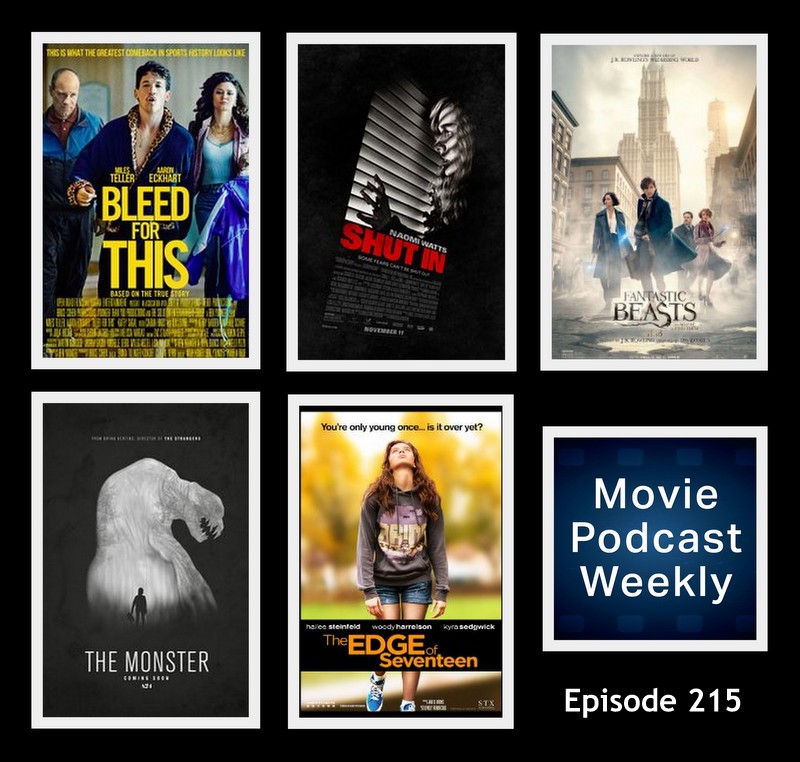 Six years in the making… For longtime listeners who date back to our previous podcast, Considering the Sequels, the raging debate over the science of "Airport '77" is put to rest. In Episode 215 of Movie Podcast Weekly, Jason, Karl and Ryan are joined by "a guy named Sandy," as well as special guest, experimental physicist THE BRAIN (of The Sci-Fi Podcast). The Brain settles the debate, once and for all, and he does it with convincing authority.
Also in this episode, we bring you five Feature Reviews of Fantastic Beasts and Where to Find Them and The Edge of Seventeen and Bleed for This and Shut In and The Monster. Join us. You'll like it!
If you're new to our show… Movie Podcast Weekly typically features four hosts — Jason, Andy, Karl and Geek Cast Ry — along with frequent guests. We give you our verdicts on at least one new movie release from the current year that's currently playing in theaters, as well as several mini reviews of whatever we've been watching lately. New episodes release every single week!
---
SHOW NOTES:
I. Introduction
— Happy Thanksgiving!
— Welcome to a guy named Sandy
— Welcome special guest The Brain
— Thanksgiving activity: What we're thankful for…
Please read this: How to Enter MPW's Top 10 Movies of 2016 Contest
---
[ 0:13:33 ] II. The Brain Settles Our Six-Year Debate Over "Airport '77"
– Hear the original debate here
– How a submarine works
— MPW Holiday Greeting
---
[ 0:41:38 ] III. Mini Reviews
Karl: Filming Go Fund Me page for The Villa, Westworld
Ryan: For the Love of the Game
Brain: Shaun of the Dead, Attack the Block, Arrival
Sandy: Sing Street
Jason: Westworld, Sing Street, This Is Us, Mad Max: Fury Road (Black & Chrome edition), Glen Phillips in SLC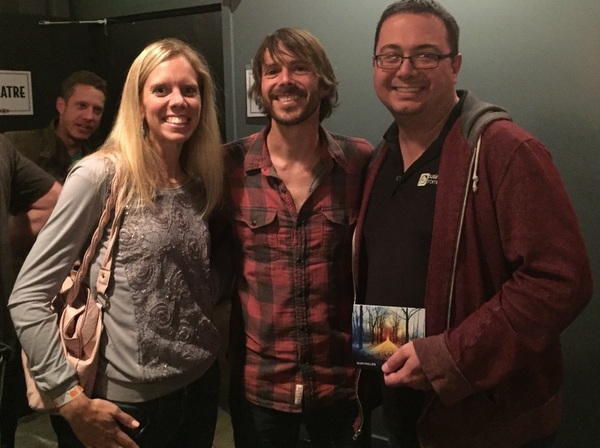 Natalie Pyles, Glen Phillips and Jason at The State Room in Salt Lake City, November 15, 2016.
Jason says sample a great, live Glen Phillips solo acoustic video (not in SLC)
And here's another: Glen Phillips – "Criminal Career"
---
IV. New in Theaters This Past Weekend (Nov. 18, 2016):
Fantastic Beasts and Where to Find Them
The Edge of Seventeen
Bleed for This
Shut In
Gone South — fake Ryan movie
Nocturnal Animals
The Take
Manchester by the Sea
Black Velvet — fake Ryan movie
Life on the Line
Daughters of the Dust
Treble Yell — fake Ryan movie
A Street Cat Named Bob
Officer Downe
Son of Man — fake Ryan movie
---
FEATURE REVIEWS HAVE TIME STAMPS:
[ 1:25:14 ] V. Feature Review: FANTASTIC BEASTS AND WHERE TO FIND THEM (2016)
Ryan = 6 ( Buy it! )
Brain = 8 ( Theater / Buy it! )
K-Man (Ryan's dad) = 1 ( Avoid )
---
[ 1:35:53 ] VI. Feature Review: THE EDGE OF SEVENTEEN (2016)
Karl = 7.5 ( Rental )
---
[ 1:42:36 ] VII. Feature Review: BLEED FOR THIS (2016)
Jason = 8.5 ( Theater / Buy it! )
Sandy = 7 ( Rental )
---
[ 1:53:33 ] VIII. Feature Review: SHUT IN (2016)
Jason = 5.5 ( Rental )
---
[ 2:03:28 ] IX. Feature Review: THE MONSTER (2016)
Jason = 6.5 ( Rental )
---
X. Wrap-Up / Plugs / Ending
— Brain discusses NASA's EM Drive
— Glen Phillips's live performance of "Criminal Career" at The State Room in Salt Lake City on November 15, 2016.
---
COMING UP ON MPW NEXT WEEK:
Episode 216 where we'll be reviewing:
Allied
Moana
Moonlight
Pencils Down! The 100 Days of the Writers Guild Strike
with special guest MPW host, Josh Ligairi!
Join us!
---
LINKS FOR THIS EPISODE:
Read this: How to Enter MPW's Top 10 Movies of 2016 Contest
Hear more from THE BRAIN on The Sci-Fi Podcast. And check out The Sci-Fi Podcast's FACEBOOK page!
If you'd like to count down to MPW's Top 10 Best Movies of 2016 episode over the next four weeks by listening to each of our previous Top 10 Best episodes (from 2012 to 2015), you can hear them here:
Ep. 014: MPW's Top 10 Best Movies of 2012
Ep. 066: MPW's Top 10 Best Movies of 2013
Ep. 118: MPW's Top 10 Best Movies of 2014
Ep. 170: MPW's Top 10 Best Movies of 2015
MPW's Planes, Trains & Automobiles Commentary (if you want to throw away $1)
Catch up with "Sandy" on Butterflies Forever!
Contact MPW:
E-mail us: MoviePodcastWeekly@gmail.com.
Leave us a voicemail: (801) 382-8789.
Follow MPW on Twitter: @MovieCastWeekly
Leave a comment in the show notes for this episode.
Ryan's new Facebook page
Ry's BIO
Ryan's New Facebook Page
Ry's flagship show: Geek Cast Live Podcast
DONATE here to facilitate the creation of more Geek content!
Blog: Geek Cast Live
Web site: Geek Harder.com
Facebook
Twitter: @GeekCastRy
Jason recommends supporting: Operation Underground Railroad
Listen to MPW:
Add MPW to your Stitcher playlist: Stitcher.com
MPW on iTunes
MPW's RSS feed
Right-click to download the MPW 100 Rap
Josh's links:
Hear Josh named as one of the Top 5 Up-and-Coming Directors on The Film Vault Podcast!
Twitter: @IcarusArts
Josh covers streaming movies on: Movie Stream Cast
Hear Josh on The SciFi Podcast
Hear Josh on Horror Movie Podcast
If you're a Horror fan, listen to Jason and Josh on HORROR MOVIE PODCAST
We'd like to thank The Dave Eaton Element and Dave himself for the use of his music for our theme song. Buy Dave's Eaton's music: BandCamp.com
---
If you like Movie Podcast Weekly, please subscribe and leave us a review in iTunes. If you want to support the show, we have PayPal buttons in our right-hand sidebar where you can make a one-time donation or you can become a recurring donor for just $2 per month. (Every little bit helps!)
Thanks for listening, and join us again next week for Movie Podcast Weekly.
---