Podcast: Play in new window | Download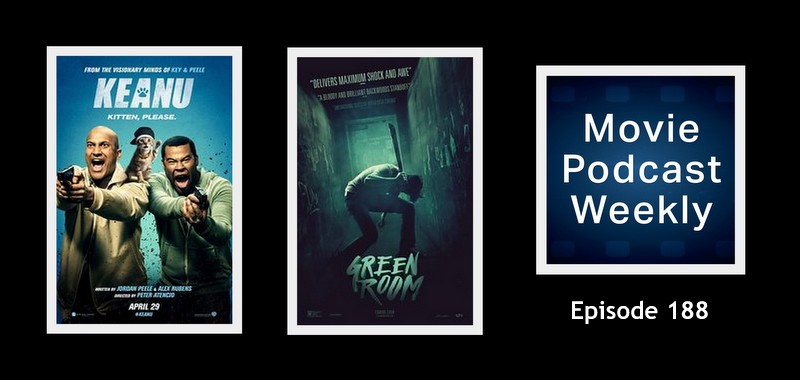 "Green Room" is the movie to beat thus far in 2016. In Episode 188 of Movie Podcast Weekly, Jason and Andy proudly review director Jeremy Saulnier's excellent follow-up to "Blue Ruin," so listen to this show for our spoiler-free Feature Review of Green Room, as well as Karl and Jason's review of Keanu. And though Ryan isn't in attendance on this episode, we still bring you our 2016 Summer Blockbuster Preview!
If you're new to our show… Movie Podcast Weekly typically features four hosts — Jason, Andy, Karl and Ryan. We give you our verdicts on at least one new movie release from the current year that's currently playing in theaters, as well as several mini reviews of whatever we've been watching lately. New episodes release every single week!
---
SHOW NOTES:
I. Introduction
— No Ryan this week.
---
[ 0:01:14 ] II. Mini Reviews
Karl: Walmart's $7.88 Blu-rays: World War Z, The Secret Life of Walter Mitty, Earthquake (1974),
Andy: Dark City (not yet); Tribute to BBC documentaries: Planet Earth, Life, The Blue Planet; Minions, True Detective Seasons 1 and 2; The Man in the High Castle; Spectre
Jason: The status of "Desierto"
---
III. New in Theaters This Past Weekend:
Green Room
Keanu
Mother's Day
Ratchet & Clank
The Family Fang
The Wait
Papa Hemingway in Cuba
A Beautiful Planet
Viva
The Man Who Knew Infinity
---
FEATURE REVIEWS HAVE TIME STAMPS:
[ 0:31:33 ] IV. Feature Review: GREEN ROOM (2016)
Jason = 9.5 ( Must-See / Theater / Buy it! )
Andy = 9.5 ( Theater / Buy it! )
---
[ 0:56:22 ] V. Feature Review: KEANU (2016)
Jason = 7 ( Strong Rental )
Karl = 7.5 ( Strong Rental )
---
[ 1:07:44 ] VI. Main Event: 2016 SUMMER BLOCKBUSTER PREVIEW
— Tell us what you're looking forward to in the comments!
---
VII. Wrap-Up / Plugs / Ending
— Jennifer Reeves Designs
— Karl on the forthcoming ultra-high definition Blu-ray players: The Martian, Oppo
---
COMING UP ON MPW NEXT WEEK:
Episode 189 where we'll be reviewing "Captain America: Civil War" and The Dark Knight trilogy, CTS Podcast-style… Join us!
---
LINKS FOR THIS EPISODE:
Need some artistic gemstone jewelry? Check out Jennifer Reeves Designs, where artistry meets sophistication.
Like Horror movies? Here is an EXCELLENT EPISODE of Horror Movie Podcast!
Contact MPW:
E-mail us: MoviePodcastWeekly@gmail.com.
Leave us a voicemail: (801) 382-8789.
Follow MPW on Twitter: @MovieCastWeekly
Leave a comment in the show notes for this episode.
Ry's BIO
Ry's flagship show: Geek Cast Live Podcast
DONATE here to facilitate the creation of more Geek content!
Blog: Geek Cast Live
Web site: Geek Harder.com
Facebook
Twitter: @GeekCastRy
Jason recommends supporting: Operation Underground Railroad
Listen to MPW:
Add MPW to your Stitcher playlist: Stitcher.com
MPW on iTunes
MPW's RSS feed
Right-click to download the MPW 100 Rap
Josh's links:
Hear Josh named as one of the Top 5 Up-and-Coming Directors on The Film Vault Podcast!
Twitter: @IcarusArts
Josh covers streaming movies on: Movie Stream Cast
Hear Josh on The SciFi Podcast
Hear Josh on Horror Movie Podcast
If you're a Horror fan, listen to Jason and Josh on HORROR MOVIE PODCAST
We'd like to thank The Dave Eaton Element and Dave himself for the use of his music for our theme song. Buy Dave's Eaton's music: BandCamp.com
---
If you like Movie Podcast Weekly, please subscribe and leave us a review in iTunes. If you want to support the show, we have PayPal buttons in our right-hand sidebar where you can make a one-time donation or you can become a recurring donor for just $2 per month. (Every little bit helps!)
Thanks for listening, and join us again next week for Movie Podcast Weekly.
---