Podcast: Play in new window | Download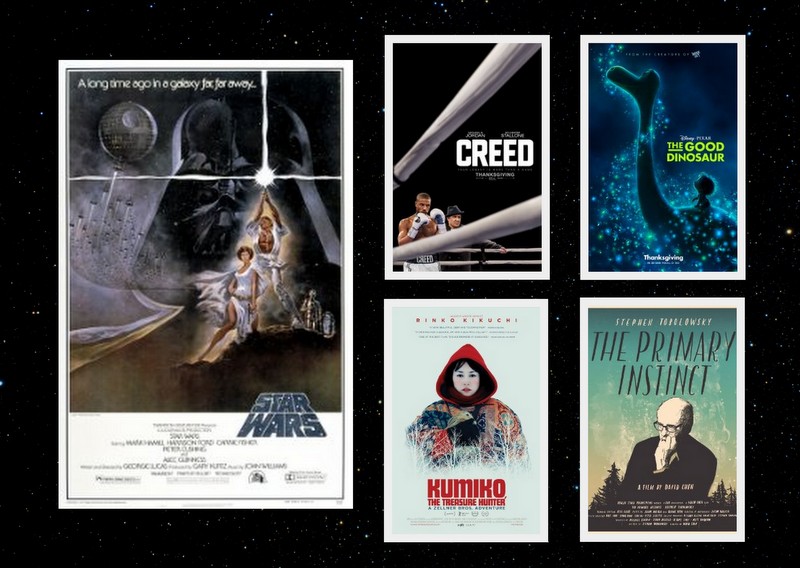 Whoa. Episode 166 of Movie Podcast Weekly is wild! We are in our fourth installment of a seven-part series in which we're reviewing the entire STAR WARS FRANCHISE! In Episode 166, we bring you an in-depth Feature Review of Star Wars Episode IV: A New Hope (1977) with special guest Steve Hernandez. And believe it or not, our review of the first Star Wars release brings some serious fireworks and excitement, so you won't want to miss this show!
We also bring you Feature Reviews of Creed and The Good Dinosaur and Kumiko, the Treasure Hunter and The Primary Instinct. Join us!
If you're new to our show… Movie Podcast Weekly typically features four hosts — Jason, Andy, Karl and Geek Cast Ry — along with frequent guests. We give you our verdicts on at least one new movie release from the current year that's currently playing in theaters, as well as several mini reviews of whatever we've been watching lately. And we usually provide specialized genre recommendations. New episodes release every single Wednesday.
---
SHOW NOTES:
I. Introduction
— Welcome guest Steve Hernandez
— Captain America: Civil War trailer
— Emilia Clarke played Sarah Connor in "Terminator Genisys"!
— Andy's home theater is finished
— Jason's concerns about the Star Wars movies getting locked in the Disney vault
— George Lucas hasn't seen "The Force Awakens" yet (but Spielberg has seen it three times already)!
---
[ 0:21:31 ] II. Feature Review: STAR WARS EPISODE IV: A NEW HOPE (1977) with guest Steve Hernandez
Jason = 9 ( Buy it! / Must-see )
Andy = 10 ( Buy it! / Masterpiece )
Karl = 10 ( Buy it! / A perfect movie / In Top 5 of All Time )
Ryan = 10 ( Buy it! / Masterpiece )
Steve Hernandez = 5.5 ( Buy for fans; rental for everyone else)
Steve's plugs: Check out the Google's various celebratory antics for Star Wars.
---
III. New in Theaters This Past Weekend:
Creed
The Good Dinosaur
Victor Frankenstein
Secret in Their Eyes
The Danish Girl
Janis: Little Girl Blue
Killing Them Safely
---
FEATURE REVIEWS HAVE TIME STAMPS:
[ 1:13:56 ] IV. Feature Review: KUMIKO, THE TREASURE HUNTER (2015)
Jason = 4 ( Avoid )
Andy = 5 ( Low-priority Rental )
---
[ 1:31:51 ] V. Feature Review: THE GOOD DINOSAUR (2015)
Karl = 5.5 ( Rental for Kids )
Ryan = 5 ( Rental for Kids Only; Don't Purchase )
---
[ 1:47:11 ] VI. Feature Review: CREED (2015)
Jason = 7.5 ( Theater / Strong Rental )
---
[ 1:55:37 ] VII. Feature Review: THE PRIMARY INSTINCT (2015)
Jason = 7 ( Strong Rental )
---
VIII. Wrap-Up / Plugs / Ending
— Thanks to Sal for purchasing our "Planes, Trains and Automobiles" commentary
— Thanks to Juan, German and David for your supportive donations
---
COMING UP ON MPW NEXT WEEK:
Episode 167 where we'll be reviewing "Star Wars Episode V: The Empire Strikes Back" (1980) and the new releases, "Krampus," "Spotlight," "Secret in Their Eyes," "Christmas Eve," "The Hunting Ground" and "Macbeth." Join us!
---
LINKS FOR THIS EPISODE:
Jason recommends George Lucas – Washington Post interview
Karl recommends 14 Moving Facts About "Planes, Trains and Automobiles"
Ryan recommends Star Wars Minus Williams – Throne Room
Contact MPW:
E-mail us: MoviePodcastWeekly@gmail.com.
Leave us a voicemail: (801) 382-8789.
Follow MPW on Twitter: @MovieCastWeekly
Leave a comment in the show notes for this episode.
Ry's BIO
Ry's flagship show: Geek Cast Live Podcast
DONATE here to facilitate the creation of more Geek content!
Blog: Geek Cast Live
Web site: Geek Harder.com
Facebook
Twitter: @GeekCastRy
Jason recommends supporting: Operation Underground Railroad
Listen to MPW:
Add MPW to your Stitcher playlist: Stitcher.com
MPW on iTunes
MPW's RSS feed
Right-click to download the MPW 100 Rap
Josh's links:
Hear Josh named as one of the Top 5 Up-and-Coming Directors on The Film Vault Podcast!
Twitter: @IcarusArts
Josh covers streaming movies on: Movie Stream Cast
Hear Josh on The SciFi Podcast
Hear Josh on Horror Movie Podcast
If you're a Horror fan, listen to Jason and Josh on HORROR MOVIE PODCAST
We'd like to thank The Dave Eaton Element and Dave himself for the use of his music for our theme song. Buy Dave's Eaton's music: BandCamp.com
---
If you like Movie Podcast Weekly, please subscribe and leave us a review in iTunes. If you want to support the show, we have PayPal buttons in our right-hand sidebar where you can make a one-time donation or you can become a recurring donor for just $2 per month. (Every little bit helps!)
Thanks for listening, and join us again next Wednesday for Movie Podcast Weekly.
---