Podcast: Play in new window | Download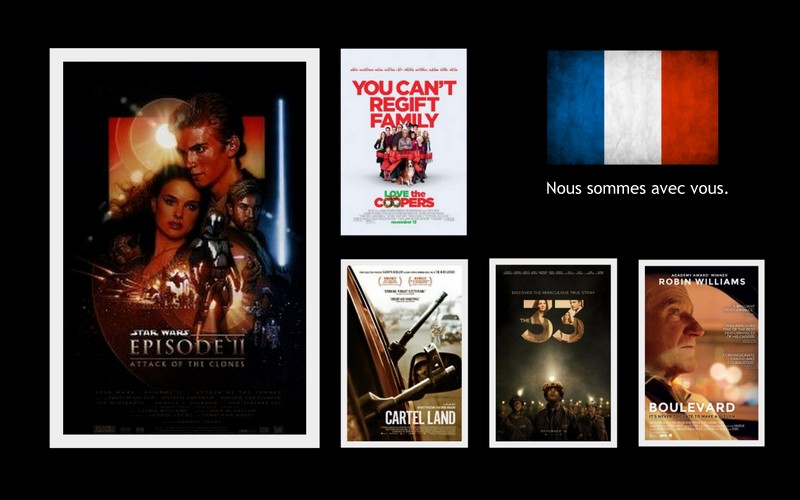 Bonjour! Welcome to Movie Podcast Weekly, Episode 164. This is Part 2 of our 7-Part series where we're reviewing the entire STAR WARS franchise. We welcome back special guest Steve Hernandez to help us Feature Review Star Wars Episode II: Attack of the Clones (2002), as well as these new 2015 releases: The 33 and Love the Coopers and Cartel Land and Boulevard.
If you're new to our show… Movie Podcast Weekly typically features four hosts — Jason, Andy, Karl and Geek Cast Ry — along with frequent guests. We give you our verdicts on at least one new movie release from the current year that's currently playing in theaters, as well as several mini reviews of whatever we've been watching lately. And we usually provide specialized genre recommendations. New episodes release every single Wednesday.
---
SHOW NOTES:
I. Introduction
— Movie news that is unnecessary to write here because Karl and Ryan already posted these headlines on their personal Facebook accounts…
— The Paris Attacks
— Listener feedback: Jenifer, K. Porter, Chad Downey, Vance
---
[ 0:29:58 ] II. Feature Review: STAR WARS EPISODE II: ATTACK OF THE CLONES (2015) with guest Steve Hernandez
Jason = 7 ( Buy it! )
Andy = 5 ( Fans should Buy it!; otherwise, Rental )
Karl = 6 ( Buy it! )
Ryan = 5.5 ( Buy it! )
Steve Hernandez = 5 ( Fans should Buy it!; otherwise, Rental )
III. The /Filmcast agrees with Jason regarding "Spectre" (2015)
---
IV. New in Theaters This Past Weekend:
The 33
Love the Coopers
My All American
By the Sea [ Limited ]
Entertainment [ Limited ]
Ingrid Bergman in Her Own Words [ Limited ]
Kilo Two Bravo [ Limited ]
Prem Ratan Dhan Payo [ Limited ]
---
2015 FEATURE REVIEWS WITH TIME STAMPS:
[ 1:37:49 ] V. Feature Review: LOVE THE COOPERS (2015)
Karl = 6.5 ( Theater / Rental )
---
[ 1:51:35 ] VI. Feature Review: THE 33 (2015)
Jason = 6.5 ( Rental )
---
[ 2:03:30 ] VII. Feature Review: BOULEVARD (2015)
Jason = 6.5 ( Rental )
---
[ 2:08:58 ] VIII. Feature Review: CARTEL LAND (2015)
Jason = 8.5 ( Excellent documentary, but proceed with caution )
---
IX. Weinstein Co. Planning Layoffs
X. The Dismal Box Office Numbers for JEM and Rock the Kasbah
---
XI. Wrap-Up / Plugs / Ending
XII. The Scariest Nightmare That Andy Has Ever Had…
---
COMING UP ON MPW NEXT WEEK:
Episode 165 where we'll be reviewing "Star Wars Episode III: Revenge of the Sith," "The Hunger Games: Mockingjay – Part 2," "The Man in the High Castle" and "Kidnapping Mr. Heineken" with special guests Steve Hernandez and Jason Diediker. Join us!
---
LINKS FOR THIS EPISODE:
Contact MPW:
E-mail us: MoviePodcastWeekly@gmail.com.
Leave us a voicemail: (801) 382-8789.
Follow MPW on Twitter: @MovieCastWeekly
Leave a comment in the show notes for this episode.
Ry's BIO
Ry's flagship show: Geek Cast Live Podcast
DONATE here to facilitate the creation of more Geek content!
Blog: Geek Cast Live
Web site: Geek Harder.com
Facebook
Twitter: @GeekCastRy
Jason recommends supporting: Operation Underground Railroad
Listen to MPW:
Add MPW to your Stitcher playlist: Stitcher.com
MPW on iTunes
MPW's RSS feed
Right-click to download the MPW 100 Rap
Josh's links:
Hear Josh named as one of the Top 5 Up-and-Coming Directors on The Film Vault Podcast!
Twitter: @IcarusArts
Josh covers streaming movies on: Movie Stream Cast
Hear Josh on The SciFi Podcast
Hear Josh on Horror Movie Podcast
If you're a Horror fan, listen to Jason and Josh on HORROR MOVIE PODCAST
We'd like to thank The Dave Eaton Element and Dave himself for the use of his music for our theme song. Buy Dave's Eaton's music: BandCamp.com
---
If you like Movie Podcast Weekly, please subscribe and leave us a review in iTunes. If you want to support the show, we have PayPal buttons in our right-hand sidebar where you can make a one-time donation or you can become a recurring donor for just $2 per month. (Every little bit helps!)
Thanks for listening, and join us again next Wednesday for Movie Podcast Weekly.
---