Podcast: Play in new window | Download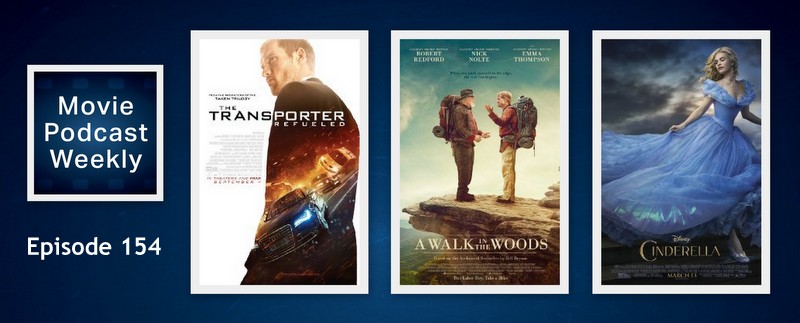 Happy birthday to Ryan this week! He's 14 and has facial hair. It's time for Movie Podcast Weekly, the most offensive family-friendly podcast — ever! This is Episode 154. This is the episode where Andy says a crescent wrench can be considered pornography…
In this show, your four hosts bring you our MPW Fall / Winter Preview of all the upcoming new releases for the remainder of this year. We also reveal MPW's plan for ramping up to our coverage of "Star Wars Ep. VII: The Force Awakens."
This episode of Movie Podcast Weekly brings you three Feature Reviews of The Transporter Refueled, which is a PG-13 action movie that inspired Andy to write and read a heartfelt and passionate open letter that he penned for the movie industry and parents. This movie also inspired Jason to do some soul-searching about the direction his life has taken…
After denying Andy the opportunity to see the film — but going to see it himself — Karl brings us a Feature Review of A Walk in the Woods. And even though Jason and most listeners probably had no interest in the new, live-action Cinderella, Jason brings a surprising Feature Review of that film, as well. Join us!
If you're new to our show… Movie Podcast Weekly typically features four hosts — Jason, Andy, Karl and Geek Cast Ry — along with frequent guests. We give you our verdicts on at least one new movie release from the current year that's currently playing in theaters, as well as several mini reviews of whatever we've been watching lately. And we usually provide specialized genre recommendations. New episodes release every single Wednesday.
---
SHOW NOTES:
I. Introduction
— MPW Listener Feedback and other Miscellany:
Shout-out to Justin at Josh Ligairi's BBQ
Ryan's 14th birthday is Sept. 12
Ep. 152 comments: Gomez98, Sal Roma
Ep. 153 comments: Shannon, Sal Roma
Cody Clark's guest appearance on Cody Clarke's SMUG Film Podcast
Shout-out to Cyndi
---
[ 0:19:03 ] II. 2015 FALL / WINTER PREVIEW
— MPW's Star Wars Coverage in November and December
— MPW's Best Movies of 2015 Show
— MPW's first episode of 2016: The Best Films of the Twenty-Tens So Far…
---
[ 0:58:08 ] III. Mini Reviews
Karl: The Bourne Franchise, Mission: Impossible – Rogue Nation
Ryan: Man on Wire, Mad Max: Fury Road
Jason: Atari: Game Over, Stung (2015)
Andy: The Lego Movie (audio review), Big Hero 6 (audio review)
---
[ 1:20:46 ] IV. Movie News
— Avatars 2, 3 and 4 already slated
— VidAngel "cleans" R-rated movie content
— Prometheus 2 first, then Alien 5 afterward
---
V. New in Theaters This Past Weekend:
The Transporter Refueled
A Walk in the Woods
Before We Go [ Limited ]
Dragon Blade [ Limited ]
Chloe & Theo [ Limited ]
Steve Jobs: The Man in the Machine [ Limited ]
Break Point [ Limited ]
Heroes of Dirt [ Limited ]
---
FEATURE REVIEWS HAVE TIME STAMPS:
[ 1:26:19 ] VI. Feature Review: THE TRANSPORTER REFUELED (2015) and Andy's Open Letter to Parents and the Movie Industry
Jason = 4 ( Avoid )
Andy = Refused to rate. Offended Andy. ( Avoid )
Karl = 5 ( Rental )
---
[ 1:48:03 ] VII. Feature Review: A WALK IN THE WOODS (2015)
Karl = 6 ( Rental )
---
[ 1:55:08 ] VIII. Feature Review: CINDERELLA (2015)
Jason = 8 ( Theater / Buy it! )
---
IX. Wrap-Up / Plugs / Ending
— Special thanks to Ryan for his generous donation!
---
COMING UP ON MPW NEXT WEEK:
Episode 155 where we'll be reviewing "The Visit," "Cop Car" and "Child 44." Join us!
---
LINKS FOR THIS EPISODE:
Check out Ryan's parents' new Twitter: @LoChillss
Be sure to listen to Cody Clark's guest appearance on Cody Clarke's SMUG Film Podcast
Check out the two new Horror Movie Podcast T-Shirts
Contact MPW:
E-mail us: MoviePodcastWeekly@gmail.com.
Leave us a voicemail: (801) 382-8789.
Follow MPW on Twitter: @MovieCastWeekly
Leave a comment in the show notes for this episode.
Ry's BIO
Ry's flagship show: Geek Cast Live Podcast
DONATE here to facilitate the creation of more Geek content!
Blog: Geek Cast Live
Web site: Geek Harder.com
Facebook
Twitter: @GeekCastRy
Jason recommends supporting: Operation Underground Railroad
Listen to MPW:
Add MPW to your Stitcher playlist: Stitcher.com
MPW on iTunes
MPW's RSS feed
Right-click to download the MPW 100 Rap
Josh's links:
Hear Josh named as one of the Top 5 Up-and-Coming Directors on The Film Vault Podcast!
Twitter: @IcarusArts
Josh covers streaming movies on: Movie Stream Cast
Hear Josh on The SciFi Podcast
Hear Josh on Horror Movie Podcast
If you're a Horror fan, listen to Jason and Josh on HORROR MOVIE PODCAST
We'd like to thank The Dave Eaton Element and Dave himself for the use of his music for our theme song. Buy Dave's Eaton's music: BandCamp.com
---
If you like Movie Podcast Weekly, please subscribe and leave us a review in iTunes. If you want to support the show, we have PayPal buttons in our right-hand sidebar where you can make a one-time donation or you can become a recurring donor for just $2 per month. (Every little bit helps!)
Thanks for listening, and join us again next Wednesday for Movie Podcast Weekly.
---