Podcast: Play in new window | Download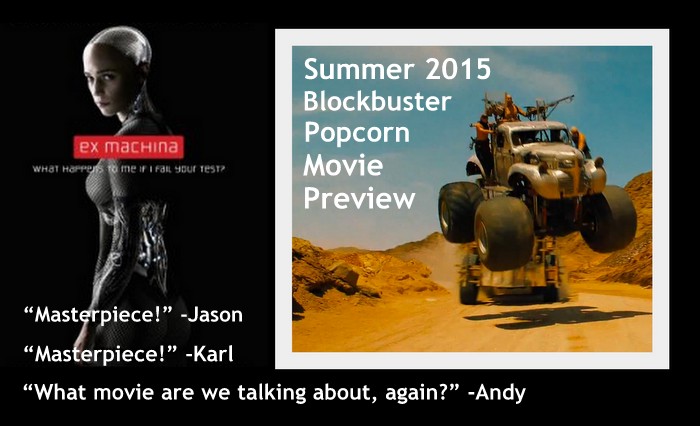 Movie Podcast Weekly Episode 135 is an important show for two reasons: First, we bring you a Feature Reviews of Ex Machina, a film that two of the three hosts on this podcast considers a bona fide Masterpiece! And second, we bring you the MPW SUMMER 2015 BLOCKBUSTER POPCORN MOVIE PREVIEW. Join us! You'll probably have a good time. Don't forget to leave us a voicemail: (801) 382-8789.
If you're new to our show… Movie Podcast Weekly typically features three hosts — Jason, Andy and Karl — along with frequent guests. We give you our verdicts on at least one new movie release from the current year that's currently playing in theaters, as well as several mini reviews of whatever we've been watching lately. And we usually provide specialized genre recommendations. New episodes release every single Wednesday.
---
SHOW NOTES:
I. Introduction
— A shameless Paul Blart 2 ad
— Adam Sandler's controversy with The Ridiculous 6
— Jason's existential, pre-screening theater realization
---
[ 0:07:07 ] II. Voicemail from Dino! (Thanks, Dino!)
— Regarding "Extended Editions" on DVD / Blu-ray
— Poll question results on preferred show length
---
[ 0:20:00 ] III. Mini Reviews
Karl: Sunshine, Remember the Titans, Finding Forrester
Jason: Innerspace, Penguins of Madagascar
Andy: Rosewater
---
IV. What's New in Theaters This Past Weekend
Ex Machina [ Nationwide Expansion ]
The Age of Adaline
Little Boy
The Water Diviner [ Limited ]
Adult Beginners [ Limited ]
Misery Loves Comedy [ Limited ]
---
FEATURE REVIEWS HAVE TIME STAMPS:
[ 0:39:41 ] V. Feature Review: EX MACHINA (2015)
Jason = 10 ( Theater / Buy it! / Masterpiece )
Andy = 8 ( Theater / Buy it! )
Karl = 9.5 ( Theater / Buy it! / Masterpiece )
---
[ 1:11:09 ] VI. Feature Review: SUMMER 2015 BLOCKBUSTER POPCORN MOVIE PREVIEW
— May 2015 lineup
— June 2015 lineup
— July 2015 lineup
— August 2015 lineup
---
[ 1:28:47 ] VII. Specialty Recommendation Segments:
KARL HUDDLESTON'S GREAT PERFORMANCES AND MIGHTY LINES:
Films: Star Trek series
Great Performance: Brent Spiner as Data
ANDY'S UNSEEMLY HOMEWORK:
Anatomy of a Murder (1959) = 10 ( Must-See )
12 Angry Men (1957) = 10 ( Must-See )
I Saw the Devil (2010)
The Gate (1987) = 4.5 ( Avoid )
JASON'S "THE-NEXT-DAY-AT-WORK MOVIE RECOMMENDATION
Galaxy Quest (1999)
Jason = 8 ( Buy it! )
---
IX. Wrap-Up / Plugs / Ending
Plugs:
Andy: None.
Karl: None.
Jason: Check out Horror Movie Podcast and The Sci-Fi Podcast
— Special thanks to David for his generous donation.
---
COMING UP ON MPW NEXT WEEK:
Episode 136 when we'll be reviewing "Avengers: Age of Ultron." Join us!
---
LINKS FOR THIS EPISODE:
Contact MPW:
E-mail us: MoviePodcastWeekly@gmail.com.
Leave us a voicemail: (801) 382-8789.
Follow MPW on Twitter: @MovieCastWeekly
Leave a comment in the show notes for this episode.
Listen to MPW:
Add MPW to your Stitcher playlist: Stitcher.com
MPW on iTunes
MPW's RSS feed
Right-click to download the MPW 100 Rap
Jason recommends supporting: Operation Underground Railroad
Jason highly recommends trying out Mattroid and William Rowan Jr.'s new, must-listen show — The SciFi Podcast
Provo Film Society on Facebook
Provo Film Society on Twitter
Keep up with Josh:
Twitter: @IcarusArts
Josh covers streaming movies on: Movie Stream Cast
If you're a Horror fan, listen to Jason and Josh on HORROR MOVIE PODCAST
We'd like to thank The Dave Eaton Element and Dave himself for the use of his music for our theme song. Buy Dave's Eaton's music: BandCamp.com
---
If you like Movie Podcast Weekly, please subscribe and leave us a review in iTunes. If you want to support the show, we have PayPal buttons in our right-hand sidebar where you can make a one-time donation or you can become a recurring donor for just $2 per month. (Every little bit helps!)
Thanks for listening, and join us again next Wednesday for Movie Podcast Weekly.
---