Podcast: Play in new window | Download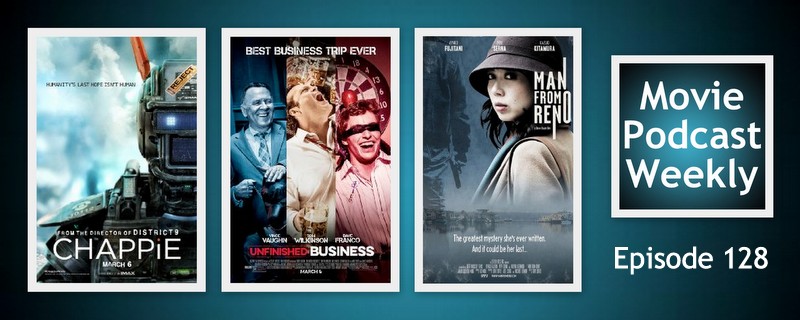 Joshua Ligairi is back for a visit along with our friend and special guest, William Rowan Jr. So, welcome to Episode 128 of Movie Podcast Weekly! In this show, we bring you three Feature Reviews of Chappie and Unfinished Business and Man From Reno. This is one of our weirdest shows, tonally, ever. But we bring you all our usual shenanigans, including our Mini Reviews and a Continuing Education segment from our very own Joshua Ligairi! Join us!
If you're new to our show… Movie Podcast Weekly typically features three hosts — Jason, Andy and Karl — along with frequent guests. We give you our verdicts on at least one new movie release from the current year that's currently playing in theaters, as well as several mini reviews of whatever we've been watching lately. And we usually provide specialized genre recommendations. New episodes release every single Tuesday.
---
SHOW NOTES:
I. Introduction
— Joshua Ligairi is back for a visit!
— Welcome special guest William Rowan Jr.
---
II. Mini Reviews
Josh: The Captive
Jason: Big Hero 6, Hear Jason's new "5 Minutes of Horror" review of The Remaining, and Jason says check out William Rowan Jr's new show The Sci-Fi Podcast
William Rowan Jr: Romantics Anonymous
Andy: Stand-up comedy: Russell Brand's "Messiah Complex," The Rover (again)
---
III. What's New in Theaters This Past Weekend
Chappie
Unfinished Business
The Second Best Exotic Marigold Hotel
The Coup
Merchants of Doubt
Compared to What: The Improbable Journey of Barney Frank
---
FEATURE REVIEWS HAVE TIME STAMPS:
[ 0:42:49 ] IV. Feature Review: CHAPPiE (2015)
Jason = 3.5 ( Avoid )
William Rowan Jr. = 9 ( Rental )
---
[ 1:18:03 ] V. Feature Review: UNFINISHED BUSINESS (2015) — with complete and total major plot spoilers by Andy
Andy = 4 ( Avoid )
---
[ 1:37:34 ] VI. Feature Review: MAN FROM RENO (2015)
Josh = 9 ( Theater / Rental )
William Rowan Jr. = 9 ( Rental )
---
[ 2:02:44 ] VII. Specialty Segment:
JOSHUA LIGAIRI'S CONTINUING EDUCATION:
Cinematic Oddity: Roar (1981)
Also from Josh: The lions at Tippi Hedren's house. Nuts.
---
VIII. Wrap-Up / Plugs / Ending
---
COMING UP ON MPW NEXT WEEK:
Episode 129 when we'll be reviewing "Run All Night" (since "The Following" is only going to be in Limited release) and Karl will be reviewing "The Second Best Exotic Marigold Hotel."
---
LINKS FOR THIS EPISODE:
Don't forget to check out William Rowan Jr.'s The Sci-Fi Podcast
Provo Film Society on Facebook
Provo Film Society on Twitter
Jay's 5 Minutes of Horror review on "The Remaining" (2015)
Jason highly recommends trying out Mattroid and William Rowan Jr.'s new, must-listen show — The SciFi Podcast
Jason recommends supporting: Operation Underground Railroad
Contact MPW:
E-mail us: MoviePodcastWeekly@gmail.com.
Leave us a voicemail: (801) 382-8789.
Follow MPW on Twitter: @MovieCastWeekly
Leave a comment in the show notes for this episode.
Listen to MPW:
Add MPW to your Stitcher playlist: Stitcher.com
MPW on iTunes
MPW's RSS feed
Right-click to download the MPW 100 Rap
Keep up with Josh:
Twitter: @IcarusArts
Josh covers streaming movies on: Movie Stream Cast
If you're a Horror fan, listen to Jason and Josh on HORROR MOVIE PODCAST
We'd like to thank The Dave Eaton Element and Dave himself for the use of his music for our theme song. Buy Dave's Eaton's music: BandCamp.com
---
If you like Movie Podcast Weekly, please subscribe and leave us a review in iTunes. If you want to support the show, we have PayPal buttons in our right-hand sidebar where you can make a one-time donation or you can become a recurring donor for just $2 per month. (Every little bit helps!)
Thanks for listening, and join us again next Tuesday for Movie Podcast Weekly.
---