Podcast: Play in new window | Download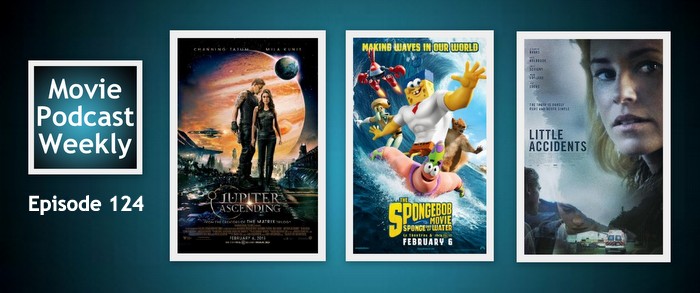 Hi, and welcome to Movie Podcast Weekly, Episode 124. In this show, your hosts Jason, Andy and Karl bring you Feature Reviews of Jupiter Ascending and The SpongeBob Movie: Sponge Out of Water and Little Accidents. Thanks for listening!
If you're new to our show… Movie Podcast Weekly typically features three hosts — Jason, Andy and Karl — along with frequent guests. We give you our verdicts on at least one new movie release from the current year that's currently playing in theaters, as well as several mini reviews of whatever we've been watching lately. And we usually provide specialized genre recommendations. New episodes release every single Tuesday. Join us!
---
SHOW NOTES:
I. Introduction
---
[ 0:01:21 ] II. Mini Reviews
Karl: The Judge, Sons of Liberty (TV show), Turn (TV show), The Blacklist (TV Show)
Jason: Thundercats (TV cartoon), Dr. Dolittle (1998)
Andy: Confessions of a Dangerous Mind; Comedy Specials by Iliza Shlesinger: War Paint, Freezing Hot; Neighbors
---
III. What's New in Theaters This Past Weekend
Jupiter Ascending
The SpongeBob Movie: Sponge Out of Water
Seventh Son
Ballet 422
---
FEATURE REVIEWS HAVE TIME STAMPS:
[ 0:29:43 ] IV. Feature Review: JUPITER ASCENDING (2015)
Jason = 4 ( Avoid )
---
[ 0:37:42 ] V. Feature Review: THE SPONGEBOB MOVIE: SPONGE OUT OF WATER (2015)
Karl = 6 ( Rental )
---
[ 0:42:37 ] VI. Feature Review: LITTLE ACCIDENTS (2015)
Jason = 5 ( Low-priority Rental )
---
[ 0:52:07 ] VII. Specialty Segments:
KARL HUDDLESTON'S GREAT PERFORMANCES AND MIGHTY LINES:
Great Performances: Steve Martin
Films: Roxanne (1987) and L.A. Story (1991)
ANDY'S UNSEEMLY HOMEWORK:
Tokyo Gore Police (2008) = 1 ( Avoid )
Also: Andy recommends the Steve Martin audio book "Pure Drivel"
JAY OF THE DEAD'S 1970s HORROR-THON:
John Carpenter's Halloween (1978) = 8.5 ( Buy it! )
*** To hear Jay and his pals give you extremely in-depth reviews of "Halloween" (1978) and the entire franchise, start listening to: Horror Movie Podcast Ep. 027
---
VIII. Wrap-Up / Plugs / Ending
— What you might want to know about "Fifty Shades of Grey" before going to see it with your grandma…
---
COMING UP ON MPW NEXT WEEK:
KINGSMAN: THE SECRET SERVICE — Join us!
---
LINKS FOR THIS EPISODE:
Jason highly recommends: Horror Movie Podcast Ep. 041: When Science Goes Too Far
Jason recommends supporting: Operation Underground Railroad
Contact MPW:
E-mail us: MoviePodcastWeekly@gmail.com.
Leave us a voicemail: (801) 382-8789.
Follow MPW on Twitter: @MovieCastWeekly
Leave a comment in the show notes for this episode.
Listen to MPW:
Add MPW to your Stitcher playlist: Stitcher.com
MPW on iTunes
MPW's RSS feed
Right-click to download the MPW 100 Rap
Keep up with Josh:
Twitter: @IcarusArts
Josh covers streaming movies on: Movie Stream Cast
If you're a Horror fan, listen to Jason and Josh on HORROR MOVIE PODCAST
We'd like to thank The Dave Eaton Element and Dave himself for the use of his music for our theme song. Buy Dave's Eaton's music: BandCamp.com
---
If you like Movie Podcast Weekly, please subscribe and leave us a review in iTunes. If you want to support the show, we have PayPal buttons in our right-hand sidebar where you can make a one-time donation or you can become a recurring donor for just $2 per month. (Every little bit helps!)
Thanks for listening, and join us again next Tuesday for Movie Podcast Weekly.
---