Podcast: Play in new window | Download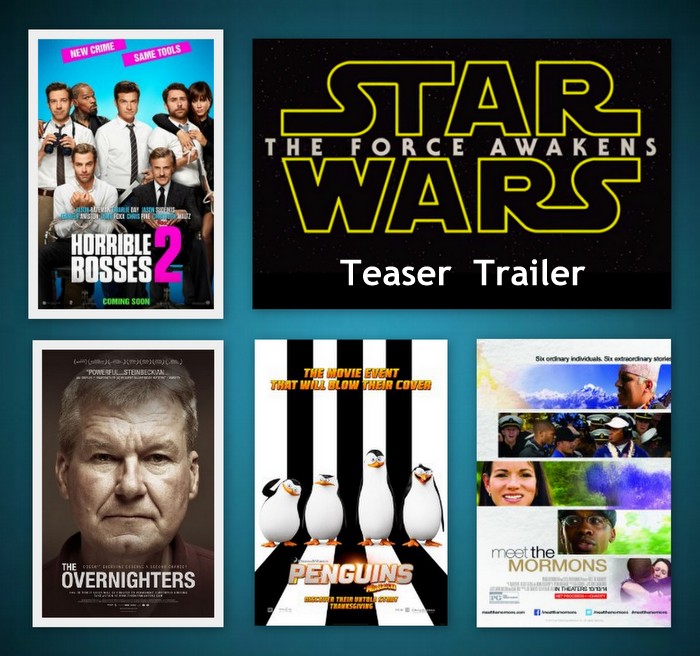 There has been an awakening. Have you felt it? The Dark Side and the Light.
In Episode 114, your Movie Podcast Weekly hosts welcome special guest Jedi Master Steve Hernandez to help us discuss the Star Wars Ep. VII teaser trailer. Next we bring you our famous Mini Reviews, as well as four Feature Reviews for Horrible Bosses 2 and The Overnighters and Penguins of Madagascar and Meet the Mormons. Join us!
If you like what you hear, leave us a review in iTunes or leave a donation through our PayPal buttons or both! Above all, subscribe for free in iTunes.
If you're new to our show… Movie Podcast Weekly typically features four hosts — Jason, Andy, Karl and Josh — along with frequent guests. We give you our verdicts on at least one new movie release from the current year that's currently playing in theaters or on VOD, as well as several mini reviews of whatever we've been watching lately. And we usually provide specialized genre recommendations. New episodes release every single Tuesday. Join us!
---
SHOW NOTES:
I. Introduction
— Sorry MPW Ep. 113 was so late; don't overlook it!
— Welcome special guest Steve Hernandez
---
[ 0:03:07 ] II. Responding to the Star Wars Ep. VII teaser trailer:
— George Lucas pitched Ep. VII to Mark Hamill in the '80s
---
[ 0:46:14 ] III. Mini Reviews
Karl: Planes, Trains and Automobiles; Miracle on 34th Street (1947); Interstellar (for a fourth viewing!)
Josh: Force Majeure, We Are the Best!, Dexter Season 3, Dawn of the Planet of the Apes, Uganda Be Kidding Me Live, Milius
Andy: Sherlock (through Season 3), License to Kill, A Night in Old Mexico
Jason: A Christmas Story; Silent Night, Deadly Night 3: Better Watch Out!; Multiplicity; Maleficent; Horrible Bosses
---
IV. What's New in Theaters This Past Weekend
Horrible Bosses 2
Penguins of Madagascar
The Imitation Game
Before I Disappear
Remote Area Medical
Antarctica: A Year on Ice
The Babadook
---
FEATURE REVIEWS HAVE TIME STAMPS:
[ 1:29:07 ] V. Feature Review: HORRIBLE BOSSES 2 (2014)
Jason = 6.5 ( Rental )
---
[ 1:35:45 ] VI. Feature Review: THE OVERNIGHTERS (2014)
Josh = 9 ( Theater / Buy it! )
---
[ 1:45:53 ] VII. Feature Review: PENGUINS OF MADAGASCAR (2014)
Andy = 8 ( Theater / Buy it! )
Evvie = 9 ( Theater / Buy it! )
---
[ 1:53:01 ] VIII. Feature Review: MEET THE MORMONS (2014)
Jason = 7 ( Theater / Rental )
Natalie Pyles = 9 ( Theater / Buy it! )
— Josh says check out "Duck Beach to Eternity" on Hulu Plus or on Amazon Prime.
---
[ 2:11:35 ] IX. "PREVIOUSLY ON SURVIVOR" WITH SURVIVOR JOSH
— Josh talks Survivor: San Juan Del Sur (Blood vs. Water 2) with fellow Survivor Super-Fan Cody Clark
---
[ 2:18:49 ] X. Miscellany:
— iTunes review from Dino-Machino (Thank you!)
— Thanks to Juan for his continued recurring donation!
— Thanks to Jenifer for her generous purchase of our MPW "Love Actually" commentary!
— Thanks to Stephanie for purchasing our MPW "Planes, Trains and Automobiles" commentary!
— Don't miss the MPW Top 10 Best of 2014 Wrap-Up, which will be Episode 118, releasing on Tuesday, December 30, 2014!
— The "Jurassic World" trailer
---
XI. Wrap-Up / Plugs / Ending
---
COMING UP ON MPW NEXT WEEK:
THE PYRAMID and THE BABDOOK and BEFORE I DISAPPEAR and COMET and THE INTERNET'S OWN BOY, with special guest: Jape Man! — Join us!
---
LINKS FOR THIS EPISODE:
Contact MPW:
E-mail us: MoviePodcastWeekly@gmail.com.
Leave us a voicemail: (801) 382-8789.
Follow MPW on Twitter: @MovieCastWeekly
Leave a comment in the show notes for this episode.
Listen to MPW:
Add MPW to your Stitcher playlist: Stitcher.com
MPW on iTunes
MPW's RSS feed
Right-click to download the MPW 100 Rap
Josh's links:
Twitter: @IcarusArts
Josh covers streaming movies on: Movie Stream Cast
If you're a Horror fan, listen to Jason and Josh on HORROR MOVIE PODCAST
We'd like to thank The Dave Eaton Element and Dave himself for the use of his music for our theme song. Buy Dave's Eaton's music: BandCamp.com
---
If you like Movie Podcast Weekly, please subscribe and leave us a review in iTunes. If you want to support the show, we have PayPal buttons in our right-hand sidebar where you can make a one-time donation or you can become a recurring donor for just $2 per month. (Every little bit helps!)
Thanks for listening, and join us again next Tuesday for Movie Podcast Weekly.
---