Podcast: Play in new window | Download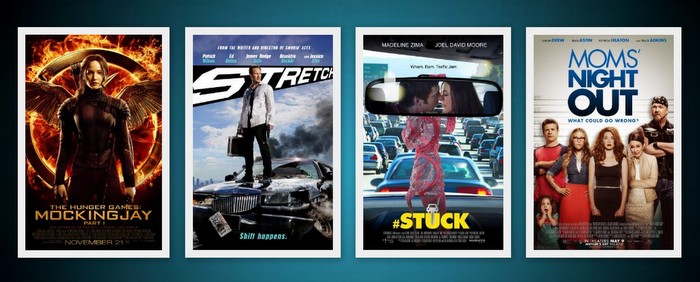 Happy Thanksgiving! Jason is profusely sorry that this episode is two days late, but it's got great news that will make up for it! The actor and our favorite Irishman Karl Huddleston returns! We also bring you special guest William Rowan Jr., while covering Feature Reviews for The Hunger Games: Mockingjay Part 1 and Stretch and #Stuck and Mom's Night Out. And of course, we bring you Mini Reviews and some talk about trailers! And if you like what you hear, leave us a review in iTunes or leave a donation through our PayPal buttons or both! Above all, subscribe for free in iTunes.
If you're new to our show… Movie Podcast Weekly typically features four hosts — Jason, Andy, Karl and Josh — along with frequent guests. We give you our verdicts on at least one new movie release from the current year that's currently playing in theaters or on VOD, as well as several mini reviews of whatever we've been watching lately. And we usually provide specialized genre recommendations. New episodes release every single Tuesday. Join us!
---
SHOW NOTES:
I. Introduction
— Welcome back, Karl Huddleston!
— Welcome special guest William Rowan Jr.
II. Mini Reviews
Karl: Forever (TV series), soundtrack to Interstellar
Jason: The Proposition, Scenic Route
Josh: Venus in Fur, The Hunger Games: Catching Fire
William Rowan Jr: Happiness
Andy: The Secret Life of Walter Mitty, The Muppet Christmas Carol, The Art of the Steal (2014), Chelsea Peretti "One of the Greats"
---
III. What's New in Theaters This Past Weekend
The Hunger Games: Mockingjay Part 1
The Theory of Everything [ Expanded ]
Happy Valley [ Limited ]
The Sleepwalker [ Limited ]
V/H/S: Viral [ Limited ]
Extraterrestrial [ Limited ]
---
FEATURE REVIEWS HAVE TIME STAMPS:
[ 1:01:43 ] IV. Feature Review: THE HUNGER GAMES: MOCKINGJAY PART 1 (2014)
Jason = 7.5 ( Theater / Rental )
Karl = 7.5 ( Theater / Rental )
Josh = 7.5 ( Theater / Rental )
William Rowan Jr. = 7 ( Theater / Rental )
Natalie Pyles = 8 ( Theater / Buy it! )
---
[ 1:27:33 ] V. Feature Review: #STUCK (2014)
Jason = 4.5 ( Low-priority Rental )
---
[ 1:37:36 ] VI. Feature Review: STRETCH (2014)
Jason = 7.5 ( Rental )
Andy = 8.5 ( Rental )
Josh = 6 ( Rental )
William Rowan Jr. = 6.5 ( Stream it. Low-priority Rental )
---
[ 1:54:48 ] VII. Feature Review: MOM'S NIGHT OUT (2014)
Jason = 4 ( Avoid )
Natalie Pyles = 5 ( Rental )
---
VIII. Movie Trailer and Other Cinema-related News:
— Star Wars Ep. VII teaser trailer
— Jurassic World teaser trailer
— Project Almanac trailer (formerly Welcome to Yesterday) returns
— Insurgent trailer (Jason double-dog dares you to watch this!)
— The passing of director Mike Nichols (The Graduate)
— Steve Carell, potential Oscar nominee!
---
IX. Wrap-Up / Plugs / Ending
— We'd like to thank Randy, Shane and Michal for their continued support with their monthly recurring donations of $2 each month! You guys are the best! Jason is extra sorry to you that this week's show was posted two days late…
---
COMING UP ON MPW NEXT WEEK:
HORRIBLE BOSSES 2 and THE OVERNIGHTERS and THE INTERNET'S OWN BOY — Join us!
---
LINKS FOR THIS EPISODE:
Contact MPW:
E-mail us: MoviePodcastWeekly@gmail.com.
Leave us a voicemail: (801) 382-8789.
Follow MPW on Twitter: @MovieCastWeekly
Leave a comment in the show notes for this episode.
Listen to MPW:
Add MPW to your Stitcher playlist: Stitcher.com
MPW on iTunes
MPW's RSS feed
Right-click to download the MPW 100 Rap
Josh's links:
Twitter: @IcarusArts
Josh covers streaming movies on: Movie Stream Cast
If you're a Horror fan, listen to Jason and Josh on HORROR MOVIE PODCAST
We'd like to thank The Dave Eaton Element and Dave himself for the use of his music for our theme song. Buy Dave's Eaton's music: BandCamp.com
---
If you like Movie Podcast Weekly, please subscribe and leave us a review in iTunes. If you want to support the show, we have PayPal buttons in our right-hand sidebar where you can make a one-time donation or you can become a recurring donor for just $2 per month. (Every little bit helps!)
Thanks for listening, and join us again next Tuesday for Movie Podcast Weekly.
---