Podcast: Play in new window | Download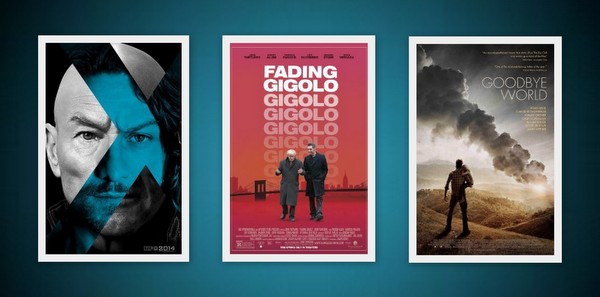 Movie Podcast Weekly, Episode 087 is here! In this blockbuster episode, your favorite movie critics review "X-Men: Days of Future Past," "Fading Gigolo" and "Goodbye World." And the Wild Man Willis Wheeler is back again as our special guest. In addition to our usual Mini Reviews and Feature Reviews, we also bring you some big film news discussions, as well as some great listener feedback. Don't miss it!
Please vote on this week's big poll question!


free polls
Movie Podcast Weekly typically features four hosts (and frequent guests), who give you their verdict on at least one new movie release that's currently in theaters, mini reviews of what they've been watching lately and specialty recommendation segments. New episodes release every single Monday.
SHOW NOTES:
I. Intro
— Welcome guest Willis Wheeler
II. MPW Announcements
— Jason's Big Birthday Bash will be a CTS Podcast episode
— CTS Podcast's episode archive is found here
— Film coverage and ratings archive coming (not-so) soon
— We will finish our coverage of the James Bond series!
III. Mini Reviews:
Karl:
Godzilla = 7.5 ( Theater / Buy it! )
Don Jon = 5.5 ( Rental )
Bram Stoker's Dracula = 7.5 ( Rental )
Josh recommends these supplements for Bram Stoker's Dracula:
Method and Madness – Visualizing Dracula (Josh's Primary Recommendation)
The Costumes Are the Set
The Blood is the Life – The Making of
Josh:
Godzilla = 7 ( Theater / Rental )
Don Jon = 7 ( Rental – if you aren't offended by sexuality )
X-Men = 6 (Buy it!)
X2 = 9.5 ( Buy it! )
X-Men: The Last Stand = 4 ( Avoid ) (Updated)
X-Men Origins: Wolverine = 3 (Avoid)
The Wolverine = 6.5 (Buy it!) (Updated)
X-Men: First Class = 9.5 (Buy it!)
The Muppets Most Wanted = 7 ( Rental )
Megamind = 7.5 ( Buy it – if you have kids )
Willis Wheeler:
Godzilla = 9 ( Theater / Buy it! )
American Mary = 7 ( Stream on Netflix )
Hannibal Season 2 finale = 9 ( Watch it! )
Birth of the Living Dead
Jason:
King Kong vs. Godzilla = 5 ( Rental )
Volcano = 5 ( Rental )
The Ides of March = 7 ( Definite Rental )
Deadly Code = 4.5 ( Avoid )
Underbelly Season 1, Eps. 1 & 2
Jason and Josh: The Story of Film: An Odyssey – Ep. 2: The Hollywood Dream
Jason = 5 ( stream on Netflix )
Josh = 7 ( stream on Netflix )
Andy:
August: Osage County = 9 ( Must-see Rental )
IV. Feature Review: X-MEN: DAYS OF FUTURE PAST (2014)
Jason = 9 ( Theater / Buy it! )
Karl = 7.5 ( Theater / Buy it! )
Josh = 5.5 ( Rental )
Willis Wheeler = 9 ( Theater / Buy it! )
[ Que = 8.5 ( Theater )]
V. Feature Review: FADING GIGOLO (2014)
Josh = 5.5 ( Rental )
VI. Feature Review: GOODBYE WORLD (2014)
Jason = 5.5 ( Rental )
Josh = 6 ( Rental )
VII. Movie News
— Gareth Edwards to direct first stand-alone Star Wars
— Edgar Wright parts from Ant-Man
— Edge of Tomorrow early rave reviews
— Tom Cruise Article: "How YouTube and Internet Journalism Destroyed Tom Cruise" Read it here
— Supercut: "Every Nic Cage Laugh Ever" Watch it here!
VIII. Listener Feedback
— iTunes review from Very Bad Thing (Thank you!)
— iTunes review from B-Rye (Thank you!)
— iTunes review from Geek Cast Ry (Thank you!)
— iTunes review from bookloverjen (Thank you!)
— iTunes review from GQueue (Thank you!)
— Question from Michal
— Question from Juan
— Que discusses "Enemy"
IX. Wrap-Up
NEXT WEEK:
We will likely be reviewing A MILLION WAYS TO DIE IN THE WEST and MALEFICENT and THE DOUBLE and THE ANGRIEST MAN IN BROOKLYN
Links for this episode:
Josh recommends: Black Swan Behind-the-Scenes Documentaries
Willis's plugs:
Willis Wheeler on TV's Toy Hunter
Terror Troop horror movie podcast
Cinema Beef Podcast
On Twitter: @NastyWillDC
Willis On Facebook
Willis on the NFW Movie Commentary Podcast (mostly horror-related)
NEW! Remember to add Movie Podcast Weekly to your Stitcher playlist here: Stitcher.com
Follow Movie Podcast Weekly on Twitter: @MovieCastWeekly
Check out Book Review Podcast
Horror Movie Podcast Ep. 016: The Sacrament and Contracted and We Are What We Are and Lizzie Borden Took an Ax
Josh covers streaming movies: Movie Stream Cast
We'd also like to thank The Dave Eaton Element and Dave Eaton himself for the use of his music for our theme song.
Special thanks goes out to singer-songwriter Frederick Ingram and the Blue Claw Philharmonic for the use of their music and the voice talents of Midnight Corey Graham from The Electric Chair Podcast, Willis Wheeler from the Terror Troop Podcast and Spike Real for their help with our recommendation segment intros.
If you like what we do here at Movie Podcast Weekly, please subscribe and leave us a review in iTunes. If you want to support the show, we have PayPal buttons in our right-hand sidebar where you can make a one-time donation or you can become a recurring donor for just $2 per month.
You can always contact us by e-mailing MoviePodcastWeekly@gmail.com. Or you can call and leave us a voice mail at: (801) 382-8789. And you can leave us a comment in the show notes for this episode.
Thank you for listening, and join us again next Monday for Movie Podcast Weekly.