Podcast: Play in new window | Download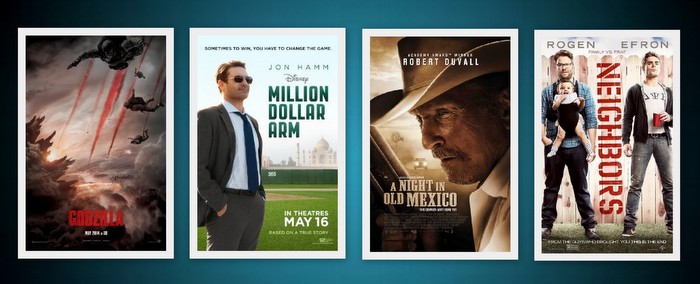 Welcome to Episode 086 of Movie Podcast Weekly. During this show, you'll hear four Feature Reviews of "Godzilla," "Million Dollar Arm," "Neighbors" and "A Night in Old Mexico." Karl and Jason serve as your primary hosts in Ep. 086, with intermittent hosting appearances by Andy and Josh via roadside telephone, as well as a very brief guest appearance by William Rowan Jr. Andy regales us with his tales of travel abroad in Italy, and Karl talks about his onscreen appearances in the Aaron Eckhart film "The Core" (2003). Don't miss it!
Movie Podcast Weekly typically features four hosts (and frequent guests), who give you their verdict on at least one new movie release that's currently in theaters, mini reviews of what they've been watching lately and specialty recommendation segments. New episodes release every single Monday.
SHOW NOTES:
I. Intro
II. Mini Reviews:
Karl: Romancing the Stone, News: Blade Runner sequel, Sneakers
Andy: Kick-Ass 2, Delivery Man, Nebraska, Her, The East
Jason: Armageddon
Jason and Josh: The Story of Film: An Odyssey – Ep. 1: Birth of the Cinema
III. Feature Review: GODZILLA (2014)
Jason = 4.5 ( Low-priority Rental )
William Rowan Jr. = 4 ( Avoid )
Josh = Can't rate it yet; fell asleep in theater
Willis Wheeler via Skype chat = 9 ( Theater / Buy it! )
IV. Feature Review: MILLION DOLLAR ARM (2014)
Karl = 7.5 ( Theater / Rental )
V. Feature Review: NEIGHBORS (2014)
Jason = 4 ( Avoid )
Karl = 5 ( Low-priority Rental )
VI. Feature Review: A NIGHT IN OLD MEXICO (2014)
Jason = 5.5 ( Rental )
VII. Listener Feedback
— Question from Christian
— David's great comments
— Cody Clark's EPIC comment
— Props and credit to B-Rye
VIII. Wrap-Up
NEXT WEEK:
We will be reviewing X-MEN: DAYS OF FUTURE PAST with special guests JEFF HAMMER and WILLIS WHEELER!
Links for this episode:
NEW! Remember to add Movie Podcast Weekly to your Stitcher playlist here: Stitcher.com
Follow Movie Podcast Weekly on Twitter: @MovieCastWeekly
Check out Book Review Podcast
Horror Movie Podcast Ep. 016: The Sacrament and Contracted and We Are What We Are and Lizzie Borden Took an Ax
Josh covers streaming movies: Movie Stream Cast
We'd also like to thank The Dave Eaton Element and Dave Eaton himself for the use of his music for our theme song.
Special thanks goes out to singer-songwriter Frederick Ingram and the Blue Claw Philharmonic for the use of their music and the voice talents of Midnight Corey Graham from The Electric Chair Podcast, Willis Wheeler from the Terror Troop Podcast and Spike Real for their help with our recommendation segment intros.
If you like what we do here at Movie Podcast Weekly, please subscribe and leave us a review in iTunes. If you want to support the show, we have PayPal buttons in our right-hand sidebar where you can make a one-time donation or you can become a recurring donor for just $2 per month.
You can always contact us by e-mailing MoviePodcastWeekly@gmail.com. Or you can call and leave us a voice mail at: (801) 382-8789. And you can leave us a comment in the show notes for this episode.
Thank you for listening, and join us again next Monday for Movie Podcast Weekly.