Podcast: Play in new window | Download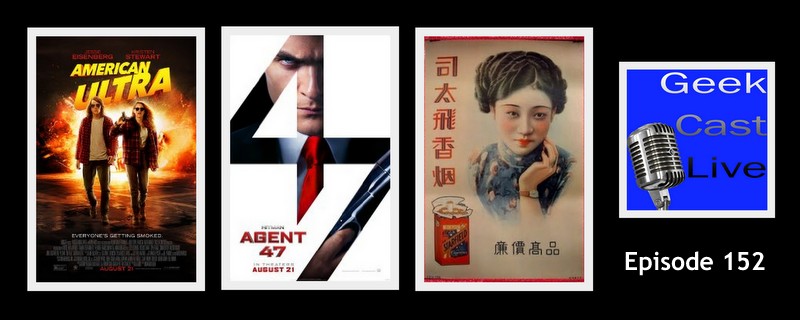 After 151 episodes, it has happened… Movie Podcast Weekly has been usurped, and for Episode 152, your favorite movie podcast has been taken over by a DJ, a Holy Man, a Geek and a Guy Named Nic! That's right! The crew from the Geek Cast Live Podcast is hosting MPW this week — and to return the disservice with a little turnabout and fair play — your usual MPW hosts (minus Ryan) have gone and taken over the Geek Cast Live Podcast! For those children of the '80s, this is very much a Coy and Vance type of situation…
In this episode of Movie Podcast Weekly, the Geek Cast brings you Feature Reviews of American Ultra and Hitman: Agent 47. They also bring you a CTS-style concept discussion where they consider the conundrum of the box office draw of original content versus already established intellectual properties adapted to film. The Geeks have a fascinating discussion about what this dichotomy is doing to the movie industry. Join us!
If you're new to our show… Movie Podcast Weekly typically features four hosts — Jason, Andy, Karl and Geek Cast Ry — along with frequent guests. But in this special episode, we have four guest hosts: Geek Cast Ry, Rob Bass, Cartoon Joe and Slick Nic of Thebes. MPW gives you verdicts on at least one new movie release from the current year that's currently playing in theaters, as well as several mini reviews of whatever we've been watching lately. And we usually provide specialized genre recommendations. New episodes release every single Wednesday, or as soon as we can get the damn thing edited.
---
SHOW NOTES:
I. Introduction
— The Geek Cast Takeover
---
[ 0:05:21 ] II. Mini Reviews
Rob Bass: Rick and Morty Season 1
Geek Cast Ry: Fear the Walking Dead – Pilot episode
Geek Cast Nic: * * *
Cartoon Joe: Avatar: The Last Airbender (and an M. Night Shyamalan rant), Animaniacs. And something about MisteRogers
---
III. New in Theaters This Past Weekend:
Sinister 2
American Ultra
Hitman: Agent 47
Grandma [ Limited ]
6 Years [ Limited ]
Digging for Fire [ Limited ]
She's Funny That Way [ Limited ]
Learning to Drive [ Limited ]
Some Kind of Beautiful [ Limited ]
(Grandma Shanghai)
FEATURE REVIEWS HAVE TIME STAMPS:
[ 0:29:10 ] IV. Feature Review: HITMAN: AGENT 47 (2015)
Rob Bass = 4 ( Very low-priority Rental )
Cartoon Joe = 5.5 ( Redbox Rental or Stream on Netflix )
---
[ 0:44:51 ] V. Feature Review: AMERICAN ULTRA (2015)
Geek Cast Ry = 8 ( Buy it! )
Slick Nic = 7.5 ( Theater / Buy it! )
---
[ 1:00:07 ] VI. The Conundrum of the Box Office Draw of Original Content versus Already Established Intellectual Properties Adapted to Film
— American Ultra screenwriter Max Landis laments the devaluing of original content
---
[ 1:23:19 ] VII. Upcoming Movies That the Geeks Are Looking Forward To…
---
VIII. Wrap-Up / Plugs / Ending
---
COMING UP ON MPW NEXT WEEK:
Episode 153 when your usual hosts will be back to bring you Feature Reviews of "No Escape" and "Sinister 2." Join us!
---
LINKS FOR THIS EPISODE:
Don't forget to check out the infamous GEEK CAST LIVE PODCAST
And don't forget to listen to the the MPW takeover of the Geek Cast Live Podcast
GEEK CAST LIVE PODCAST's OTHER LINKS:
Web site: Geek Harder.com
Blog: Geek Cast Live
Facebook
DONATE here to facilitate the creation of more Geek content!
On Twitter:
@GeekCastLive
@GeekCastRy
@GeekCastBass
@GeekCastJoe
@GeekCastNic
Check out the two new Horror Movie Podcast T-Shirts
Provo Film Society on Facebook
Provo Film Society on Twitter
Jason recommends supporting: Operation Underground Railroad
Contact MPW:
E-mail us: MoviePodcastWeekly@gmail.com.
Leave us a voicemail: (801) 382-8789.
Follow MPW on Twitter: @MovieCastWeekly
Leave a comment in the show notes for this episode.
Listen to MPW:
Add MPW to your Stitcher playlist: Stitcher.com
MPW on iTunes
MPW's RSS feed
Right-click to download the MPW 100 Rap
Josh's links:
Hear Josh named as one of the Top 5 Up-and-Coming Directors on The Film Vault Podcast!
Twitter: @IcarusArts
Josh covers streaming movies on: Movie Stream Cast
Hear Josh on The SciFi Podcast
Hear Josh on Horror Movie Podcast
If you're a Horror fan, listen to Jason and Josh on HORROR MOVIE PODCAST
We'd like to thank The Dave Eaton Element and Dave himself for the use of his music for our theme song. Buy Dave's Eaton's music: BandCamp.com
---
If you like Movie Podcast Weekly, please subscribe and leave us a review in iTunes. If you want to support the show, we have PayPal buttons in our right-hand sidebar where you can make a one-time donation or you can become a recurring donor for just $2 per month. (Every little bit helps!)
Thanks for listening, and join us again next Wednesday for Movie Podcast Weekly.
---