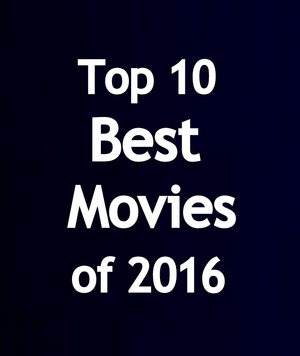 Preface:
For those who love movies, there's nothing so valuable or as anticipated as a year's Top 10 Best Movies list. Even cinephiles who find list-making to be arbitrary or problematic can't help but take notice of the flurry of Best Of submissions that flood the Internet in December and January.
At the end of each year, Movie Podcast Weekly (and separately, Horror Movie Podcast) assembles a Top 10 Best Movies of the Year list, where each host reveals his selections for the very best cinema of the past 12 months.
But something we love to do is to incorporate another Top 10 list that's a collective consensus of our listenership's favorite films of the year!
Here's how we do it: When you e-mail your Top 10 list to MoviePodcastWeekly@gmail.com, we will assign a point value to weight each spot on your Top 10 list. It looks like this:
1 spot = 12 points (gets extra because it's No. 1)
2 spot = 10 points
3 spot = 9 points
4 spot = 8 points
5 spot = 7 points
6 spot = 6 points
7 spot = 5 points
8 spot = 4 points
9 spot = 3 points
10 spot = 2 points
And you get five Honorable Mention spots. Each is worth 1 point.
We collect and tally all your votes, according to this point system, in order to arrive at the collective listenership's actual Top 10.
(Again, please e-mail your list to Jason at MoviePodcastWeekly@gmail.com. Please don't share your Top 10 picks publicly in our comments just yet, because we'd like the results to be a surprise on the show.) Naturally, after the episode is published, we hope you will post your Top 10 lists in the comments for that particular episode!
What We Would Like You to E-mail to Us:
1.) Your Top 10 Best Movies of 2016 list, in order, with No. 1 being your first favorite and 10 being your 10th favorite.
**Optional but preferred: We would love for you to e-mail some brief comments with each of your Top 10 selections, ***50 words or fewer per movie, please.*** Why? This is how you listeners get your voices on the show! Each MPW host briefly discusses why he picked each movie, so these descriptions give us some of your feedback to possibly read on the show. Here is an example of a 2014 film with the exact format we'd like for you to please follow. (It would make the preparations much faster for Jason.) Write whatever you'd like, of course. This example just shows you the components and the length of write-ups that we're looking for:
(12 points) = 1. Blue Ruin (2014) – Jeremy Saulnier's common man, revenge / crime drama shows us, with troubling realism, what it might look like if an average person like you or me attempted to execute a violent revenge plot. Bloody, messy, brilliant! 10 out of 10. A must-see and the best movie of 2014! -Jason Pyles
Note that I included:
– the point value
– the rank number
– some comments that were fewer than 50 words
– my name (If you could do this for each one, it would be very helpful!)
Here are the other End-of-the-Year categories we'd like for you to include:
2.) Honorable Mentions of 2016 – Please also include only the titles of your "Honorable Mentions," which are essentially your 11 through 15 ranked movies.
3.) Biggest Disappointments / Heartbreaks of 2016 – These are the movies that you had high hopes for, but they let you down and broke your heart.
4.) Four Dishonorable Mentions (bad movies) and the Very Worst Movie of 2016 – Think of this list as the opposite of your Top 5 picks.
5.) Guilty Pleasure of the Year Award – Your pick of a movie that's not necessarily "good," per se, but it sure is a wonderful mess of a guilty pleasure…
6.) Most Overrated (You didn't understand all the love it got) Movie of 2016 – These are the movies you just didn't "get" (even though everyone else seemed to love it).
**You can also include a list of your "Most Anticipated in 2017," but we won't be discussing these until the following episode, No. 221.
FAQ: Obviously, we're discussing the movie releases of 2016. But what is our criteria for determining a film's year of release? In simplest terms, Jason defines it this way: The year of release is determined by the first date that a film becomes *widely available* to a U.S. audience.
CONTEST: What and How Those Who Participate Could Win:
Prizes:
Grand Prize = $50 Amazon gift card that we hope you'll use for buying movies.
Second Prize = $25 Amazon gift card that, again, we hope will be used for movies.
Third Prize = You win a copy of Ryan's No. 1 favorite movie of 2016.
The more listeners who participate, the more accurate our Listener Top 10 list will be. Therefore, we're bribing you to participate. Depending on your level of participation, your name will be entered into the prize raffle. Obviously, the more your name is entered, then the better your chances of being selected.
5 entries = If you do everything asked above, we'll enter your name 5 times in the raffle.
3 entries = If you only do Top 10, descriptions and honorable mentions…
2 entries = If you only do Top 10 and honorable mentions (no descriptions)…
1 entry = If you only send a Top 10 list of movie titles.
When?
We're recording this episode on Monday, December 26, 2016. (So, yes, much to Jason's chagrin, 2016's December 30th releases will not be considered during the recording of this episode…)
***DEADLINE FOR SUBMISSION: Your deadline for submission is no later than 11:59 p.m. on Saturday, December 24, 2016.
When will this episode release? Jason's goal (seriously) is Friday, Dec. 30 or Saturday, Dec. 31, 2016.
How to Submit Your Entry:
1. E-mail MoviePodcastWeekly@gmail.com
2. Please use this phrase for your e-mail subject line: "Top 10 Movies of 2016"
Winners will be announced in MPW Ep. 220 (our Top 10 episode).
One last request:
In the comments for this blog post, please feel free to post the titles only of any movies you've heard some buzz about for 2016. To be clear, don't tell us what that buzz is or any commentary of your own, please… Just post the title of the movies, so people can add them to their watchlist before making their end-of-the-year submissions. I will include an example in the comments below. Thanks!