Podcast: Play in new window | Download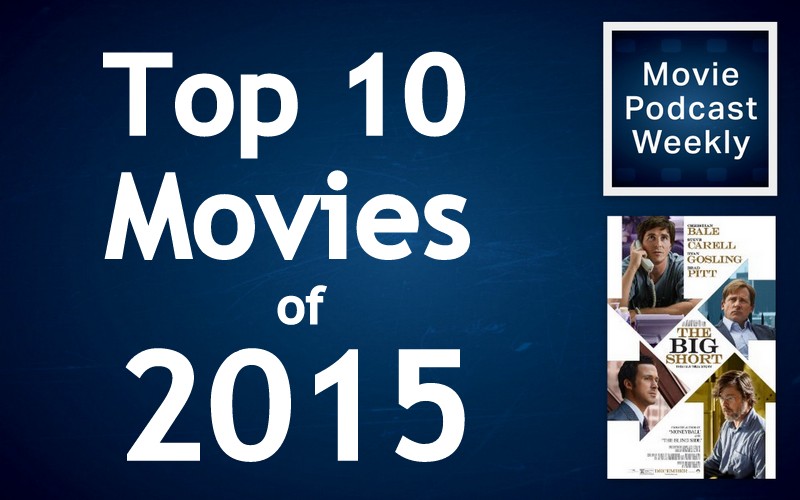 Happy New Year's Eve and happy 2016 this week! To celebrate, we have brought you a party in a podcast! What are the best movies of 2015? Your friends here at Movie Podcast Weekly (and the MPW listenership) are here to tell you. We bring you four Top 10 best lists from the hosts and a collective Top 10 list from our listenership. We had the potential of bringing you 50 strong recommendations, but we've had some overlap, naturally, so you get 27 various picks among these Top 10 lists! Formerly known as our "The Best Movies of [Year]" list, this is MPW's official Top 10 Movies of 2015 show. In Episode 170, we also bring you a Feature Review of The Big Short, with special guest Rob Booker (of The Traders Podcast). Join us, and feel free to post your end-of-the-year movie lists in the comments for this episode. Thanks for a great year!
This episode is generously sponsored by Eric E., David W., Josh G., Christian B., Steve R., Vance K., and Dino T. Thank you. Heroes all…
If you're new to our show… Movie Podcast Weekly typically features four hosts — Jason, Andy, Karl and Geek Cast Ry — along with frequent guests. We give you our verdicts on at least one new movie release from the current year that's currently playing in theaters, as well as several mini reviews of whatever we've been watching lately. And we usually provide specialized genre recommendations. New episodes release every single Wednesday.
---
SHOW NOTES:
I. Introduction
— Winter storms and other woes
— Listener comments:
-Kevin Zade of The Zade Story movie podcast
-Black-eyed Jenifer
-Steph from Canada
-Adam
-Michelle from Vermont
— Warm thanks to: Eric E., David W., Josh G., Christian B., Steve R., Vance K., and especially Dino T. [They are the reason you have this show this week!]
---
[ 0:13:35 ] II. MPW 2015: Year in Review
— Statistics on the inner workings of Movie Podcast Weekly in 2015
— A few highlights and lowlights of 2015
— Reflections on the Cinema of 2015
---
[ 0:30:57 ] III. Main Event: THE TOP 10 MOVIES OF 2015
Jason's Top 10 Movies of 2015:
1. No Escape
2. Bone Tomahawk
3. Ex Machina
4. The Walk
5. The Martian
6. Spotlight
7. Sicario
8. Jurassic World
9. Avengers: Age of Ultron
10. Mr. Holmes
Andy's Top 10 Movies of 2015:
1. Spotlight
2. The Martian
3. Selma
4. Bone Tomahawk
5. The Gift
6. It Follows
7. The Hateful Eight
8. The Revenant (which Andy has not yet seen)
9. Spy
10. Meru
Karl's Top 10 Movies of 2015:
1. The Martian
2. Ex Machina
3. Me and Earl and the Dying Girl
4. Avengers: Age of Ultron
5. Star Wars: The Force Awakens
6. Mad Max: Fury Road
7. Steve Jobs
8. The Walk
9. The Big Short
10. Spy
Ryan's Top 10 Movies of 2015:
1. Sicario
2. Bone Tomahawk
3. Mad Max: Fury Road
4. Ex Machina
5. Star Wars: The Force Awakens
6. The Martian
7. Ant-Man
8. American Ultra
9. The Gift
10. The Man From U.N.C.L.E.
MPW Listeners' Top 10 Movies of 2015:
1. Mad Max: Fury Road
2. Star Wars: The Force Awakens
3. Ex Machina
4. It Follows
5. Inside Out
6. The Martian
7. Sicario
8. Ant-Man — tie — Spotlight
9. Jurassic World
10. Room
Winners! E-mail Jason at MoviePodcastWeekly@gmail.com with your info!
-James W. = Mad Max: Fury Road poster
-Jessica (aka Emily) = Magic Mike XXL Blu-ray
IV. MORE LISTS OF 2015
— Honorable Mentions of 2015
— Biggest Disappointments / Heartbreaks of 2015
— Dishonorable Mentions and the Worst Movie of 2015
— Things We Didn't Get to See Yet (But Should Have, and Wanted to…)
— What happened to these movies?
---
V. New in Theaters This Past Weekend:
The Big Short
Joy
Point Break
Concussion
Daddy's Home
45 Years [ Limited ]
The Hateful 8 (2016) [ Limited ]
The Revenant (2016) [ Limited ]
---
FEATURE REVIEWS HAVE TIME STAMPS:
[ 2:02:32 ] VI. Feature Review: THE BIG SHORT (2015) with guest Rob Booker
Jason = 6.5 ( Rental )
Karl = 10 ( Must-see / Theater / Will probably Buy it! )
Rob Booker = 10 ( Must-see / Theater / Buy it! )
Follow Rob Booker on Twitter: @RobBooker
---
VII. Wrap-Up / Plugs / Ending
— Happy New Year!
---
COMING UP NEXT WEEK ON MPW 2016:
Episode 171 where we'll be reviewing "The Hateful Eight" and talking about what movies are coming in 2016. Join us!
---
LINKS FOR THIS EPISODE:
Hear the Geek Cast Live Podcast here now! GCL.ninja
Contact MPW:
E-mail us: MoviePodcastWeekly@gmail.com.
Leave us a voicemail: (801) 382-8789.
Follow MPW on Twitter: @MovieCastWeekly
Leave a comment in the show notes for this episode.
Ry's BIO
Ry's flagship show: Geek Cast Live Podcast
DONATE here to facilitate the creation of more Geek content!
Blog: Geek Cast Live
Web site: Geek Harder.com
Facebook
Twitter: @GeekCastRy
Jason recommends supporting: Operation Underground Railroad
Listen to MPW:
Add MPW to your Stitcher playlist: Stitcher.com
MPW on iTunes
MPW's RSS feed
Right-click to download the MPW 100 Rap
Josh's links:
Hear Josh named as one of the Top 5 Up-and-Coming Directors on The Film Vault Podcast!
Twitter: @IcarusArts
Josh covers streaming movies on: Movie Stream Cast
Hear Josh on The SciFi Podcast
Hear Josh on Horror Movie Podcast
If you're a Horror fan, listen to Jason and Josh on HORROR MOVIE PODCAST
We'd like to thank The Dave Eaton Element and Dave himself for the use of his music for our theme song. Buy Dave's Eaton's music: BandCamp.com
---
If you like Movie Podcast Weekly, please subscribe and leave us a review in iTunes. If you want to support the show, we have PayPal buttons in our right-hand sidebar where you can make a one-time donation or you can become a recurring donor for just $2 per month. (Every little bit helps!)
Thanks for listening, and join us again next Wednesday for Movie Podcast Weekly.
---
Jason has compiled, roughly but fairly exhaustively, every domestic 2015 movie release, with maybe a few international cinema additions. Behold, the films of 2015:
#Horror
'71
10,000 Saints
10,000 km
45 Years
5 Flights Up
5 to 7
6 Ways to Die
6 Years
90 Minutes in Heaven
99 Homes
A Brave Heart: The Lizzie Velasquez Story
A Brilliant Young Mind
A Christmas Horror Story
A Girl Like Her
A Hard Day
A Little Chaos
A Most Violent Year
A Murder in the Park
A Pigeon Sat on a Branch Reflecting on Existence
A Royal Night Out
A Walk in the Woods
A Year in Champagne
A la mala
Absolution
Accidental Love
Addicted to Fresno
Adult Beginners
Against the Sun
Alex of Venice
Alien Outpost
All Creatures Big and Small
All Things Must Pass: The Rise and Fall of Tower Records
Aloft
Aloha
Alvin and the Chipmunks: The Road Chip
Always Watching: A Marble Hornets Story
American Heist
American Sniper
American Ultra
Amira and Sam
Amnesiac
Amy
Anita B
Anomalisa
Ant-Man
Arabian Nights
Ardor
Area 51
Ashby
Attack on Titan
Avengers: Age of Ultron
Back in Time
Bad Asses on the Bayou
Badlapur (Bollywood)
Ballet 422
Bare
Barely Lethal
Barista
Batkid Begins: The Wish Heard Around the World
Beasts of No Nation
Before We Go
Beloved Sisters
Best of Enemies
Beyond the Brick: A LEGO Brickumentary
Beyond the Reach
Big Game
Big Significant Things
Big Stone Gap
Black Mass
Black Sea
Black or White
Blackhat
Bleeding Heart
Bone Tomahawk
Boulevard
Bound to Vengeance
Bravetown
Break Point
Breaking Through
Bridge of Spies
Broken Horses
Brooklyn
Burnt
Burying the Ex
By the Sea
Cake
Can't Stand Losing You: Surviving the Police
Captive
Carol
Cartel Land
Carter High
Cemetery of Splendour
Chappie
Chi-Raq
Child 44
Chloe and Theo
Christmas Eve
Cinderella
Circle
Close Range
Clouds of Sils Maria
Club Life
Coming Home
Compared to What: The Improbable Journey of Barney Frank
Concussion
Condemned
Cooties
Cop Car
Creed
Criminal Activities
Crimson Peak
Cupcakes
Cut Bank
Cymbeline
Daddy's Home
Danny Collins
Daredevil (on Netflix)
Dark Places
Days of Grace
Deli Man
Desert Dancer
Difret
Digging for Fire
Do I Sound Gay?
Do You Believe?
Don Verdean
Don't Mess With Texas
Dope
Dragon Ball Z: Resurrection 'F'
Dragon Blade
Drunk Wedding
Drunk, Stones, Brilliant, Dead: The Story of the National Lampoon
Eden
Effie Gray
Enchanted Kingdom
Entertainment
Entourage
Escobar: Paradise Lost
Everest
Everly
Every Secret Thing
Every Thing Will Be Fine
Ex Machina
Exeter
Experimenter
Extraction
Faith of Our Fathers
Fantastic Four
Far From Men
Far From the Madding Crowd
Faults
Fear Clinic
Felix and Meira
Fifty Shades of Grey
Final Girl
Finders Keepers
Focus
Forsaken
Fort Tilden
Foxcatcher
Frank the Bastard
Freaks of Nature
Freeheld
Fresh Dressed
Furious 7
Gabriel
Gemma Bovery
Get Hard
Girl House
Girlhood
Glass Chin
Gloria
Going Clear: Scientology and the Prison of Belief
Good Kill
Goodnight Mommy
Goosebumps
Grandma
Growing Up (and Other Lies)
Guidance
Hard To Be a God
He Named Me Malala
He Never Died
Heaven Knows What
Heist
Helicopter Mom
Hell and Back
Hellions
Heroes of Dirt
Hidden
Hillsong: Let Hope Rise
Hitchcock / Truffaut
Hitman: Agent 47
Home
Home Sweet Hell
Horse Money
Hot Pursuit
Hot Tub Time Machine 2
Hotel Transylvania 2
Hungry Hearts
Hunting Elephants
Hyena
I Am Big Bird: The Caroll Spinney Story
I Smile Back
Imba Means Sing
In Stereo
In the Heart of the Sea
Infinitely Polar Bear
Ingrid Bergman in Her Own Words
Inherent Vice
Inside Out
Insidious: Chapter 3
Insurgent (The Divergent Series)
Iris
Irrational Man
It Follows
It's All So Quiet
I'll See You in My Dreams
Jackie and Ryan
James White
Janis: Little Girl Blue
Jem and the Holograms
Jenny's Wedding
Jessica Jones (on Netflix)
Jimmy's Hall
Joe Dirt 2: Beautiful Loser
Joy
Jupiter Ascending
Jurassic World
Just Before I Go
Kahlil Gibran's The Prophet
Kidnapping Mr. Heineken
Kill Me Three Times
Killing Them Safely
Kilo Two Bravo
Kingdom of Shadows
Kingsman: The Secret Service
Knock Knock
Krampus
Kumiko, the Treasure Hunter
Kung Fu Killer
Labyrinth of Lies
Ladrones
Lambert and Stamp
Landmine Goes Click
Larry Gaye: Renegade Male Flight Attendant
Last Knights
Laugh Killer Laugh
Learning to Drive
Legend
Let's Kill Ward's Wife
Leviathan
Life
Lila and Eve
Listen to Me Marlon
Little Accidents
Little Boy
Lost River
Lost in Hong Kong
Lost in the Sun
Love
Love and Mercy
Love the Coopers
Love, Rosie
MI-5
Macbeth
Mad Max: Fury Road
Mad Women
Madame Bovary
Maggie
Magic Mike XXL
Mala Mala
Man From Reno
Man Up
Manglehorn
Maps to the Stars
Masterminds
Match
Mateo
Max
Maze Runner: The Scorch Trials
McFarland, USA
Me and Earl and the Dying Girl
Meadowland
Mediterranea
Meet Me in Montenegro
Merchants of Doubt
Meru
Minions
Misery Loves Comedy
Miss You Already
Mission: Impossible – Rogue Nation
Mississippi Grind
Mistress America
Mojin: The Lost Legend
Molly Moon and the Incredible Book of Hynotism
Momentum
Mommy
Monkey Kingdom
Monster Trucks
Monsters: Dark Continent
Mortdecai
Mr. Holmes
My All American
My Life Directed by Nicolas Winding Refn
My Nazi Legacy
Nasty Baby
Nightlight
No Escape
No Home Movies
Noble
Noma My Perfect Story
Nowitzki: The Perfect Shot
Old 37
Old Fashioned
Olvidados
Our Brand Is Crisis
Outcast
Paddington
Pan
Paper Towns
Paranormal Activity: The Ghost Dimension
Partisan
Pass the Light
Patch Town
Paul Blart: Mall Cop 2
Paul Taylor: Creative Domain
Pawn Sacrifice
Pay the Ghost
Peace Officer
People Places Things
Phoenix
Pigeon
Pitch Perfect 2
Pixels
Point Break
Police Story: Lockdown
Poltergeist
Predestination
Preggoland
Prem Ratan Dhan Payo
Preservation
Project Almanac
Prophet's Prey
Queen of Earth
[REC] 4: Apocalypse
Racing Extinction
Reality
Red Army
Regression
Results
Return to Sender
Ricki and the Flash
Ride
Riot Club
Road Hard
Rock the Kasbah
Roger Waters The Wall
Room
Run All Night
Russell Madness
SMOSH: The Movie
Saint Laurent
Samba
San Andreas
Scouts Guide to the Zombie Apocalypse
Secret in Their Eyes
See You in Valhalla
Self / Less
Selma
Serena
Set Fire to the Stars
Seventh Son
Seymour: An Introduction
Shanghai
Shaun the Sheep Movie
Shelter
She's Funny That Way
Sicario
Sinister 2
Sisters
Skin Trade
Sleeping With Other People
Slow West
Soaked in Bleach
Some Kind of Beautiful
Some Kind of Hate
Son of Saul
Son of a Gun
Song One
Songs From the North
Soul Boys of the Western World
Southpaw
Spare Parts
Spectre
Spotlight
Spring
Spy
Star Wars: The Force Awakens
Staten Island Summer
Steve Jobs
Steve Jobs: The Man in the Machine
Still Alice
Stink
Stonewall
Straight Outta Compton
Strange Magic
Strangerland
Stray Dog
Suffragette
Sunshine Superman
Superfast
Tab Hunter Confidential
Taken 3
Talvar (Bollywood)
Tangerine
Taxi (Jafar Panahi's)
Ted 2
Ten Thousand Saints
Terminator Genisys
Testament of Youth
That Sugar Film
The 100-Year-Old Man Who Climbed Out the Window and Disappeared
The 11th Hour
The 33
The Age of Adaline
The Anomaly
The Armor of Light
The Assassin
The Beauty Inside
The Big Short
The Boy Next Door
The Boy and the World
The Cobbler
The Cokeville Miracle
The Connection
The Coup
The Curse of Downers Grove
The Cut
The D Train
The DUFF
The Danish Girl
The Dark Horse
The Dead Lands
The Diabolical
The Diary of a Teenage Girl
The Duke of Burgundy
The End of the Tour
The Farewell Party
The Film Critic
The Final Girls
The Forger
The Gallows
The Gift
The Good Dinosaur
The Green Inferno
The Gunman
The Hallow
The Human Centipede III: Final Sequence
The Hunger Games: Mockingjay – Part 2
The Hunting Ground
The Intern
The Keeping Room
The Kindergarten Teacher
The Lady in the Car With Glasses and a Gun
The Lady in the Van
The Last Five Years
The Last Witch Hunter
The Lazarus Effect
The Letters
The Little Death
The Loft
The Longest Ride
The Look of Silence
The Man From U.N.C.L.E.
The Man in the High Castle (Amazon series)
The Martian
The New Girlfriend
The Night Before
The Outskirts
The Overnight
The Peanuts Movie
The Perfect Guy
The Reflektor Tapes
The Remaining
The Ridiculous 6
The Riot Club
The Runner
The Salt of the Earth
The Salvation
The Search for General Tso
The Second Best Exotic Marigold Hotel
The Second Mother
The Seven Five
The Seventh Dwarf
The Seventh Son
The SpongeBob Movie: Sponge Out of Water
The Stanford Prison Experiment
The Summer of Sangailé
The Transporter Legacy
The Transporter: Refueled
The Tribe
The Vatican Tapes
The Visit
The Voices
The Walk
The Wannabe
The Water Diviner
The Wedding Ringer
The Wolfpack
The Woman in Black 2: Angel of Death
The Wonders
The World Made Straight
The World of Kanako
The Wrecking Crew
The Yes Men Are Revolting
Theeb
This Changes Everything
Timbuktu
Time Lapse
Time Out of Mind
Tokyo Tribe
Tom at the Farm
Tomorrowland
Tracers
Trainwreck
Trash
Triple Nine
True Story
Trumbo
Truth
Un Gallo Con Muchos Huevos
Uncle John
Underdogs
Unexpected
Unfinished Business
Unfriended
Unsullied
Vacation
Vendetta
Veronika Decides to Die
Vice
Victor Frankenstein
Victoria
Walt Before Mickey
War Room
We Are Still Here
We Are Your Friends
We Come as Friends
Welcome to Me
What We Did on Our Holiday
What We Do in the Shadows
When Animals Dream
Where Hope Grows
While We're Young
White God
Wild Card
Wild Horses
Wild Tales
Winter Fire
Wolf Totem
Woman in Gold
Woodlawn
Wrecker
Yakuza Apocalypse
Youth
Z for Zachariah