Podcast: Play in new window | Download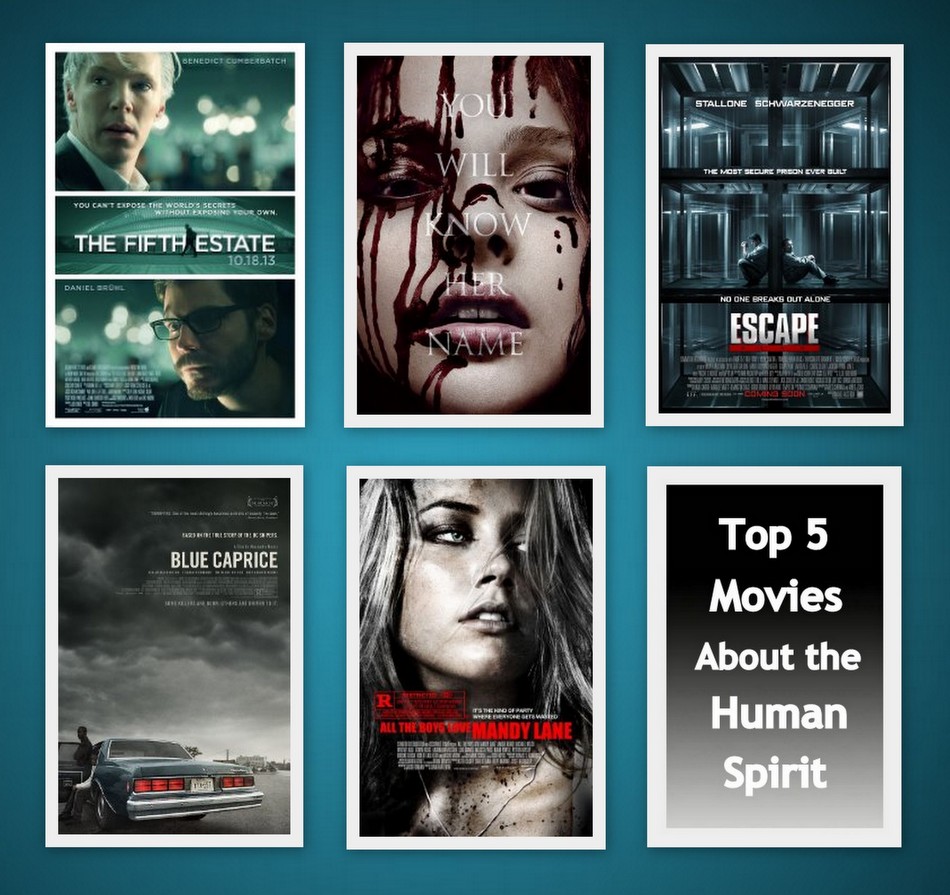 In Episode 056 of Movie Podcast Weekly, Jason, Josh and Karl take bets on whether or not Andy will actually show up before giving you 6 (count 'em, 6!) feature reviews including the Bruce Willis sci-fi action / comedy "The Fifth Element" the Benedict Cumberbatch Wikileaks / Julian Asange bio-pic "The Fifth Estate," followed by another film based on a true story, this one about the DC sniper, "Blue Caprice," the Sylvester Stallone / Arnold Arnold Schwarzenegger double-team "Escape Plan," both Kimberly Pierce's brand new "Carrie" remake, as well as the 1976 De Palma adaptation of Stephen King's classic work and, finally, the long-awaited indie slasher "All the Boys Love Mandy Lane."
When Andy eventually drags himself into the show, Movie Podcast Weekly features four hosts (and frequent guests), who give you their verdict on at least one new movie release that's currently in theaters, mini-reviews of what they've been watching lately, and specialty recommendation segments. New episodes release every single Monday.
SHOW NOTES — with Time Stamps!
( 00:00:00 ) I. Intro
— Will Andy make it to the podcast?
—Haunted Camp Floyd
—Random movie news
—Bad theater experiences
(00:22:38) II. Mini-Reviews:
Karl: Dark Shadows, Enough Said
Jason: Elevator, Blood Night: The Legend of Mary Hatchet
Josh: The Private Eyes, Tremors

( 00:40:16 ) III. Feature review of ESCAPE PLAN:
Jason: 7 ( See it in Theaters / Rent It )

( 00:49:14 ) IV. Feature review of THE FIFTH ESTATE:
Karl: 9 ( See It in Theaters / Rent It )

( 01:00:18 ) V. Feature review of CARRIE (1976):
Josh: 7 ( Rent It )
Jason: 7 ( Rent It )
( 01:18:45 ) VI. Feature review of CARRIE (2013):
Josh: 6 ( Younger Horror Fans See It In the Theater / Rent It )
Jason: 6 ( Younger Horror Fans See It In the Theater / Rent It )
( 01:39:56 ) VII. Welcome Andy to the show for our Top 5 Movies About the Human Spirit
( 02:14:56 ) VIII. Feature reviews continued, ALL THE BOYS LOVE MANDY LANE:
Jason: 5.5 ( Rent It )
Josh: 5 ( Rent It )
( 02:20:36 ) IX. Another Landmark Andy Moment
( 02:23:48 ) X. Feature review of BLUE CAPRICE:
Jason: 6 ( Solid Rental )

XI. Segments:
( 02:34:32 ) ANDY'S ABSURD ASSOCIATIONS:
Road Trip Movies:
Texas Chainsaw Massacre
Dumb & Dumber
Zombieland
The Road
The Book of Eli
( 02:37:05 ) JOSHUA LIGAIRI'S CONTINUING EDUCATION:
Classic / Remake Double Feature: The Wicker Man (1973) and The Wicker Man (2006)
( 02:42:31 ) JAY OF THE DEAD'S CREEPS AND CRIME:
Creeps: Motel Hell
( 02:46:48 ) XII. Wrap-Up
Next Monday on MPW: We will have a feature review of the Ridley Scott film "The Counselor" and several trick and / or treats for Halloween. Join us!
Links for this episode:
Watch the "no-budget" music video that Josh directed years back for a local pop-punk/post-hardcore/nu-metal band at the "Haunted Mental Hospital" Josh talked about (that, incidentally, got the band signed to Universal Motown): Get Scared YouTube Channel
Read the article Josh talked about "SHUSHERS: WRONG ABOUT MOVIES. WRONG ABOUT THE WORLD" here: Dashes.com
And the response article Josh talked about "RESPECTING CINEMA IN THE DIGITAL AGE" from the same blog here: Dashes.com
Listen to the interview with Carrie remake director, Kimberly Pierce, that Josh talked about on iTunes or watch the video interview here: The MacGuffin YouTube Channel
Check out the website Josh thinks is somehow related to movies about the human spirit, a blog called "Thumbs and Ammo" that replaces famous movie guns with thumbs-ups and carries the moto "Real tough guys don't need guns, just a positive can-do attitude" here: Taste of Cinema
This Halloween, remember to check out our very first premium bonus episode here: Cujo Commentary
Also special for Halloween, be sure to check out the premiere episode of the Horror Movie Podcast that features Jason (as Jay of the Dead), Josh (as Wolfman Josh), and former MPW guest Kyle Bishop (as Dr. Walking Dead) here: HorrorMoviePodcast.com
Follow Movie Podcast Weekly on Twitter: @MovieCastWeekly
Follow Joshua Ligairi on Twitter: @IcarusArts
Check out Josh on a reality TV show for documentary filmmakers: Pursuit of the Truth
Read Josh's post on Halloween movies here: Icarus Art & Entertainment Blog
Check out Jason and frequent MPW guest Willis Wheeler on: THE DONUT SHOW
Listen to Jason's Movie Stream Cast here: Movie Stream Cast.com
Special thanks goes out to singer-songwriter Frederick Ingram and the voice talents of Midnight Corey Graham from The Electric Chair Podcast, Willis Wheeler from the Terror Troop Podcast and Mr. Ron Baird for their help with our recommendation segment intros.
We'd also like to thank The Dave Eaton Element and Dave Eaton himself for the use of his music for our theme song.
If you like what we do here at Movie Podcast Weekly, please subscribe and leave us a positive review in iTunes. If you want to support the show, we have PayPal buttons in our right-hand sidebar where you can make a one-time donation or you can become a recurring donor for just $2 per month. You can also check out our Premium podcasts, available at BandCamp for a minimum donation of $1. Lastly, remember to start your Amazon shopping here by clicking through our banner ads at no additional cost to you.
You can always contact us by e-mailing MoviePodcastWeekly@gmail.com. Or you can call and leave us a voice mail at: (801) 382-8789. And you can leave us a comment in the show notes for this episode.
Thank you for listening, and join us again next Monday for Movie Podcast Weekly.