Podcast: Play in new window | Download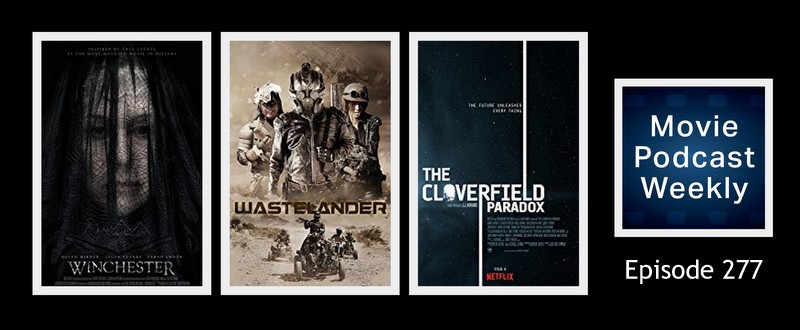 Special guest Chase Harrison of The Reel to Reel Blog returns to Movie Podcast Weekly again to Feature Review Wastelander (2018) in Episode 277. We also review The Cloverfield Paradox (2018) and Winchester (2018). We also give you our 2 cents on Super Bowl LII and its commercials and trailers and so forth. Join us!
If you're new to our show… Movie Podcast Weekly typically features four hosts — Jason, Andy, Karl and Geek Cast Ry — along with frequent guests. We give you our verdicts on at least one new movie release from the current year that's currently playing in theaters, as well as several mini reviews of whatever we've been watching lately. New episodes release every single week!
---
SHOW NOTES:
I. Introduction
— Welcome back guest Chase Harrison
---
[ 0:01:15 ] II. Regarding Super Bowl LII
– Trailers:
A Quiet Place
Jurassic World: Fallen Kingdom
Solo
The Cloverfield Paradox
Castle Rock
Skyscraper
Mission Impossible: Fallout
Fake Crocodile Dundee movie
John Krasinski as Jack Ryan
Black Panther Lexus commercial
Jeff Goldblum / Jurassic Park car commercial
West World Season 2
Avengers Infinity War trailer
---
[ 0:24:47 ] III. Mini Reviews
Karl: Altered Carbon
Ryan: Norsemen, My 600-lb Life
Jason: This Is Us Season 2 revelation
Chase: Phantom Thread (again)
---
IV. New in Theaters This Past Weekend [ Friday, February 2, 2018 ]:
Winchester
The Cloverfield Paradox
Scorched Earth
A Fantastic Woman
The Cage Fighter
Driving While Black
BILAL: A New Breed of Hero
---
FEATURE REVIEWS HAVE TIME STAMPS:
[ 0:41:15 ] V. Feature Review: WINCHESTER (2018)
Jason = 6 ( Redbox Rental for Horror fans )
---
[ 0:48:51 ] VI. Feature Review: THE CLOVERFIELD PARADOX (2018)
Jason = 7 ( Stream it on Netflix )
Ryan = 8.5 ( Stream it on Netflix )
---
[ 1:12:19 ] VII. Feature Review: WASTELANDER (2018)
Jason = 7.5 ( Strong Rental )
Chase = 7.5 ( Rental )
---
VIII. Wrap-Up / Plugs / Ending
---
COMING UP ON MPW NEXT WEEK:
Episode 278 where we'll be reviewing "The 15:17 to Paris" and "Fifty Shades Freed." Join us!
---
LINKS FOR THIS EPISODE:
Check out Chase's movie site: The Reel to Reel Blog
Contact MPW:
E-mail us: MoviePodcastWeekly@gmail.com.
Leave us a voicemail: (801) 382-8789.
Follow MPW on Twitter: @MovieCastWeekly
Leave a comment in the show notes for this episode.
Ryan's new Facebook page
Ry's BIO
Ryan's New Facebook Page
Ry's flagship show: Geek Cast Live Podcast
DONATE here to facilitate the creation of more Geek content!
Blog: Geek Cast Live
Web site: Geek Harder.com
Facebook
Twitter: @GeekCastRy
Jason recommends supporting: Operation Underground Railroad
Listen to MPW:
Add MPW to your Stitcher playlist: Stitcher.com
MPW on iTunes
MPW's RSS feed
Right-click to download the MPW 100 Rap
Josh's links:
Hear Josh named as one of the Top 5 Up-and-Coming Directors on The Film Vault Podcast!
Twitter: @IcarusArts
Josh covers streaming movies on: Movie Stream Cast
Hear Josh on The SciFi Podcast
Hear Josh on Horror Movie Podcast
If you're a Horror fan, listen to Jason and Josh on HORROR MOVIE PODCAST
We'd like to thank The Dave Eaton Element and Dave himself for the use of his music for our theme song. Buy Dave's Eaton's music: BandCamp.com
---
If you like Movie Podcast Weekly, please subscribe and leave us a review in iTunes. If you want to support the show, we have PayPal buttons in our right-hand sidebar where you can make a one-time donation or you can become a recurring donor for just $2 per month. (Every little bit helps!)
Thanks for listening, and join us again next week for Movie Podcast Weekly.
---