Podcast: Play in new window | Download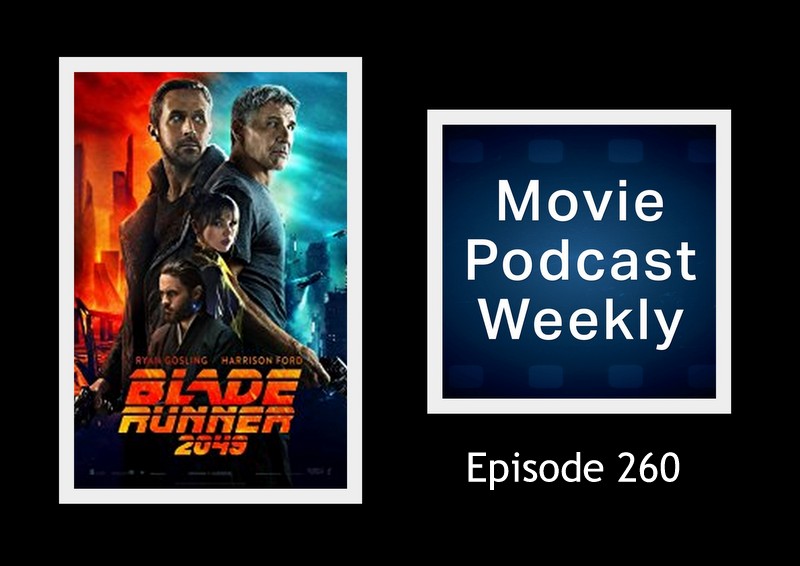 It's the episode you've all been waiting for… In Episode 260 of Movie Podcast Weekly, you get to hear Karl's review of Blade Runner 2049 (2017)! Unfortunately, Andy's missed this show and Ryan was unable to join us due to his harvest duties, but we are joined by special guest William Rowan Jr. (of The Sci-Fi Podcast and the forthcoming Movie Moments podcast!). (However, Andy, Ryan and even Mack Robins still make a brief appearance on this episode from an earlier recording.) We also talk about the original "Blade Runner" (1982) and its many versions. Warning: Spoilers for the 1982 storyline. Join us!
If you're new to our show… Movie Podcast Weekly typically features four hosts — Jason, Andy, Karl and Geek Cast Ry — along with frequent guests. We give you our verdicts on at least one new movie release from the current year that's currently playing in theaters, as well as several mini reviews of whatever we've been watching lately. New episodes release every single week!
---
SHOW NOTES:
I. Introduction
— Welcome William Rowan Jr.
— Hear our quick post-mortem recording outside the movie theater, immediately after seeing "Blade Runner 2049"
— William's forthcoming Movie Moments short-form podcast
— Movie Podcast Network 2017 MeetUp Event in Salt Lake City, Utah, October 14.
— Morgan Freeman hoax / misinformation
---
[ 0:14:47 ] II. Movie Industry News
— Scandals in the film and film writing industry: Devin Faraci; Harry Knowles; The Alamo Drafthouse, Fantastic Fest and the Austin Film Community; Andy Signore; and Harvey Weinstein
---
[ 0:30:01 ] III. Mini Reviews
Karl: TV shows: The Mayor (TV Show – 2017), Wisdom of the Crowd, Kevin (Probably) Saves the World, The new Last Jedi trailer
William Rowan Jr: three short films for the new Blade Runner prequels (Blade Runner 2022, Blade Runner 2036, Blade Runner 2048), Finding Vivian Maier
Jason: Blade Runner (1982) and its various incarnations (and a brief appearance by Andy, Ryan and Mack Robins)
---
[ 0:43:39 ] IV. Blade Runner (1982) Various Versions
— Karl discusses the various versions of Blade Runner (1982)
---
V. New in Theaters This Past Weekend [ Friday, October 6, 2017]:
Blade Runner 2049
The Mountain Between Us
Better Watch Out
Loving Vincent
Brawl in Cell Block 99
The Florida Project
So B. It
Walking Out
Earth: One Amazing Day
Barracuda
The Stray
Dementia 13
The Polka King
Una
City of Rock
Dina
Generational Sins
Bobbi Jene
The Osiris Child: Science Fiction Volume 1
2307: Winter's Dream
Demon Hole
Mully
My Little Pony: The Movie
---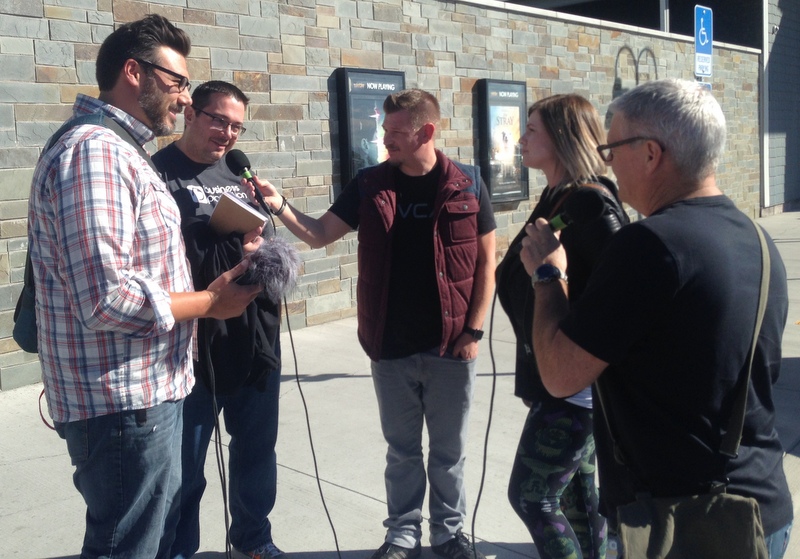 (Left to right: William Rowan Jr., Jason, Mattroid, Liz (STATION), and Karl. Photo by Sharon Rowan.)
FEATURE REVIEWS HAVE TIME STAMPS:
[ 1:22:38 ] VI. Feature Review: BLADE RUNNER 2049 (2017)
Jason = 9.5 ( Theater / Buy it! )
Andy = 6.5 ( Rental )
Karl = 9 ( Theater / Buy it! )
William Rowan Jr. = 9.5 ( Must-see / Theater / Buy it! )
---
VII. Wrap-Up / Plugs / Ending
— Listener feedback: Email from Brian Bashe on "The Battle of the Sexes"
---
COMING UP ON MPW NEXT WEEK:
Episode 261 where we'll be reviewing "The Foreigner" and "The Mountain Between Us" — live recordings for the Movie Podcast Network MeetUp! Join us!
---
LINKS FOR THIS EPISODE:
Jason highly recommends Glen Phillips's song "Go" (Let me know in the comments for this episode if you watch this video!)
Catch up with William Rowan Jr:
— On Twitter: @GalanoPro
— The Sci-Fi Podcast
— CASTERS: A Podcast About Podcasting – Part 1 of 2
Contact MPW:
E-mail us: MoviePodcastWeekly@gmail.com.
Leave us a voicemail: (801) 382-8789.
Follow MPW on Twitter: @MovieCastWeekly
Leave a comment in the show notes for this episode.
Ryan's new Facebook page
Ry's BIO
Ryan's New Facebook Page
Ry's flagship show: Geek Cast Live Podcast
DONATE here to facilitate the creation of more Geek content!
Blog: Geek Cast Live
Web site: Geek Harder.com
Facebook
Twitter: @GeekCastRy
Jason recommends supporting: Operation Underground Railroad
Listen to MPW:
Add MPW to your Stitcher playlist: Stitcher.com
MPW on iTunes
MPW's RSS feed
Right-click to download the MPW 100 Rap
Josh's links:
Hear Josh named as one of the Top 5 Up-and-Coming Directors on The Film Vault Podcast!
Twitter: @IcarusArts
Josh covers streaming movies on: Movie Stream Cast
Hear Josh on The SciFi Podcast
Hear Josh on Horror Movie Podcast
If you're a Horror fan, listen to Jason and Josh on HORROR MOVIE PODCAST
We'd like to thank The Dave Eaton Element and Dave himself for the use of his music for our theme song. Buy Dave's Eaton's music: BandCamp.com
---
If you like Movie Podcast Weekly, please subscribe and leave us a review in iTunes. If you want to support the show, we have PayPal buttons in our right-hand sidebar where you can make a one-time donation or you can become a recurring donor for just $2 per month. (Every little bit helps!)
Thanks for listening, and join us again next week for Movie Podcast Weekly.
---