Podcast: Play in new window | Download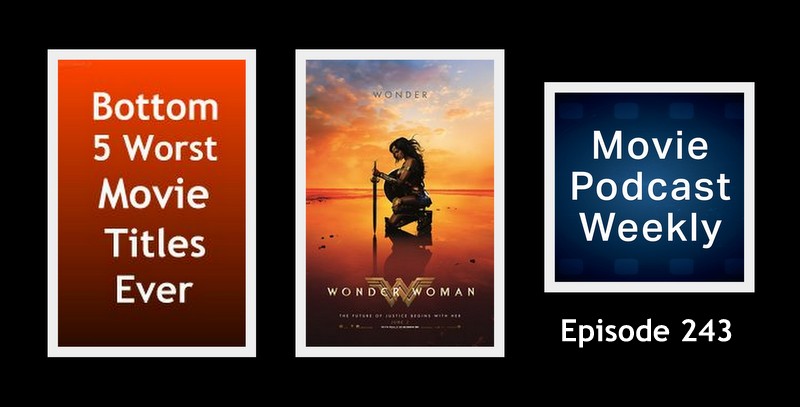 For all our wonder women listeners, here is Movie Podcast Weekly, Episode 243. We bring you a Feature Review of Wonder Woman (2017) with the help of special guests Catherine Campbell (of the Bright Planning Marketing Podcast) and filmmaker Mack Robins. We also bring Part 1 of 3 of our Bottom 5 Worst Movie Titles Ever! Please join us! This is one of our better shows in a long time (and that has nothing to do with Ryan and Andy's absences). Probably.
If you're new to our show… Movie Podcast Weekly typically features four hosts — Jason, Andy, Karl and Geek Cast Ry — along with frequent guests. We give you our verdicts on at least one new movie release from the current year that's currently playing in theaters, as well as several mini reviews of whatever we've been watching lately. New episodes release every single week!
---
SHOW NOTES:
I. Introduction
— Karl has a sexy new mic
— No Ryan and no Andy tonight
— Welcome guests Catherine Campbell and Mack Robins
— Karl's guest appearance on the Geek Cast Live Podcast
— Jason's favorite Internet comment (ever)
---
[ 0:07:15 ] II. Mini Reviews
Karl: The Young Offenders, House of Cards Season 5, Super 8
Mack Robins: Alien: Covenant, Wonder Women! The Untold Story of American Superheroines
Catherine Campbell: Breaking Bad, Dazed and Confused, The King of Kong: A Fistful of Quarters
— Karl's Dazed and Confused Mini Review here begins at 23:11.
— MPW recommends: Jerry Seinfeld on Awards
Jason: Saving Mr. Banks, The Social Network
— MPW's Jurassic Park quadrilogy episode
— Jason recommends Catherine's podcast episode about Movie Marketing!
---
[ 0:59:00 ] III. Feature Review: BOTTOM 5 WORST MOVIE TITLES EVER (Part 1 of 3)
— Jason
— Karl
— Catherine Campbell
— Mack Robins
---
New in Theaters This Past Weekend [ Friday, June 2, 2017 ]:
Wonder Woman
Captain Underpants: The First Epic Movie
God of War
Churchill
3 Idiots
The Recall
The Exception
Handsome Devil
I, Daniel Blake
Past Life
Aaron's Blood
Dark Signal
Vincent N Roxxy
Band Aid
Love, Kennedy
Dean
Letters From Baghdad
The B-Side
No fake movie titles from Ryan this week.
---
FEATURE REVIEWS HAVE TIME STAMPS:
[ 1:21:32 ] IV. Feature Review: WONDER WOMAN (2017)
Jason = 7 ( Theater / Rental )
Karl = 8 ( Theater / Rental )
Catherine Campbell = 6.5 ( Theater / Rental )
Mack Robins = 8.5 ( Theater / Rental )
---
V. Wrap-Up / Plugs / Ending
---
COMING UP ON MPW NEXT WEEK:
Episode 244 where we'll be reviewing "The Mummy" (2017) and "It Comes at Night" with special guest William Rowan Jr. of The Sci-Fi Podcast and we'll also get to hear Andy's and William Rowan's Bottom 5 Worst Movie Titles lists! Join us!
---
LINKS FOR THIS EPISODE:
***Jason recommends Catherine's podcast episode about Movie Marketing!
And catch up with Catherine Campbell here:
– On Twitter
– Bright Planning Marketing Podcast
Hear MPN's Universal Monsters Cast review The Mummy (2017)
Geek Cast Live Podcast – where they geek harder than anyone else on geek movies and all things pertaining to geekdom.
Movie Stream Cast – where they help you manage your queues by reviewing films that are streaming online.
The Sci-Fi Podcast – the ultimate movie podcast for science fiction fans.
Retro Movie Geek – where they overdose on nostalgia by reviewing movies that are 20 years old or older.
Horror Movie Podcast – where we're Dead Serious About Horror Movies.
Universal Monsters Cast – where we review Universal monsters films, classic and current.
Movie Podcast Weekly – where we review at least one new movie that's in theaters each week.
Contact MPW:
E-mail us: MoviePodcastWeekly@gmail.com.
Leave us a voicemail: (801) 382-8789.
Follow MPW on Twitter: @MovieCastWeekly
Leave a comment in the show notes for this episode.
Ryan's new Facebook page
Ry's BIO
Ryan's New Facebook Page
Ry's flagship show: Geek Cast Live Podcast
DONATE here to facilitate the creation of more Geek content!
Blog: Geek Cast Live
Web site: Geek Harder.com
Facebook
Twitter: @GeekCastRy
Jason recommends supporting: Operation Underground Railroad
Listen to MPW:
Add MPW to your Stitcher playlist: Stitcher.com
MPW on iTunes
MPW's RSS feed
Right-click to download the MPW 100 Rap
Josh's links:
Hear Josh named as one of the Top 5 Up-and-Coming Directors on The Film Vault Podcast!
Twitter: @IcarusArts
Josh covers streaming movies on: Movie Stream Cast
Hear Josh on The SciFi Podcast
Hear Josh on Horror Movie Podcast
If you're a Horror fan, listen to Jason and Josh on HORROR MOVIE PODCAST
We'd like to thank The Dave Eaton Element and Dave himself for the use of his music for our theme song. Buy Dave's Eaton's music: BandCamp.com
---
If you like Movie Podcast Weekly, please subscribe and leave us a review in iTunes. If you want to support the show, we have PayPal buttons in our right-hand sidebar where you can make a one-time donation or you can become a recurring donor for just $2 per month. (Every little bit helps!)
Thanks for listening, and join us again next week for Movie Podcast Weekly.
---