Podcast: Play in new window | Download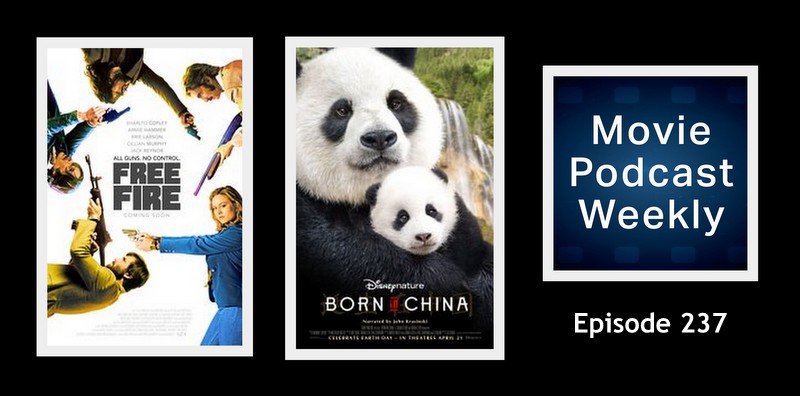 Joel Robertson of Retro Movie Geek returns to visit Movie Podcast Weekly to help us Feature Review one of the worst movies of the year: Free Fire (2017). Also in Episode 237, you'll hear Joel's review of DisneyNature's Born in China (2017). To be honest, these Feature Reviews this week are just so-so (because of the films, not because of us)… But the real reason to listen to this episode is our Mini Reviews. Join us!
If you're new to our show… Movie Podcast Weekly typically features four hosts — Jason, Andy, Karl and Geek Cast Ry — along with frequent guests. We give you our verdicts on at least one new movie release from the current year that's currently playing in theaters, as well as several mini reviews of whatever we've been watching lately. New episodes release every single week!
---
SHOW NOTES:
I. Introduction
— Welcome guest Joel Robertson of Retro Movie Geek
— RMG's Gleaming the Cube episode
— The official launch of Movie Podcast Network – May 1, 2017
_ Next week: Ryan's "Comedy Movie Podcast"
— Jay's Horror Story or: Why He's Laughing so Weirdly This Week
---
[ 0:13:20 ] II. Mini Reviews
Karl: William Rowan Jr's screening of "The Villa," The Fate of the Furious, The Man in the High Castle Season 2
Joel Robertson: Brooklyn Nine-Nine, The People vs. OJ Simpson, The Blackcoat's Daughter, Risky Business
Andy: Bridget Christie: Standup for Her
Jason: Blue Jay (2016); Tom Papa: Live in New York City; Lo and Behold, Reveries of the Connected World; Freakonomics (2010)
Ryan: Ryan's forthcoming Comic Book; trailer for Three Billboards Outside Ebbing, Missouri; Deadpool 2 release date; Ryan's new Internet; I Don't Feel at Home in This World Anymore
---
III. New in Theaters This Past Weekend [ Friday, April 21, 2017 ]:
Free Fire
Born in China
Unforgettable
The Promise
Phoenix Forgotten
Ozzy
Intro to Life
The Student
Somewhere Beautiful
King Me
Tomorrow
Citizen Jane
Let It Fall
Slack Bay
The Governors Pardon: The Case of Andrew Fink
WarHawk
NOLA Circus
The Happiest Day in the Life of Olli Maki
---
FEATURE REVIEWS HAVE TIME STAMPS:
[ 1:26:02 ] IV. Feature Review: BORN IN CHINA (2017)
Joel Robertson = 6.5 ( Theater / Rental )
But for wife and kids = 8.5 ( Theater / Buy it! )
---
[ 1:38:35 ] V. Feature Review: FREE FIRE (2017)
Jason = 4 ( Avoid )
Karl = 5 ( Low-priority Rental )
Ryan = 6 ( Redbox ) – one of Ryan's Biggest Disappointments of 2017
Joel Robertson = 6.5 ( Stream on Netflix / Redbox )
---
VI. Wrap-Up / Plugs / Ending
— The next four Avatar sequels have release dates again
— 2017 WGA strike is imminent
— The final remaining Blockbuster Video stores in America
---
COMING UP ON MPW NEXT WEEK:
Episode 238 where we'll be reviewing "The Circle." Join us!
---
LINKS FOR THIS EPISODE:
Be sure to catch Joel Robertson on Retro Movie Geek, and follow him on Twitter @RetroMovieGeek!
And next week (first week of May), watch for the Movie Podcast Network's first Special Features release, and the launch of Ryan's Comedy Movie Podcast!
Ryan says if you're looking for a science fiction-based, role-playing game, then you should definitely support the Kickstarter for Stellar Chaos by Infinity Monkey Games
Contact MPW:
E-mail us: MoviePodcastWeekly@gmail.com.
Leave us a voicemail: (801) 382-8789.
Follow MPW on Twitter: @MovieCastWeekly
Leave a comment in the show notes for this episode.
Ryan's new Facebook page
Ry's BIO
Ryan's New Facebook Page
Ry's flagship show: Geek Cast Live Podcast
DONATE here to facilitate the creation of more Geek content!
Blog: Geek Cast Live
Web site: Geek Harder.com
Facebook
Twitter: @GeekCastRy
Jason recommends supporting: Operation Underground Railroad
Listen to MPW:
Add MPW to your Stitcher playlist: Stitcher.com
MPW on iTunes
MPW's RSS feed
Right-click to download the MPW 100 Rap
Josh's links:
Hear Josh named as one of the Top 5 Up-and-Coming Directors on The Film Vault Podcast!
Twitter: @IcarusArts
Josh covers streaming movies on: Movie Stream Cast
Hear Josh on The SciFi Podcast
Hear Josh on Horror Movie Podcast
If you're a Horror fan, listen to Jason and Josh on HORROR MOVIE PODCAST
We'd like to thank The Dave Eaton Element and Dave himself for the use of his music for our theme song. Buy Dave's Eaton's music: BandCamp.com
Ryan's Fake Movie Titles:
Intro to Life
King Me
The Governors Pardon: The Case of Andrew Fink
WarHawk
---
If you like Movie Podcast Weekly, please subscribe and leave us a review in iTunes. If you want to support the show, we have PayPal buttons in our right-hand sidebar where you can make a one-time donation or you can become a recurring donor for just $2 per month. (Every little bit helps!)
Thanks for listening, and join us again next week for Movie Podcast Weekly.
---