Podcast: Play in new window | Download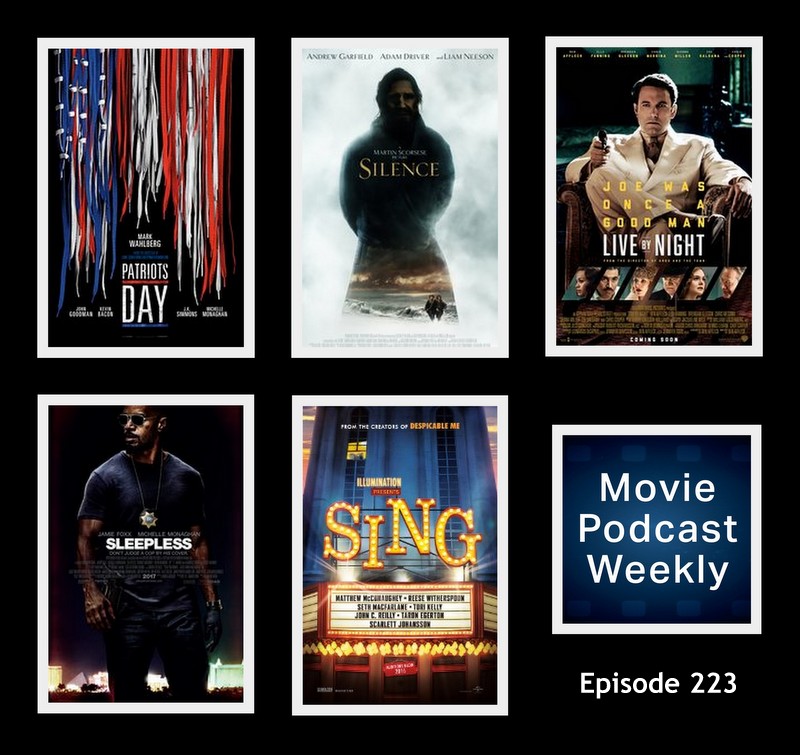 In Episode 223 of Movie Podcast Weekly, "Mandy" the physicist joins us as we bring you five Feature Reviews of Patriots Day and Silence and Live by Night and Sleepless and Sing (2016). This episode also has a few rabbit holes where we fight about Rogue One, Gods of Egypt, the legality of Moonrise Kingdom, Westworld and L O S T, and Ryan also tells a terrible cat adoption story … not for the faint of heart. Join us!
If you're new to our show… Movie Podcast Weekly typically features four hosts — Jason, Andy, Karl and Geek Cast Ry — along with frequent guests. We give you our verdicts on at least one new movie release from the current year that's currently playing in theaters, as well as several mini reviews of whatever we've been watching lately. New episodes release every single week!
---
SHOW NOTES:
I. Introduction
— Movie Podcast Network teaser – March 1
---
[ 0:05:31 ] II. Four Rabbit Holes
[ 0:05:31 ] — Jay responds to the Rogue One backlash & Gods of Egypt
[ 0:20:07 ] — The Legality of Moonrise Kingdom
[ 0:35:23 ] — Westworld review for John
— The Geek Cast Live Podcast where Ryan and Rob discuss Westworld (at the end of the show)
— Karl's concert report
---
[ 0:51:40 ] III. Mini Reviews
Karl: Snowden, Sherlock Holmes
Mandy: MythBusters, The White Rabbit, Jim Gaffigan Cinco, Netflix's download feature
Jason: Davy's philosophy on girlfriends, Meru, High Noon, Victoria (2015)
Ryan: The Young Pope, Taboo, The Witch: A New England Folktale
---
IV. New in Theaters This Past Weekend [ Friday, January 13, 2017 ] :
Silence
Sleepless
Patriots Day
Live by Night
The Bye Bye Man
Monster Trucks
48 Hours to Live
The Crash
The Trader
The Book of Love
Expire
King's Ransom
20th Century Women
Alone in Berlin
Bad Kids of Crestview Academy
Worlds Apart
Tangent
100 Streets
Sophie and the Rising Sun
Claire in Motion
The Sunshine Makers
---
FEATURE REVIEWS HAVE TIME STAMPS:
[ 1:27:39 ] V. Feature Review: PATRIOTS DAY (2017)
Jason = 9 ( Theater / Buy it! )
---
[ 1:41:30 ] VI. Feature Review: LIVE BY NIGHT (2017)
Karl = 7 ( Theater / Rental )
---
[ 1:49:37 ] VII. Feature Review: SING (2016)
Ryan = 6 ( Rental )
---
[ 1:54:03 ] VIII. Feature Review: SILENCE (2017)
Jason = 4.5 ( Avoid )
---
[ 2:03:55 ] IX. Feature Review: SLEEPLESS (2017)
Jason = 7.5 ( Theater / Strong Rental at Least Once )
---
X. Wrap-Up / Plugs / Ending
— Ryan's very messed-up cat adoption story
---
COMING UP ON MPW NEXT WEEK:
Episode 224 where we'll be reviewing "Split." Join us!
---
LINKS FOR THIS EPISODE:
Contact MPW:
E-mail us: MoviePodcastWeekly@gmail.com.
Leave us a voicemail: (801) 382-8789.
Follow MPW on Twitter: @MovieCastWeekly
Leave a comment in the show notes for this episode.
Ryan's new Facebook page
Ry's BIO
Ryan's New Facebook Page
Ry's flagship show: Geek Cast Live Podcast
DONATE here to facilitate the creation of more Geek content!
Blog: Geek Cast Live
Web site: Geek Harder.com
Facebook
Twitter: @GeekCastRy
Jason recommends supporting: Operation Underground Railroad
Listen to MPW:
Add MPW to your Stitcher playlist: Stitcher.com
MPW on iTunes
MPW's RSS feed
Right-click to download the MPW 100 Rap
Josh's links:
Hear Josh named as one of the Top 5 Up-and-Coming Directors on The Film Vault Podcast!
Twitter: @IcarusArts
Josh covers streaming movies on: Movie Stream Cast
Hear Josh on The SciFi Podcast
Hear Josh on Horror Movie Podcast
If you're a Horror fan, listen to Jason and Josh on HORROR MOVIE PODCAST
We'd like to thank The Dave Eaton Element and Dave himself for the use of his music for our theme song. Buy Dave's Eaton's music: BandCamp.com
Ryan's Fake Movie Titles:
King's Ransom
Tangent
The Trader
Expire
---
If you like Movie Podcast Weekly, please subscribe and leave us a review in iTunes. If you want to support the show, we have PayPal buttons in our right-hand sidebar where you can make a one-time donation or you can become a recurring donor for just $2 per month. (Every little bit helps!)
Thanks for listening, and join us again next week for Movie Podcast Weekly.
---