Podcast: Play in new window | Download

In Episode 198 of Movie Podcast Weekly, we bring you four Feature Reviews of The Secret Life of Pets and Mike and Dave Need Wedding Dates and Swiss Army Man and Carnage Park. This episode features an appearance by special guest MPW listener Eric Herman (of Eric Herman Music.com). We also have a concept discussion where we debate whether a film's ending can ruin the overall intrinsic value of the movie. Join us!
If you're new to our show… Movie Podcast Weekly typically features four hosts — Jason, Andy, Karl and Geek Cast Ry — along with frequent guests. We give you our verdicts on at least one new movie release from the current year that's currently playing in theaters, as well as several mini reviews of whatever we've been watching lately. New episodes release every single week!
---
SHOW NOTES:
I. Introduction
---
[ 0:01:55 ] II. Mini Reviews
Karl: "Homework" preparation for MPW Ep. 200
Andy: Story about Tok, Alaska; Kung Fu Panda 3; Harry Potter audio book update
Andy: Out of Africa, Casablanca, Singin' in the Rain
---
[ 0:25:21 ] III. Concept Discussion: If you don't like a movie's ending, does it altogether ruin the whole movie and consequently strip it of all its other merits?
– Are "happy endings" necessary for a movie to still be "a good movie"?
---
IV. New in Theaters on July 8, 2016:
The Secret Life of Pets
Mike and Dave Need Wedding Dates
Captain Fantastic
How He Fell in Love
Fathers and Daughters
The Dog Lover
Zero Days
Our Little Sister
Life, Animated
Norman Lear: Just Another Version of You
---
FEATURE REVIEWS HAVE TIME STAMPS:
[ 0:42:24 ] V. Feature Review: THE SECRET LIFE OF PETS (2016)
Andy = 7 ( Theater / Buy it! )
Karl = 7.5 ( Theater / Rental )
---
[ 0:50:47 ] VI. Feature Review: MIKE AND DAVE NEED WEDDING DATES (2016)
Andy = 5 ( Cannot in good conscience recommend this movie to anyone )
Karl = 5 ( Rental )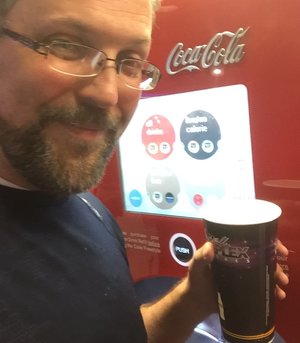 At right: MPW listener Eric Herman tries the Coca-Cola Freestyle machine.
---
[ 0:58:58 ] VII. Meeting MPW listener Eric Herman
[ 1:03:22 ] VIII. Feature Review: SWISS ARMY MAN (2016) by special guest MPW listener Eric Herman
Eric Herman = 8.5 ( Strong Rental )
Check out Eric Herman's website
And on YouTube: Take a Bath
---
[ 1:18:58 ] IX. Feature Review: CARNAGE PARK (2016)
Jason = 5 ( Rental )
---
X. Wrap-Up / Plugs / Ending
— Thank you to Eric Herman and family
---
COMING UP ON MPW NEXT WEEK:
Episode 199 where we'll be reviewing "Ghostbusters" and "The Infiltrator." Join us!
---
LINKS FOR THIS EPISODE:
Check out Eric Herman's website
And on YouTube: Take a Bath
Contact MPW:
E-mail us: MoviePodcastWeekly@gmail.com.
Leave us a voicemail: (801) 382-8789.
Follow MPW on Twitter: @MovieCastWeekly
Leave a comment in the show notes for this episode.
Ry's BIO
Ry's flagship show: Geek Cast Live Podcast
DONATE here to facilitate the creation of more Geek content!
Blog: Geek Cast Live
Web site: Geek Harder.com
Facebook
Twitter: @GeekCastRy
Jason recommends supporting: Operation Underground Railroad
Listen to MPW:
Add MPW to your Stitcher playlist: Stitcher.com
MPW on iTunes
MPW's RSS feed
Right-click to download the MPW 100 Rap
Josh's links:
Hear Josh named as one of the Top 5 Up-and-Coming Directors on The Film Vault Podcast!
Twitter: @IcarusArts
Josh covers streaming movies on: Movie Stream Cast
Hear Josh on The SciFi Podcast
Hear Josh on Horror Movie Podcast
If you're a Horror fan, listen to Jason and Josh on HORROR MOVIE PODCAST
We'd like to thank The Dave Eaton Element and Dave himself for the use of his music for our theme song. Buy Dave's Eaton's music: BandCamp.com
---
If you like Movie Podcast Weekly, please subscribe and leave us a review in iTunes. If you want to support the show, we have PayPal buttons in our right-hand sidebar where you can make a one-time donation or you can become a recurring donor for just $2 per month. (Every little bit helps!)
Thanks for listening, and join us again next week for Movie Podcast Weekly.
---