Podcast: Play in new window | Download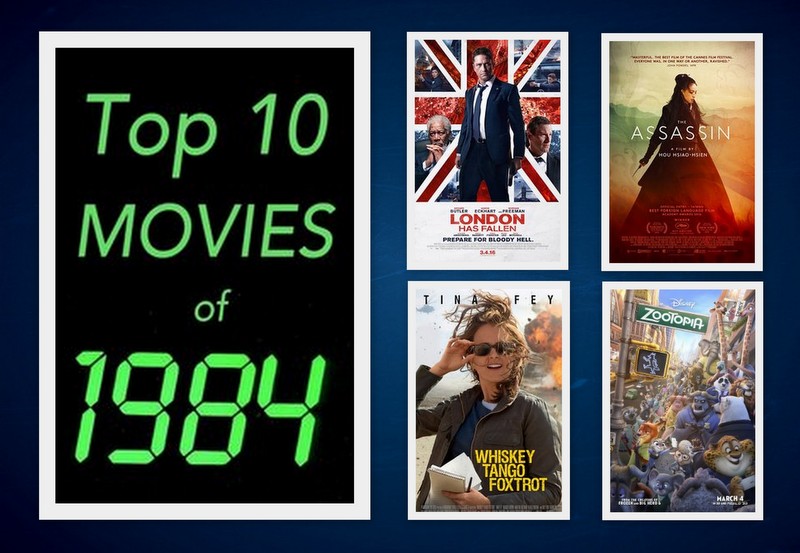 1984 was a decent year for the American cinema. In Episode 180 of Movie Podcast Weekly, we bring you our Top 10 Movies of 1984! We also bring you four Feature Reviews of London Has Fallen and Whiskey Tango Foxtrot and Zootopia and The Assassin. You'll also get to hear Ryan's remarkable story about the Wendy's "Frosty"; Jason's distasteful but halfway decent idea for a Harold Ramis "Ghostbusters" remake; and even a little bit about a Mogwai Fight Club's rules… Join us!
If you're new to our show… Movie Podcast Weekly typically features four hosts — Jason, Andy, Karl and Geek Cast Ry — along with frequent guests. We give you our verdicts on at least one new movie release from the current year that's currently playing in theaters, as well as several mini reviews of whatever we've been watching lately. New episodes release every single week!
---
SHOW NOTES:
I. Introduction
— Very nice comment from Shannon
— E-mail us at MoviePodcastWeekly@gmail.com to let us know how you'd like us to celebrate Episode 200.
— David's shameful 11 list
---
[ 0:14:22 ] II. Mini Reviews
Karl: Blu-ray transfers, Firefox, New York Doll
Jason: A River Runs Through It, The Good Dinosaur, Sharknado (revisited), Frankenstein (2016)
Ryan: Batman (1989), Man of Steel, Goosebumps (2015), Pixels, Justice League cartoons: Flashpoint Paradox, Doom, World at War
Andy: The Hunted (2003), House of Cards Season 4
---
III. New in Theaters This Past Weekend:
London Has Fallen
Zootopia
Whiskey Tango Foxtrot
The Other Side of the Door
The Wave
The Boy and the Beast
The Final Project
Ava's Possessions
Road Games
They Will Have to Kill Us First
Me Him Her
Knight of Cups
Camino
Trapped
Cemetery of Splendor
---
FEATURE REVIEWS HAVE TIME STAMPS:
Note: This episode contains mild spoilers for "London Has Fallen."
[ 0:40:43 ] IV. Feature Review: LONDON HAS FALLEN (2016)
Jason = 6.5 ( Theater / Rental / A perfect Redbox )
Karl = 8 ( Theater / Buy it! )
Ryan = 7 ( Rental )
---
[ 1:00:06 ] V. Feature Review: ZOOTOPIA (2016)
Karl = 8 ( Theater / Buy it! )
---
[ 1:09:18 ] VI. Feature Review: THE ASSASSIN (2016)
Jason = 4 ( Total Avoid — Slowest-paced movie I have ever seen! )
---
[ 1:18:18 ] VII. Feature Review: WHISKEY TANGO FOXTROT (2016)
Andy = 7 ( Theater / Rental )
---
[ 1:25:21 ] VIII. MPW's Top 10 Movies of 1984
Karl's Top 10 Movies of 1984
1. Amadeus
2. This Is Spinal Tap
3. Starman
4. The Bounty
5. Sixteen Candles
6. Beverly Hills Cop
7. Romancing the Stone
8. Moscow on the Hudson
9. 2010: The Year We Make Contact
10. All of Me
Ryan's Top 10 Movies of 1984
1. Ghostbusters
2. This Is Spinal Tap
3. Red Dawn
4. Beverly Hills Cop
5. Top Secret!
6. The Natural
7. Bachelor Party
8. Gremlins
9. Cloak and Dagger
10. The Muppets Take Manhattan
Jason's Top 10 Movies of 1984
1. The Terminator
2. Amadeus
3. Blood Simple
4. Once Upon a Time in the West
5. The Karate Kid
6. All of Me
7. Romancing the Stone
8. This Is Spinal Tap
9. Friday the 13th: The Final Chapter
10. Gremlins
Andy's Top 10 Movies of 1984
1. Indiana Jones and the Temple of Doom
2. This Is Spinal Tap
3. Amadeus
4. The Terminator
5. Blood Simple
6. Children of the Corn
7. The Natural
8. Red Dawn
9. Romancing the Stone
10. Gremlins
Andy's Top 10 Orwellian Movies of 1984
1. Minority Report
2. Frost / Nixon
3. Closed Circuit
4. Enemy of the State
5. 1984 (1984)
6. Citizenfour
7. The Net
8. Eagle Eye
9. 1984 (1956)
10. Brazil
---
IX. Wrap-Up / Plugs / Ending
Thanks to Lee, Eric E. and Adam M. for your support!
---
COMING UP ON MPW NEXT WEEK:
Episode 181 when we'll review "10 Cloverfield Lane," "The Brothers Grimsby," "The Young Messiah," "Gods of Egypt" and "The Two Dollar Bill Documentary" with special guest One Sick Puppy from the Dead as Hell Horror Podcast Join us!
---
LINKS FOR THIS EPISODE:
Follow Ryan's new Twitter account (and contribute): @BastardFables
Check out TV critic Laura Tilton's new site Laura's TV Choice.com
Contact MPW:
E-mail us: MoviePodcastWeekly@gmail.com.
Leave us a voicemail: (801) 382-8789.
Follow MPW on Twitter: @MovieCastWeekly
Leave a comment in the show notes for this episode.
Ry's BIO
Ry's flagship show: Geek Cast Live Podcast
DONATE here to facilitate the creation of more Geek content!
Blog: Geek Cast Live
Web site: Geek Harder.com
Facebook
Twitter: @GeekCastRy
Follow Ryan's new Twitter account (and contribute): @BastardFables
Jason recommends supporting: Operation Underground Railroad
Listen to MPW:
Add MPW to your Stitcher playlist: Stitcher.com
MPW on iTunes
MPW's RSS feed
Right-click to download the MPW 100 Rap
Josh's links:
Hear Josh named as one of the Top 5 Up-and-Coming Directors on The Film Vault Podcast!
Twitter: @IcarusArts
Josh covers streaming movies on: Movie Stream Cast
Hear Josh on The SciFi Podcast
Hear Josh on Horror Movie Podcast
If you're a Horror fan, listen to Jason and Josh on HORROR MOVIE PODCAST
We'd like to thank The Dave Eaton Element and Dave himself for the use of his music for our theme song. Buy Dave's Eaton's music: BandCamp.com
---
If you like Movie Podcast Weekly, please subscribe and leave us a review in iTunes. If you want to support the show, we have PayPal buttons in our right-hand sidebar where you can make a one-time donation or you can become a recurring donor for just $2 per month. (Every little bit helps!)
Thanks for listening, and join us again next week for Movie Podcast Weekly.
---