Podcast: Play in new window | Download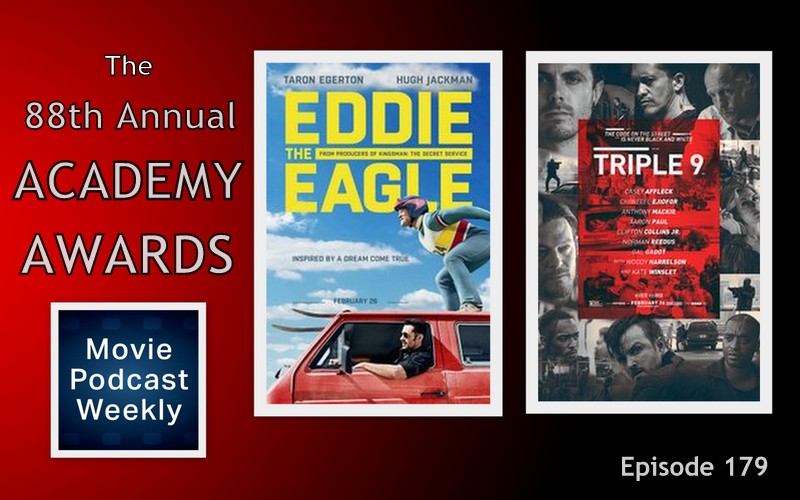 Firstly, we'd like to thank The Academy for inspiring Episode 179 of Movie Podcast Weekly, a veritable clown car of movie podcasting… In this week's show, we bring you our review of the 88th Annual Academy Awards, as well as two Feature Reviews of Triple 9 and Eddie the Eagle. This episode is dedicated to the late, great George Kennedy. Thanks for listening!
If you're new to our show… Movie Podcast Weekly typically features four hosts — Jason, Andy, Karl and Geek Cast Ry — along with frequent guests. We give you our verdicts on at least one new movie release from the current year that's currently playing in theaters, as well as several mini reviews of whatever we've been watching lately. New episodes release every single week!
---
SHOW NOTES:
I. Introduction
— Regarding "Gods of Egypt" (2016)
— Regarding Gerard Butler's filmography
— No "Don's Plum" scandal listener comments (thus far)
— Listener feedback about our Top 10 Films We Love (But Are Ashamed to Admit It) from Mario, Dino, David, Juan, Gomez, Shannon and Lee
---
[ 0:16:15 ] II. MPW's Thoughts on the 88th Annual Academy Awards
Mini Review: Trumbo (2015)
Jason = 7.5 ( Strong Rental )
---
III. New in Theaters This Past Weekend:
Triple 9
Eddie the Eagle
Gods of Egypt
Crouching Tiger, Hidden Dragon: Sword of Destiny
The Last Man on the Moon
A Country Called Home
Standoff
Against the Wild 2: Survive the Serengeti
Only Yesterday
Marguerite & Julien
King Georges
---
FEATURE REVIEWS HAVE TIME STAMPS:
[ 1:21:12 ] IV. Feature Review: EDDIE THE EAGLE (2016)
Karl = 7.5 ( Theater / Rental )
---
[ 1:28:09 ] V. Feature Review: TRIPLE 9 (2016)
Jason = 9 ( Theater / Buy it! )
Andy = 8 ( Theater / Buy it! )
Watch this: Casey Affleck interview
— Regarding "Fuller House"
— Listener and friend-of-the-show, Mack, on "Ip Man 3"
— Shawn in Varina, NC. Watch this video recommended by Shawn: GUNSHIP – Tech Noir
— Paul in Melbourne, Australia
---
VI. Wrap-Up / Plugs / Ending
Happy birthday to Lance!
Thanks to Jenifer for hosting Andy for the Oscars
And thanks to:
Lance S. in Provo
David W.
Eric E.
Vance K.
Christian B.
Joshua G.
German
Shannon N.
The Dude from Ontario, Canada
— Karl says watch "Cool Hand Luke."
---
COMING UP ON MPW NEXT WEEK:
Episode 180 where we'll bring you our Top 10 Movies of 1984, as well as Feature Reviews of "London Has Fallen," "Whiskey Tango Foxtrot" and "The Assassin." Join us!
---
LINKS FOR THIS EPISODE:
Contact MPW:
E-mail us: MoviePodcastWeekly@gmail.com.
Leave us a voicemail: (801) 382-8789.
Follow MPW on Twitter: @MovieCastWeekly
Leave a comment in the show notes for this episode.
Ry's BIO
Ry's flagship show: Geek Cast Live Podcast
DONATE here to facilitate the creation of more Geek content!
Blog: Geek Cast Live
Web site: Geek Harder.com
Facebook
Twitter: @GeekCastRy
Jason recommends supporting: Operation Underground Railroad
Listen to MPW:
Add MPW to your Stitcher playlist: Stitcher.com
MPW on iTunes
MPW's RSS feed
Right-click to download the MPW 100 Rap
Josh's links:
Hear Josh named as one of the Top 5 Up-and-Coming Directors on The Film Vault Podcast!
Twitter: @IcarusArts
Josh covers streaming movies on: Movie Stream Cast
Hear Josh on The SciFi Podcast
Hear Josh on Horror Movie Podcast
If you're a Horror fan, listen to Jason and Josh on HORROR MOVIE PODCAST
We'd like to thank The Dave Eaton Element and Dave himself for the use of his music for our theme song. Buy Dave's Eaton's music: BandCamp.com
---
If you like Movie Podcast Weekly, please subscribe and leave us a review in iTunes. If you want to support the show, we have PayPal buttons in our right-hand sidebar where you can make a one-time donation or you can become a recurring donor for just $2 per month. (Every little bit helps!)
Thanks for listening, and join us again next week for Movie Podcast Weekly.
---