Podcast: Play in new window | Download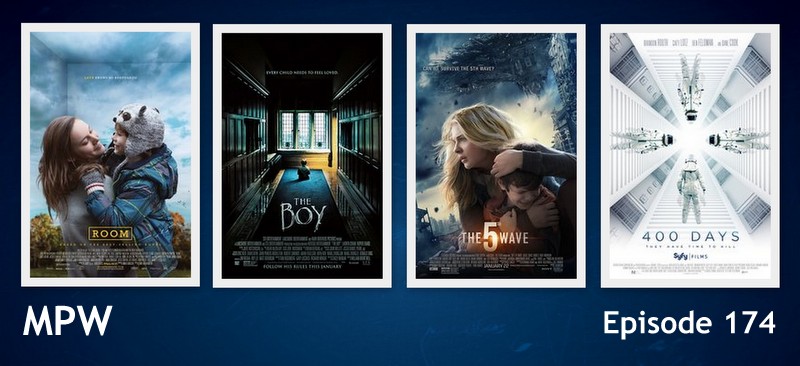 Happy birthday to Karl! It's Karl's Big Birthday Bash on Movie Podcast Weekly, and this very special show is Episode 174! We're pleased to bring you four Feature Reviews of Best Picture nominee Room and The 5th Wave and The Boy and 400 Days. But our Main Event for this episode is when we celebrate Karl's birthday by bringing you MPW's Top 10 Most Important Films Ever Made! We also have a delightful special guest, television critic Laura Tilton on the podcast to review a couple of TV shows. Your MPW crew also weighs in on the potentially controversial "Oscar So White" debate. Join us!
If you're new to our show… Movie Podcast Weekly typically features four hosts — Jason, Andy, Karl and Geek Cast Ry — along with frequent guests. We give you our verdicts on at least one new movie release from the current year that's currently playing in theaters, as well as several mini reviews of whatever we've been watching lately. And we usually provide specialized genre recommendations. New episodes release every week.
---
SHOW NOTES:
I. Introduction
— Happy birthday to Karl!
---
[ 0:03:38 ] II. The Oscar Race
— #OscarSoWhite
— Jamie Foxx a real-life hero
— Listener requests / complaints
— More on "Making a Murderer" [contains major plot spoilers]
— Special guest TV critic Laura Tilton:
-The Flash Season 2, Episode 10
-Arrow Season 4
-DC's Legends of Tomorrow – Pilot
---
III. New in Theaters This Past Weekend:
Dirty Grandpa
The 5th Wave
The Boy
Ip Man 3
Synchronicity
Monster Hunt
Mojave
Aferim!
Exposed
Terminus
JeruZalem
Monkey Up
Martyrs
All Mistakes Buried
Rabid Dogs
Prescription Thugs
Room
---
FEATURE REVIEWS HAVE TIME STAMPS:
[ 0:59:36 ] IV. Feature Review: ROOM (2016)
Jason = 10 ( Must-See / Theater / Buy it! )
---
[ 1:03:24 ] V. Feature Review: THE 5th WAVE (2016)
Karl = 4 ( Avoid )
---
[ 1:07:44 ] VI. Feature Review: THE BOY (2016)
Jason = 8.5 ( Theater / Buy it! )
---
[ 1:12:09 ] VII. Feature Review: 400 DAYS (2016)
Jason = 3 ( Avoid )
---
[ 1:15:30 ] VIII. Karl's Big Birthday Bash: MPW's TOP 10 MOST IMPORTANT FILMS EVER MADE
Ryan's Top 10 Most Important Films Ever Made:
1. Animal House (1978)
2. Deep Throat (1972)
3. Lone Survivor (2013)
4. Easy Rider (1969)
5. Dr. Strangelove or: How I Learned to Stop Worrying and Love the Bomb (1964)
6. Blazing Saddles (1974)
7. Do the Right Thing (1989)
8. The Breakfast Club (1985)
9. Thank You for Smoking (2005)
10. Captain America: Winter Solider (2014)
Andy's Top 10 Most Important Films Ever Made:
1. The Godfather (1972)
2. Casablanca (1942)
3. The African Queen (1951)
4. Titanic (1997)
5. Saving Private Ryan (1998)
6. The General (1926)
7. Singin' in the Rain (1952)
8. Psycho (1960)
9. A Clockwork Orange (1971)
10. Gone With the Wind (1939)
Karl's Top 10 Most Important Films Ever Made:
1. Gattaca (1997)
2. Charlie Wilson's War (1997)
3. The Insider (1999)
4. Schindler's List (1993)
5. All the President's Men (1976)
6. Glory (1989)
7. 12 Angry Men (1957)
8. Apollo 13 (1995)
9. Roots (1977)
10. Cinema Paradiso (1988)
Jason's Top 10 Most Important Films Ever Made:
1. Jesus of Nazareth (1977)
2. Tokyo Story (1953)
3. Joyeux Noel (2005)
4. Downfall (2004)
5. 12 Years a Slave (2013)
6. Jonestown: The Life and Death of Peoples Temple (2006)
7. Bully (2011)
8. 12 Angry Men (1957)
9. Requiem for a Dream (2000)
10. Fed Up (2014)
---
IX. Wrap-Up / Plugs / Ending
Sincere thanks to:
Lance in Provo
Eric E.
Joshua G.
Vance
Christian
Shannon
Randy
Michel
Shane
David W.
---
COMING UP ON MPW NEXT WEEK:
Episode 175 where we'll be reviewing "Kung Fu Panda 3" and "The Finest Hours" and "Brooklyn" from 2015. Join us!
---
LINKS FOR THIS EPISODE:
Jason says this is a must-watch: WWII deaths short film by Neil Halloran
And Jay also highly recommends listening to KCRW's Interview With Ryan Coogler
Subscribe to Geek Cast Live Podcast on iTunes
The Geek Cast Live Podcast is also on Soundcloud now!
Ryan says check out a show called "This Freakin' Show."
Contact MPW:
E-mail us: MoviePodcastWeekly@gmail.com.
Leave us a voicemail: (801) 382-8789.
Follow MPW on Twitter: @MovieCastWeekly
Leave a comment in the show notes for this episode.
Ry's BIO
Ry's flagship show: Geek Cast Live Podcast
DONATE here to facilitate the creation of more Geek content!
Blog: Geek Cast Live
Web site: Geek Harder.com
Facebook
Twitter: @GeekCastRy
Jason recommends supporting: Operation Underground Railroad
Listen to MPW:
Add MPW to your Stitcher playlist: Stitcher.com
MPW on iTunes
MPW's RSS feed
Right-click to download the MPW 100 Rap
Josh's links:
Hear Josh named as one of the Top 5 Up-and-Coming Directors on The Film Vault Podcast!
Twitter: @IcarusArts
Josh covers streaming movies on: Movie Stream Cast
Hear Josh on The SciFi Podcast
Hear Josh on Horror Movie Podcast
If you're a Horror fan, listen to Jason and Josh on HORROR MOVIE PODCAST
We'd like to thank The Dave Eaton Element and Dave himself for the use of his music for our theme song. Buy Dave's Eaton's music: BandCamp.com
---
If you like Movie Podcast Weekly, please subscribe and leave us a review in iTunes. If you want to support the show, we have PayPal buttons in our right-hand sidebar where you can make a one-time donation or you can become a recurring donor for just $2 per month. (Every little bit helps!)
Thanks for listening, and join us again next Wednesday for Movie Podcast Weekly.
---