Podcast: Play in new window | Download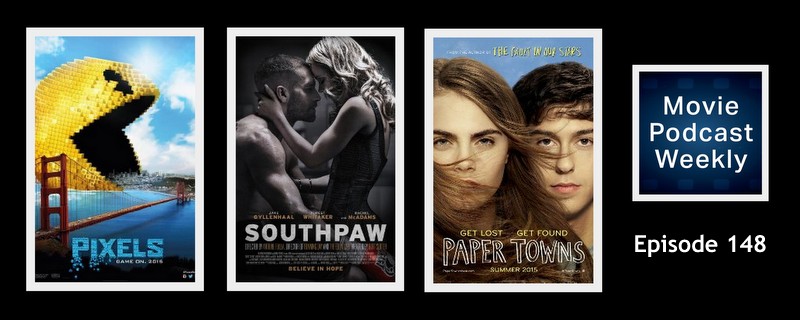 Welcome to one of the funniest, most rambunctious episodes of Movie Podcast Weekly. This is Episode 148, and it is expressly for the amusement of the lay idiot. During this show, we bring you Feature Reviews of Paper Towns and Pixels and Southpaw.
And please help us settle a debate from this episode:


survey tool
If you're new to our show… Movie Podcast Weekly typically features four hosts — Jason, Andy, Karl and Geek Cast Ry — along with frequent guests. We give you our verdicts on at least one new movie release from the current year that's currently playing in theaters, as well as several mini reviews of whatever we've been watching lately. And we usually provide specialized genre recommendations. New episodes release every single Wednesday.
---
SHOW NOTES:
I. Introduction
— Two "Worst Case Scenarios." How to survive: killer bees, tornado while in a car
— Utah's freak windstorm on July 27, 2015
— MPW's late releases
---
II. MPW's Movie News and Other Movie-Related Matters
— Was Liam Neeson's youthfulness…Taken? Judge for yourself.
— Louisiana Movie Theater Shooting – July 23, 2015
— Gun rights debate
— REMARKABLE TRUE STORY: Ryan was shot at — several times!
— Film Magazines
— Press Screenings
---
III. More MPW Inconsiderate Movie Theater Behavior (and Other First-World Pet Peeves)
---
IV. Movie News Continued…
— The Loss of Richard Corliss, film critic for Time Magazine
— "Rampage" arcade game to be adapted to film
— Jurassic World 2 has been slated
— Release date of Star Wars: The Force Awakens – Episode VII
— The BBC's Top 100 American Films list
— Some shallow discussion on Citizen Kane
— The practice of "Best Movies of the Year So Far…" lists
---
[ 1:03:08 ] V. MPW's Famous Mini Reviews:
Karl: Trainwreck, Ant-Man
Jason: Apollo 13
Ryan: The Muppets Late-Night TV Show Mockumentary First Look Presentation
Andy: Jen Kirkman: I'm Gonna Die Alone (and I Feel Fine); Tig; Veep Season 2; Everest trailer and climbing movies
---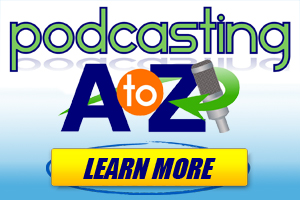 VI. Learn to Podcast From Jason's Podcasting Mr. Miyagi
Cliff "The Podcast Answer Man" Ravenscraft — the guy who taught Jason everything he knows — is offering his famous "Podcasting A to Z Course" again, beginning on Monday, August 10. Jason calls it the best investment he's ever made. The course is four weeks long (and it's college-level in quality and scope, but it's elementary school-level in how easy it is to understand).
The course typically costs $1,999, but Cliff is offering the Movie Podcast Weekly community a $500 discount, making your price only $1,499, if you sign up and use the promo code "movies." And by the way, if you do sign up and use our promo code, then Movie Podcast Weekly will get a nice, little $150 kick-back from generous Cliff.
You can learn more about the course here: PODCASTING A TO Z
And Jason genuinely can't recommend it highly enough, if you're serious about launching a professional podcast. Jason says it literally changed his life.
---
VII. New in Theaters This Past Weekend:
Pixels
Southpaw
Paper Towns
The Vatican Tapes
Samba [ Limited ]
Unexpected [ Limited ]
Big Significant Things [ Limited ]
Phoenix [ Limited ]
FEATURE REVIEWS HAVE TIME STAMPS:
[ 1:26:07 ] VIII. Feature Review: PAPER TOWNS (2015)
Karl = 8 ( Buy it! )
---
[ 1:33:34 ] IX. Feature Review: PIXELS (2015)
Ryan = 7 ( Rental / Must-see Redbox )
---
[ 1:44:02 ] X. Feature Review: SOUTHPAW (2015)
Jason = 7 ( Rental )
---
XI. Wrap-Up / Plugs / Ending
---
COMING UP ON MPW NEXT WEEK:
Episode 149 for our Considering the Sequels Podcast-style franchise review of Mission: Impossible, including the latest installment, "Mission: Impossible – Rogue Nation." Join us!
---
LINKS FOR THIS EPISODE:
Don't miss the Geek Cast Live Podcast's GenCon episode
Geek Cast Bass on Twitter: @GeekCastBass
Geek Cast Nic on Twitter: @GeekCastNic
Geek Cast Joe on Twitter: @GeekCastJoe
Ry's BIO
Ry's flagship show: Geek Cast Live Podcast
DONATE here to facilitate the creation of more Geek content!
Blog: Geek Cast Live
Web site: Geek Harder.com
Facebook
Twitter: @GeekCastRy
Provo Film Society on Facebook
Provo Film Society on Twitter
Jason recommends supporting: Operation Underground Railroad
Contact MPW:
E-mail us: MoviePodcastWeekly@gmail.com.
Leave us a voicemail: (801) 382-8789.
Follow MPW on Twitter: @MovieCastWeekly
Leave a comment in the show notes for this episode.
Listen to MPW:
Add MPW to your Stitcher playlist: Stitcher.com
MPW on iTunes
MPW's RSS feed
Right-click to download the MPW 100 Rap
Josh's links:
Hear Josh named as one of the Top 5 Up-and-Coming Directors on The Film Vault Podcast!
Twitter: @IcarusArts
Josh covers streaming movies on: Movie Stream Cast
Hear Josh on The SciFi Podcast
Hear Josh on Horror Movie Podcast
If you're a Horror fan, listen to Jason and Josh on HORROR MOVIE PODCAST
We'd like to thank The Dave Eaton Element and Dave himself for the use of his music for our theme song. Buy Dave's Eaton's music: BandCamp.com
---
If you like Movie Podcast Weekly, please subscribe and leave us a review in iTunes. If you want to support the show, we have PayPal buttons in our right-hand sidebar where you can make a one-time donation or you can become a recurring donor for just $2 per month. (Every little bit helps!)
Thanks for listening, and join us again next Wednesday for Movie Podcast Weekly.
---