Podcast: Play in new window | Download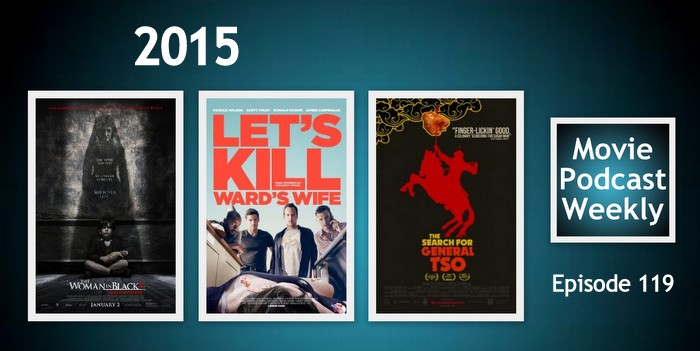 Happy new year! It's 2015 on Movie Podcast Weekly. (So sorry this show was late!) In this episode, Jason and Andy bring you Feature Reviews of The Woman in Black 2: Angel of Death and The Search for General Tso and Let's Kill Ward's Wife. We also bring you our usual Mini Reviews segment, as well as a brand new recommendation segment from the MPW sleeper himself called "Andy's Unseemly Homework." Join us!
If you're new to our show… Movie Podcast Weekly typically features three hosts — Jason, Andy and Karl — along with frequent guests. We give you our verdicts on at least one new movie release from the current year that's currently playing in theaters or on VOD, as well as several mini reviews of whatever we've been watching lately. And we usually provide specialized genre recommendations. New episodes release every single Tuesday. Join us!
---
SHOW NOTES:
I. Introduction
— No Karl this week.
---
[ 0:05:43 ] II. Mini Reviews
Jason: Like Father, Like Son; In Your Eyes; G.I. Joe: The Movie (1987); The Woman in Black (2012)
Andy: Ordinary Decent Criminal, Anchorman 2: The Legend Continues… (The Super-Sized Version), Parkland, Now You See Me
---
III. What's New in Theaters This Past Weekend
The Woman in Black 2: Angel of Death
The Search for General Tso
A Most Violent Year [ Limited ]
Leviathan [ Limited ]
[REC] 4: Apocalypse
---
FEATURE REVIEWS HAVE TIME STAMPS:
[ 0:51:59 ] IV. Feature Review: THE WOMAN IN BLACK 2: ANGEL OF DEATH (2015)
Jason = 2 ( Avoid )
---
[ 0:58:49 ] V. Feature Review: LET'S KILL WARD'S WIFE (2015)
Jason = 6.5 ( Rental )
---
[ 1:04:47 ] VI. Feature Review: THE SEARCH FOR GENERAL TSO (2015)
Jason = 4 ( Avoid )
---
[ 1:14:33 ] VII. Specialty Segments:
ANDY'S UNSEEMLY HOMEWORK:
Unseemly homework: Attack of the 50-Foot Cheerleader (2012) = (Avoid)
Other Andy recommendations:
The Equalizer
Edge of Tomorrow
Locke
JAY OF THE DEAD'S 1970s HORROR-THON:
The Last House on the Left (1972) = 7 ( Rental )
---
VIII. BONUS Recommendation: The Son (2002)
IX. Wrap-Up / Plugs / Ending
---
COMING UP ON MPW NEXT WEEK:
TAKEN 3 and SELMA with special guest Willis Wheeler! — Join us!
---
LINKS FOR THIS EPISODE:
Andy appears as a guest on Josh's podcast: Movie Stream Cast 40: Nick Offerman: American Ham
Contact MPW:
E-mail us: MoviePodcastWeekly@gmail.com.
Leave us a voicemail: (801) 382-8789.
Follow MPW on Twitter: @MovieCastWeekly
Leave a comment in the show notes for this episode.
Listen to MPW:
Add MPW to your Stitcher playlist: Stitcher.com
MPW on iTunes
MPW's RSS feed
Right-click to download the MPW 100 Rap
Keep up with Josh:
Twitter: @IcarusArts
Josh covers streaming movies on: Movie Stream Cast
If you're a Horror fan, listen to Jason and Josh on HORROR MOVIE PODCAST
We'd like to thank The Dave Eaton Element and Dave himself for the use of his music for our theme song. Buy Dave's Eaton's music: BandCamp.com
---
If you like Movie Podcast Weekly, please subscribe and leave us a review in iTunes. If you want to support the show, we have PayPal buttons in our right-hand sidebar where you can make a one-time donation or you can become a recurring donor for just $2 per month. (Every little bit helps!)
Thanks for listening, and join us again next Tuesday for Movie Podcast Weekly.
---