Podcast: Play in new window | Download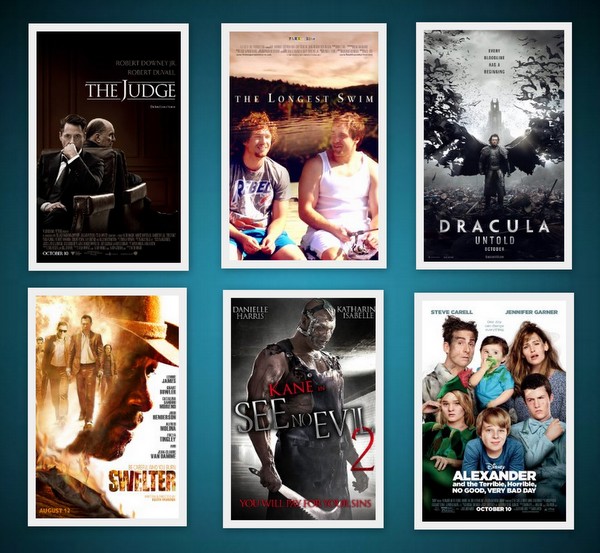 This episode is dedicated to our co-host and friend Karl Huddleston.
Welcome to Movie Podcast Weekly, Episode 107! Our Feature Reviews this week are Dracula Untold and The Judge and The Longest Swim and See No Evil 2 and Swelter and Alexander and the Terrible, Horrible, No Good, Very Bad Day. This week, we are joined once again by our Podbody Award-Winning guest, Wild Man Willis Wheeler.
Also in Episode 107, we bid a (hopefully temporary) farewell to beloved co-host Karl Huddleston, who is taking an indefinite sabbatical from the show. Karl will remain an official co-host of the podcast; he will not be replaced; and he is always welcome back. We wish him well and, like Man-at-Arms and Teela from the Masters of the Universe movie, we do not say "Goodbye" to our friend Karl but rather, "Good Journey!" for each destiny is but a doorway to another.
If you're new to our show… Movie Podcast Weekly now features three hosts—(the film critic) Jason, (the filmmaker) Josh, and (the guy named) Andy—along with frequent guests. Each week we give you our verdicts on at least one new release that's currently playing in theaters or on VOD, as well as several mini reviews of what we've been watching lately and specialty recommendation segments. New episodes release every single Tuesday!
---
SHOW NOTES:
I. Introduction
— Welcome Willis Wheeler
— Karl's decision to take an indefinite hiatus.
— A very special "GREAT PERFORMANCES AND MIGHTY LINES" dedicated to Karl Huddleston.
— The brief disappearance of Box Office Mojo
— Question from Chris: Our movie collections
— Let us know in the comments which 2014 movies you'd still like to hear us review before the end of the year.
---
II. Mini Reviews
Josh: Gone Girl continued, Arrow (TV) continued
Willis Wheeler: Night of the Demons trilogy: Night of the Demons, Night of the Demons 2, Night of the Demons 3; The Walking Dead Season 5 premiere; Halloween: The Curse of Michael Myers (The Producer's Cut); The Deadly Spawn; Halloween 3: Season of the Witch; The Flash (TV)
Jason: Brave
---
III. What's New in Theaters This Past Weekend
Dracula Untold
The Judge
Alexander and the Terrible, Horrible, No Good, Very Bad Day
Addicted
Whiplash [ Limited ]
St. Vincent [ Limited ]
Kill the Messenger [ Limited ]
One Chance [ Limited ]
I Am Ali [ Limited ]
The Overnighters [ Limited ]
The Devil's Hand [ Limited ]
Dead Snow 2: Red vs. Dead [ Limited ] — hear our Feature Review of Dead Snow 2 on Horror Movie Podcast.
---
FEATURE REVIEWS HAVE TIME STAMPS:
[ 0:52:16 ] IV. Feature Review: DRACULA UNTOLD (2014)
Willis Wheeler = 4 ( Avoid )
---
[ 1:01:34 ] V. Feature Review: SWELTER (2014)
Jason = 4 ( Avoid )
---
[ 1:07:23 ] VI. Feature Review: ALEXANDER AND THE TERRIBLE, HORRIBLE, NO GOOD, VERY BAD DAY (2014)
Josh = 4.5 ( Very Low-Priority Rental )
---
[ 1:16:22 ] VII. Feature Review: THE JUDGE (2014)
Jason = 7 ( Theater / Rental )
---
[ 1:28:38 ] VIII. Feature Review: SEE NO EVIL 2 (2014)
Willis = 5 ( Low-priority Rental or wait for it to be on cable )
---
[ 1:34:29 ] IX. Feature Review: THE LONGEST SWIM (2014)
Jason = 4.5 ( Avoid )
---
X. Specialty Segments:
"PREVIOUSLY ON SURVIVOR" WITH SURVIVOR JOSH:
—Josh recaps the boot of controversial castaway John Rocker from the latest episode of Survivor: San Juan Del Sur (Blood vs. Water 2) and gives updates on this week's Survivor Fantasy League scores (hosted by the Survivor Fans Podcast). Catch-up with this season of Survivor with free episodes on CBS.com!
JAY OF THE DEAD'S "1970s HORROR-THON":
Rabid (1977) = 4.5 ( Avoid )
---
XI. Wrap-Up / Plugs / Ending
— Ghostbuster 3: The new director, writer and cast.
— Stick around after the plugs to hear Jason and Josh's reaction to Karl leaving the show.
---
COMING UP ON MPW NEXT WEEK:
FURY and THE SKELETON TWINS and THE BOXTROLLS. Join us Tuesday!
---
LINKS FOR THIS EPISODE:
Vince Mancini's Gone Gone review: via FilmDrunk.com
Arrow actor Stephen Amell in training: YouTube
David Fincher's Style Supercut: "And the Other Way is Wrong"
Ghostbusters 3 Director, Writer, and Cast: via FirstShowing.net
Hear Jason's guest appearance on the Dead as Hell Horror Podcast, where he helps review two '80s slashers: The Prowler and Madman
Willis's links:
The Wild Man's YouTube Channel
Willis Wheeler on TV's Toy Hunter
Terror Troop horror podcast
Cinema Beef Podcast
Willis on Twitter: @NastyWillDC
Willis on Facebook
Willis on the NFW Movie Commentary Podcast
Josh's links:
Follow Josh on Twitter: @IcarusArts
Josh covers streaming movies on: Movie Stream Cast
Contact MPW:
E-mail us: MoviePodcastWeekly@gmail.com.
Leave us a voicemail: (801) 382-8789.
Leave a comment in the show notes for this episode.
Follow MPW on Twitter: @MovieCastWeekly

Listen to MPW:
Add MPW to your Stitcher playlist: Stitcher.com
MPW on iTunes
MPW's RSS feed
Right-click to download the MPW 100 Rap
Horror fans, listen to Jason and Josh's other show: HORROR MOVIE PODCAST
We'd like to thank The Dave Eaton Element, and Dave himself, for the use of his music for our theme song. Buy Dave's Eaton's music: BandCamp.com
---
If you like Movie Podcast Weekly, please subscribe and leave us a review in iTunes. If you want to support the show, we have PayPal buttons in our right-hand sidebar where you can make a one-time donation or you can become a recurring donor for just $2 per month—every little bit helps! And to help us out with no cost to yourself, remember to start your Amazon shopping at MoviePodcastWeekly.com by clicking through our banners.
Thanks for listening, and join us again next Tuesday for Movie Podcast Weekly.