Podcast: Play in new window | Download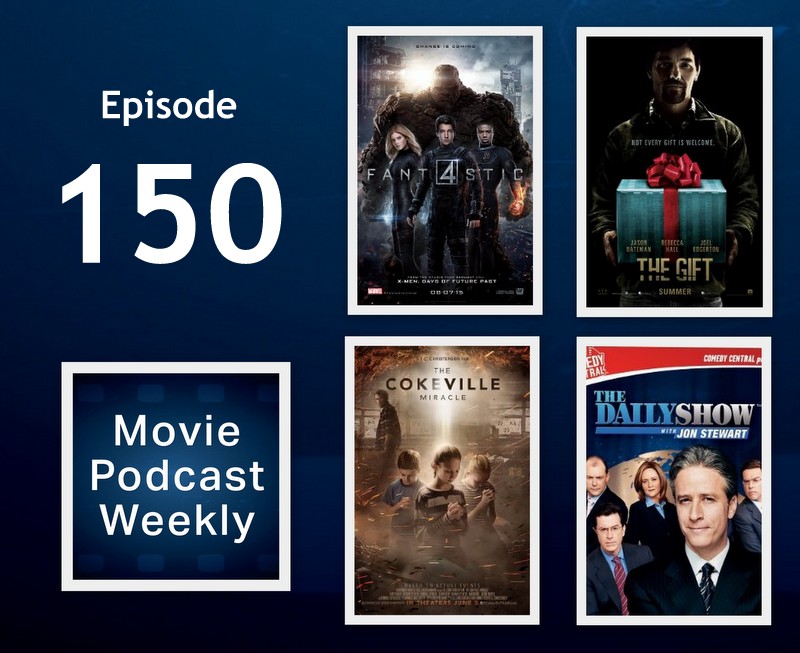 150 episodes of Movie Podcast Weekly! We've reached another milestone! So, to celebrate Episode 150, your hosts bring you lists of three films that each host could watch 150 times! We also bring you Feature Reviews of Fantastic Four and The Gift and The Cokeville Miracle. And special guest, Wildman Willis Wheeler, stops by to help us recover from seeing "Fantastic Four." We also bring you a considerable tribute to Jon Stewart, upon his departing of The Daily Show. Join us!
If you're new to our show… Movie Podcast Weekly typically features four hosts — Jason, Andy, Karl and Geek Cast Ry — along with frequent guests. We give you our verdicts on at least one new movie release from the current year that's currently playing in theaters, as well as several mini reviews of whatever we've been watching lately. And we usually provide specialized genre recommendations. New episodes release every single Wednesday.
---
SHOW NOTES:
I. Introduction
— Main Event for Ep. 150: MPW's 3 Movies We Could Watch 150 Times
— Brief discussion about Ep. 400: Film Junk's Top 100 Spectacular
— "Fantastic Four" (2015) box office bomb
---
[ 0:10:44 ] II. MPW's Tribute to Jon Stewart and Other Melancholy Matters
— Another movie theater attack at a screening of "Mad Max: Fury Road"
— A Tribute to Jon Stewart by Andy, et al.
Clip: Jon Stewart on Crossfire
— Heath Ledger's diary of preparation for his Joker role
---
[ 0:44:34 ] III. MPW's THREE MOVIES WE COULD WATCH 150 TIMES!
Jason's 3 Movies He Could Watch 150 Times
1. Predator (1987)
2. Intruder (1989)
3. U-571 (2000)
Andy's 3 Movies He Could Watch 150 Times
1. The Office (American TV series)
2. The Lego Movie (2014)
3. Monty Python and the Holy Grail (1975)
Karl's 3 Movies He Could Watch 150 Times
1. Planes, Trains & Automobiles (1987)
2. The Boat That Rocked (aka Pirate Radio) (2009)
3. Arthur (1981)
Ryan's 3 Movies He Could Watch 150 Times
1. Die Hard (1988)
2. Wet Hot American Summer (2001)
3. Tombstone (1993)
— Karl's Mini Review of "Mr. Holmes" (2015)
---
IV. New in Theaters This Past Weekend:
Fantastic Four
The Gift
Shaun the Sheep Movie
Ricki and the Flash
Cop Car [ Limited ]
The Diary of a Teenage Girl [ Limited ]
Kahlil Gibran's The Prophet [ Limited ]
Dragon Ball Z: Resurrection 'F' [ Limited ]
Dark Places [ Limited ]
FEATURE REVIEWS HAVE TIME STAMPS:
[ 1:20:28 ] V. Feature Review: FANTASTIC FOUR (2015) with special guest Willis Wheeler
Jason = 2 ( Avoid )
Ryan = 2.5 ( Avoid )
Willis Wheeler = 2.5 ( Avoid )
Willis says you should watch this Roger Corman version of "Fantastic Four" on YouTube, instead.
---
[ 1:46:39 ] VI. Feature Review: THE COKEVILLE MIRACLE (2015)
Jason = 9 ( Must-See Rental )
---
[ 1:52:26 ] VII. Feature Review: THE GIFT (2015)
Jason = 8.5 ( Theater / Buy it! )
Andy = 10 ( Theater / Buy it! )
---
VIII. Wrap-Up / Plugs / Ending
---
COMING UP ON MPW NEXT WEEK:
Episode 151 where we'll review "The Man From U.N.C.L.E." and "Straight Outta Compton." Join us!
---
LINKS FOR THIS EPISODE:
Check out the two new Horror Movie Podcast T-Shirts
MPW's Planes, Trains & Automobiles Commentary
Ryan recommends this clip from Wet Hot American Summer
Catch up with Willis Wheeler online here:
Two-Drink Commentaries
NFW Commentaries Podcast
The Wild Man's YouTube Channel
Willis Wheeler on TV's Toy Hunter
Terror Troop horror podcast
Cinema Beef Podcast
Willis on Twitter: @NastyWillDC
Willis on Facebook
Ry's BIO
Ry's flagship show: Geek Cast Live Podcast
DONATE here to facilitate the creation of more Geek content!
Blog: Geek Cast Live
Web site: Geek Harder.com
Facebook
Twitter: @GeekCastRy
Provo Film Society on Facebook
Provo Film Society on Twitter
Jason recommends supporting: Operation Underground Railroad
Contact MPW:
E-mail us: MoviePodcastWeekly@gmail.com.
Leave us a voicemail: (801) 382-8789.
Follow MPW on Twitter: @MovieCastWeekly
Leave a comment in the show notes for this episode.
Listen to MPW:
Add MPW to your Stitcher playlist: Stitcher.com
MPW on iTunes
MPW's RSS feed
Right-click to download the MPW 100 Rap
Josh's links:
Hear Josh named as one of the Top 5 Up-and-Coming Directors on The Film Vault Podcast!
Twitter: @IcarusArts
Josh covers streaming movies on: Movie Stream Cast
Hear Josh on The SciFi Podcast
Hear Josh on Horror Movie Podcast
If you're a Horror fan, listen to Jason and Josh on HORROR MOVIE PODCAST
We'd like to thank The Dave Eaton Element and Dave himself for the use of his music for our theme song. Buy Dave's Eaton's music: BandCamp.com
---
If you like Movie Podcast Weekly, please subscribe and leave us a review in iTunes. If you want to support the show, we have PayPal buttons in our right-hand sidebar where you can make a one-time donation or you can become a recurring donor for just $2 per month. (Every little bit helps!)
Thanks for listening, and join us again next Wednesday for Movie Podcast Weekly.
---