Podcast: Play in new window | Download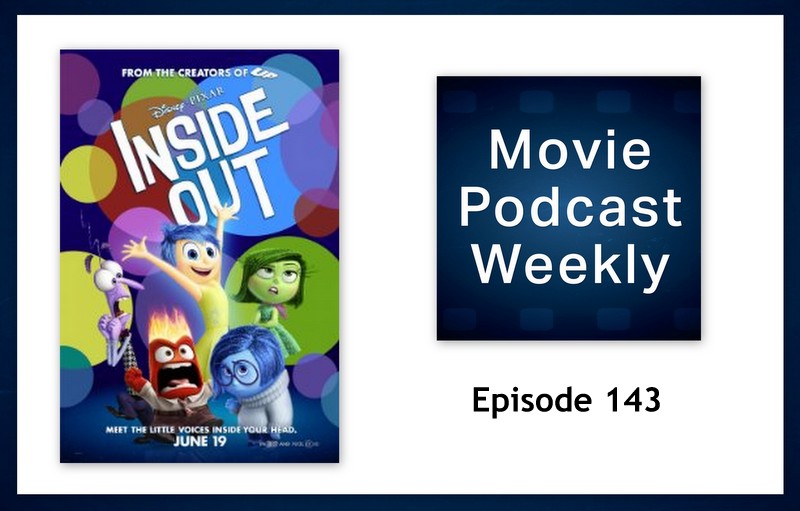 JOY JASON: We're so happy to bring you our emotional Episode 143 of Movie Podcast Weekly for our Feature Review of Pixar's "Inside Out"! Welcome!
ANGER JASON: Yeah, except for the fact that it's a whole damn day late — yet again! What the hell?! Ryan, the new guy, is going to think this is how we run things around here…
FEAR JASON: The listeners are going to be awfully mad that this keeps happening. Not to mention, Josh is going to come after us for Karl's discussion about race in the beginning of this episode.
SAD JASON: I'm sad that racism still exists today, and I'm especially sad that Andy won't set up his Internet at his new home…
DISGUST JASON: I'm disgusted that we still even let Andy be on the show… Where did we find that guy, anyway?

This episode of Movie Podcast Weekly is dedicated to the great Christopher Lee.
If you're new to our show… Movie Podcast Weekly typically features four hosts — Jason, Andy, Karl and Geek Cast Ry — along with frequent guests. We give you our verdicts on at least one new movie release from the current year that's currently playing in theaters, as well as several mini reviews of whatever we've been watching lately. And we usually provide specialized genre recommendations. New episodes release every single Wednesday.
---
SHOW NOTES:
I. Introduction
— Ryan podcasts during a tornado warning
— Karl dedicates this episode to Christopher Lee
— Jason promotes his "Big Birthday Bash" next week in Episode 144, when all four hosts will bring you a total of 20 movie Masterpieces!
---
[ 0:05:51 ] II. MPW Warm-Up Banter
— President Obama appears on a podcast (not ours)
— Karl talks about race and racism
— Jurassic World / Inside Out Box Office
— Listener Feedback on our Jurassic Park / Jurassic World episode:
David
Dino
---
[ 0:16:51 ] III. Mini Reviews
Karl: Mr. Robot (pilot episode), Hector and the Search for Happiness
Ryan: Garth Marenghi's Darkplace, True Detective Season 2, Ep. 1
Jason: Miss Congeniality
Andy: It's Always Sunny in Philadelphia, Alexander and the Terrible, Horrible, No Good, Very Bad Day
---
FEATURE REVIEWS HAVE TIME STAMPS:
[ 0:37:28 ] IV. Feature Review: INSIDE OUT (2015)
Jason = 8 ( Theater / Buy it! )
Karl = 7.5 ( Theater / Rental )
---
[ 0:55:36 ] V. Specialty Recommendation Segments:
RY'S GUILTY PLEASURES:
Beverly Hills Cop (1984)
Ry = 9 ( Buy it! )
— Reflection on Eddie Murphy's career
KARL HUDDLESTON'S GREAT PERFORMANCES AND MIGHTY LINES:
Great Career Performance: Christopher Lee as Dracula
JASON'S "THE-NEXT-DAY-AT-WORK MOVIE RECOMMENDATION
Find Me Guilty (2006)
Jason = 7 ( Rental )
---
VI. End-of-the-Show Miscellany
— Shout-out to Pope
— A Deadly Adoption
— The Spoils of Babylon
---
VII. Wrap-Up / Plugs / Ending
---
COMING UP ON MPW NEXT WEEK:
Episode 144 for JASON'S BIG BIRTHDAY BASH, when we'll bring you 20 movie Masterpieces and Feature Reviews of Ted 2 and Dope. Join us!
---
LINKS FOR THIS EPISODE:
Hear Dario Russo and David Ashby of "Danger 5" on Geek Cast Live Podcast, Season 2, Episode 23
Geek Cast Ry's links:
Ry's BIO
Ry's flagship show: Geek Cast Live Podcast
DONATE here to facilitate the creation of more Geek content!
Blog: Geek Cast Live
Web site: Geek Harder.com
Facebook
Twitter: @GeekCastRy
Provo Film Society on Facebook
Provo Film Society on Twitter
Jason recommends supporting: Operation Underground Railroad
Contact MPW:
E-mail us: MoviePodcastWeekly@gmail.com.
Leave us a voicemail: (801) 382-8789.
Follow MPW on Twitter: @MovieCastWeekly
Leave a comment in the show notes for this episode.
Listen to MPW:
Add MPW to your Stitcher playlist: Stitcher.com
MPW on iTunes
MPW's RSS feed
Right-click to download the MPW 100 Rap
Josh's links:
Hear Josh named as one of the Top 5 Up-and-Coming Directors on The Film Vault Podcast!
Twitter: @IcarusArts
Josh covers streaming movies on: Movie Stream Cast
Hear Josh on The SciFi Podcast
Hear Josh on Horror Movie Podcast
If you're a Horror fan, listen to Jason and Josh on HORROR MOVIE PODCAST
We'd like to thank The Dave Eaton Element and Dave himself for the use of his music for our theme song. Buy Dave's Eaton's music: BandCamp.com
---
If you like Movie Podcast Weekly, please subscribe and leave us a review in iTunes. If you want to support the show, we have PayPal buttons in our right-hand sidebar where you can make a one-time donation or you can become a recurring donor for just $2 per month. (Every little bit helps!)
Thanks for listening, and join us again next Wednesday for Movie Podcast Weekly.
---