Podcast: Play in new window | Download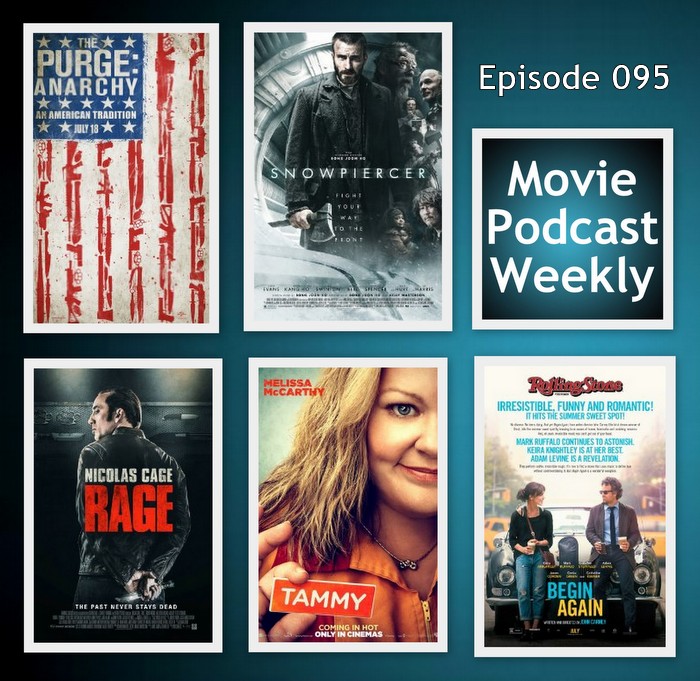 Hi, and welcome to Movie Podcast Weekly, Episode 095! We have five Feature Reviews for you: "The Purge: Anarchy," "Begin Again," "Snowpiercer," "Tammy" and "Rage." And we also have our usual, ridiculous bickering and banter. Karl and Jason kick off this show with some mini reviews. Josh joins up with us later, and Andy was away on Baby Patrol.
Movie Podcast Weekly typically features four hosts (and frequent guests), who give you their verdict on at least one new movie release that's currently in theaters, mini reviews of what they've been watching lately and specialty recommendation segments. New episodes release every single Monday.
SHOW NOTES:
I. Introduction
— Just Karl and Jason for now; Josh will join later.
II. Mini Reviews
Karl:
Original Star Trek series
Louis CK – Live at the Beacon Theater = 3 ( Avoid )
Orange Is the New Black (first five episodes) = Avoid
Young Adult
Dawn of the Planet of the Apes = 10 ( Theater / Buy it! )
Jason:
Recommends listening to Horror Movie Podcast, Ep. 021: The Proto-Slasher, in which Josh, Jason and Dave Becker cover Psycho, Peeping Tom, Torso and The Town That Dreaded Sundown.
Josh:
The Office, Season 8
The Karate Kid Part II = 6 ( Rental )
III. Feature Review: THE PURGE: ANARCHY (2014)
Jason = 6.5 ( Rental )
Karl = 8.5 ( Theater / Buy it! )
Josh = 6 ( Theater / Rental )
IV. Feature Review: BEGIN AGAIN (2014)
Karl = 9 ( Theater / Buy it! )
V. Feature Review: SNOWPIERCER (2014)
Jason = 8.5 ( Must-See Rental )
Josh = 7.5 ( Theater / Rental )
VI. Feature Review: TAMMY (2014)
Karl = 5 ( Rental )
VII. Feature Review: RAGE (2014)
Jason = 5.5 ( Rental )
VIII. Wrap-Up / Plugs
NEXT WEEK:
We will be reviewing LUCY and VERY GOOD GIRLS and DOM HEMINGWAY.
Links for this episode:
Horror Movie Podcast: Ep. 021: The Proto-Slasher
Book Review Podcast: Ep. 027: The Road and Ain't It Cool?
The Resurrection of Zombie 7: Ep. 103: Saw VI
NEW! Remember to add Movie Podcast Weekly to your Stitcher playlist here: Stitcher.com
Follow Movie Podcast Weekly on Twitter: @MovieCastWeekly
Josh covers streaming movies: Movie Stream Cast
We'd also like to thank The Dave Eaton Element and Dave Eaton himself for the use of his music for our theme song.
Special thanks goes out to singer-songwriter Frederick Ingram and the Blue Claw Philharmonic for the use of their music and the voice talents of Midnight Corey Graham from The Electric Chair Podcast, Willis Wheeler from the Terror Troop Podcast and Spike Real for their help with our recommendation segment intros.
If you like what we do here at Movie Podcast Weekly, please subscribe and leave us a review in iTunes. If you want to support the show, we have PayPal buttons in our right-hand sidebar where you can make a one-time donation or you can become a recurring donor for just $2 per month.
You can always contact us by e-mailing MoviePodcastWeekly@gmail.com. Or you can call and leave us a voice mail at: (801) 382-8789. And you can leave us a comment in the show notes for this episode.
Thank you for listening, and join us again next Monday for Movie Podcast Weekly.