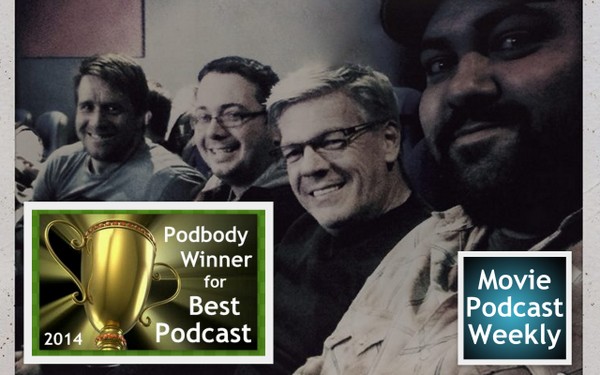 On June 10, 2014, the First Annual Podbody Film & TV Podcasting Awards announced its nominees, and Movie Podcast Weekly received four different nominations (out of six categories). And today, July 24, 2014, the Podbody Award winners were announced, and we're proud to report that Movie Podcast Weekly won for all four of those categories! Here are the results:
Best Podcast (Listeners' choice)
Winner: Movie Podcast Weekly
Best Podcast Hosts (Group)
Winners: Jason, Josh, Andy, Karl — Movie Podcast Weekly
Podcasting Superstar
Winner: A guy named Andy…
Best Podcast Guest
Winner: "Wild Man" Willis Wheeler — Movie Podcast Weekly
We're all humbled and grateful for this recognition. We'd like to thank the Podbody Awards and @Jape_Man for your consideration. And we'd like to thank our listeners for their continued support. We'd also like to thank the Wild Man for being our award-winning guest. In a few weeks we'll be hitting Episode 100, and we're looking forward to bringing you 100 more!
Thanks for listening.
Movie Podcast Weekly
(Pictured above, left to right: Andy, Jason, Karl, Josh at a midnight screening of "Dead Snow: Red vs. Dead" at the Sundance Film Festival 2014.)
Links:
Add Movie Podcast Weekly to your Stitcher playlist here: Stitcher.com
Follow Movie Podcast Weekly on Twitter: @MovieCastWeekly
You can always contact us by e-mailing MoviePodcastWeekly@gmail.com. Or you can call and leave us a voicemail at: (801) 382-8789. And you can leave us a comment on this blog post.
Join us again next Tuesday for Movie Podcast Weekly.